What do we beauty and makeup addicts complain about the most? And justifiably so? Firstly, that a number of brands are not available in India and secondly, even those that are choose not to bring their entire range here. The Body Shop Body Sorbets are a classic example of that! I saw these at the Paris Duty Free counter and my first reaction was why is a really light mousse like textured fragrant body lotion that is apt for our hot humid climate not yet in India??? Obviously I did not get the answer to my question so instead of lamenting further, I picked up one from the range, the Moringa Body Sorbet. Read on to know why I am loving this...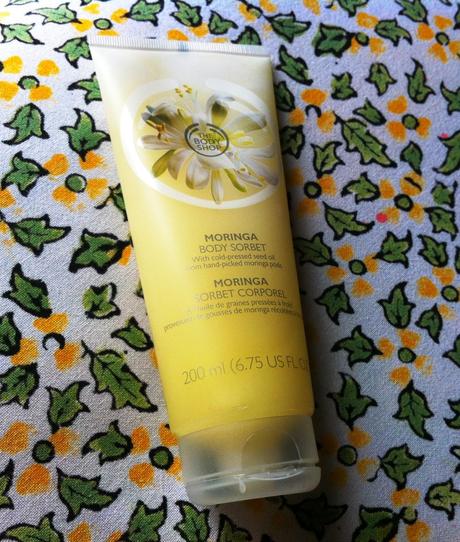 The Body Shop Moringa Body Sorbet
Scoop an industry first with this cool body moisturiser, infused with delicate floral moringa scent! Our breakthrough sorbet texture instantly melts into skin for a frosty burst of fresh moisture.
Light and fast-absorbing
Leaves body instantly moisturised
Up to 24 hours of hydration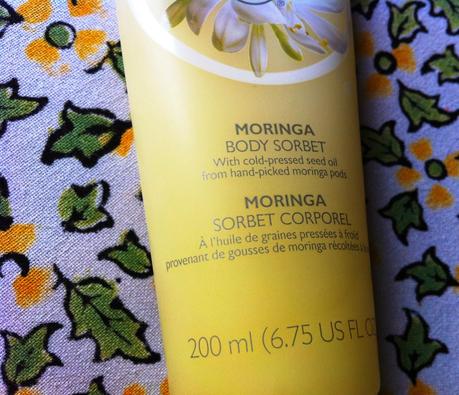 The Body Sorbets are available in five fragrances - Moringa, Mango, Pink Grapefruit, Strawberry and Satsuma. I have always been a fan of the Moringa range so picked it up. The first thing that anyone will notice about these sorbets is the texture. It is neither a lotion, nor a gel nor a cream and it is unlike anything I have tried. Let's see if I can get the description right. On first contact, it feels like a mousse like velvetty hybrid of gel and lotion. Then when you spread it on the skin, you realize that there are tiny grain like particles inside that smoothes out and finally melts into the skin. I know that was kinda difficult to comprehend but it's the best I could do to describe this! There is a slight cooling sensation when it first touches the skin but that goes away pretty fast and then the sorbet instantly absorbs without leaving any sticky residue. The up to 24 hrs hydration claim is slightly far fetched but it does give 8-10 hours easily. Perfect for summer and for our kind of weather.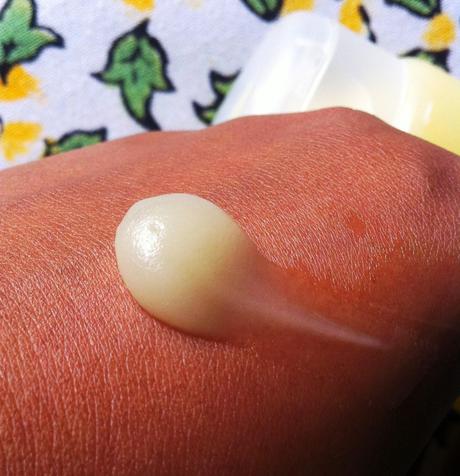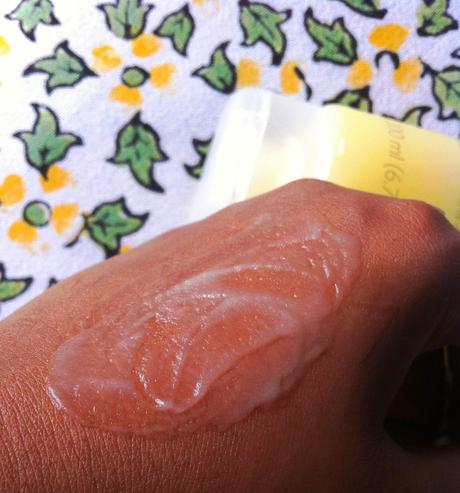 I also love the Moringa Body Sorbet because the fragrance stays on me for a really long time. Not a lot of body lotions have been able to achieve that. Each tube is for 200 ml and will easily last for a couple of months. Unfortunately, I don't quite remember how much I paid for these in Euros but I think the range is priced at £7 in the UK. I really hope that The Body Shop launches this range in India soon and if they do, go and try one of them. You will love it!
What do you think of the Body Sorbets? Would you like to try these out if they launched in India?