There's a lot of nonsense talked about rowing. Of all the foolishness I've heard over the years, two dumb ideas stand out. One is that women's rowing is less exciting to watch than men's. The other is that although a cox can lose a race for a crew, they can't win it. Both were disproved in dramatic fashion at this weekend's nail-biting, watch-through-the-fingers women's boat race.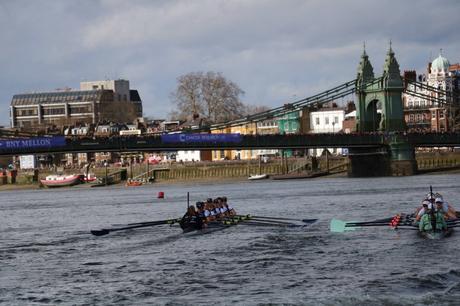 Both crews looking good before Hammersmith Bridge. Pic by Ian Howell.
Although I am essentially dark blue, I had a foot in both camps this time as I knew someone in each boat. The most-talked-about woman of the day was, of course, Oxford coxswain Morgan Baynham-Williams. Morgan is originally from Ross Rowing Club, our neighbours on the Wye where I spent my first rowing season. Back then, Morgan was a very small girl with a very loud voice – excellent attributes for coxing. In fact, not much has changed, except that she has grown up, made her mark on the coxing world and ended up at Oxford.

Oxford digging in, with MBW coxing like a boss. Pic by Ian Howell.
In the light blue boat, I was excited to spot a familiar name in the four seat – Théa (pronounced Tay-ah) Zabell. I knew her when she was a five-year-old tomboy in camouflage trousers, in the same class as one of my sons. Perhaps there was a small glimpse into her sporting future when the two of them spent an afternoon flooding our patio and making things float on it just, you know, to celebrate the end of term. Anyway, she was a very cool kid then and appears to be equally cool now. I was willing her to do well.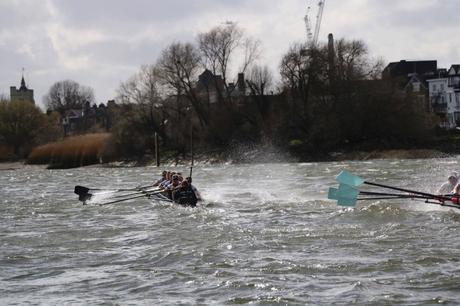 The Tideway spoiling for a fight. The crews fight back. Pic by Ian Howell.
So back to the idea that a cox can only lose a race for a crew. Initially the commentary was critical of Morgan for an early decision, but how the tables turned when the Tideway turned nasty and in a bold move Morgan steered hard towards the bank to catch the calmer water. It meant – and this is where the risk came in – leaving the stream, which is the fast bit of water in the middle of the river. A cox will only take her crew out of the stream in exceptional circumstances, but Morgan reckoned it was worth the risk, and everyone is pretty much agreed that it won Oxford the race. Sheltered from the wind and the waves, they were able to get down to the business of rowing as hard as they could, and as the gap between the crews grew, her decision became unarguable.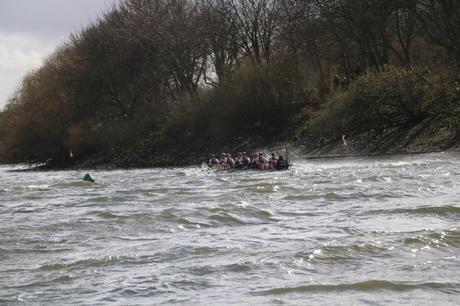 Morgan's incredibly bold line, keeping Oxford out of the choppy water. Pic by Ian Howell.
Meanwhile, the Cambridge boat was taking on water faster than the on-board pumps could shift it. Some alarming footage showed them becoming engulfed by the river and they were directed to pull over to the bank. But in an equally bold decision their cox chose to keep going and as they finished the race, to huge cheers from the crowd, it was apparent that her decision was the right one.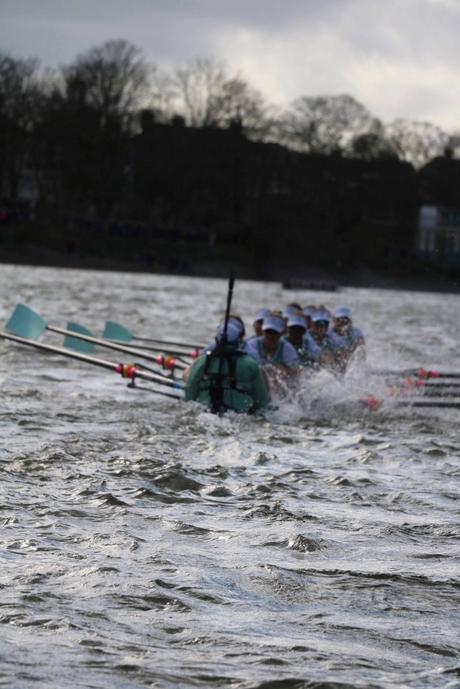 Cambridge taking on water. Pic by Ian Howell.
In their own way Cambridge had won, too. They had fought the Thames and defeated it. Thanks to their cox's decision to keep going, and her well-founded belief that she had a crew tough enough to battle on to the end, not only had they overcome the river, they had proved to anyone still harbouring doubts about allowing women on to the Tideway that women have the sheer strength, courage and mettle to be there.
So massive respect and congratulations to both crews and especially to the two courageous coxes. You did women's rowing proud.
Oh, and Théa, you're welcome to come and flood our patio any time.