I received this book for free from NetGalley in exchange for an honest review. This does not affect my opinion of the book or the content of my review.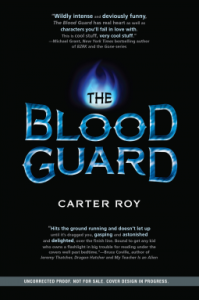 Buy the Book •
The Blood Guard
by Carter Roy
Series:
The Blood Guard series #1
Published by
Two Lions on 4/4/14
Genres:
Action & Adventure, Contemporary, Fantasy & Magic, Fiction, JUVENILE FICTION
Pages:
279
Format:
eBook
Source:
NetGalley
Goodreads

When thirteen-year-old Ronan Truelove's seemingly ordinary mom snatches him from school, then sets off on a high speed car chase, Ronan is shocked. His quiet, nerdy dad has been kidnapped? And the kidnappers are after him, too?
His mom, he quickly learns, is anything but ordinary. In fact, she's a member of an ancient order of knights, the Blood Guard, a sword-wielding secret society sworn to protect the Pure—thirty-six noble souls whose safety is crucial if the world as we know it is to survive.
Now all those after-school activities—gymnastics, judo, survival training—she made him take, make sense. For suddenly Ronan is swept up in a sometimes funny, sometimes scary, but always thrilling adventure—dashing from one danger to the next, using his wits to escape the Bend Sinister, a posse of evil doers with strange powers. Falling in with two unlikely companions, Greta, a scrappy, strong-willed girl he's never much liked and Jack, a devil-may-care teenage pickpocket, Ronan is left with only his wits and his mom's last words of advice: Trust no one.
That's a lot for an ordinary kid to deal with. But then again, maybe Ronan's not ordinary at all.
I really enjoyed The Blood Guard. Ronan is the kind of character that you just can't help but like. He's human and while he really does try to make the right choices and do the right thing… things just don't always go as planned. So when he bascally thrown to the wolves and on his own being chased by evil people who seem to want to capture and kill him and he's teamed up with a goody too shoes who just doesn't seem to see the person he really is and only his mistakes. But Ronan is a good guy and he just can't leave Greta behind. Then there is dealing with Jack who's suposed to be there to help him reach saftey and then his worry over his mom who drew the bad Bend Sinester people away from Ronan and he has no idea if she's dead or alive. And his fathers' been kidnapped by the Bend Sinester for some reason. There is a lot going on in this story, its very fast paced and really a joy to read I found it hard to put down till I finished it. If you like adventure stories then this is one for you.
Comments
comments