My girlfriend is allergic to cats.  And my cat has a tendency to shed-a lot.  As such I get the occasional "I'm kicking out your cat" lecture.  It doesn't help that Buster (the cat) tends to sleep on her pillow and on whatever clothes she happens to have sitting out for future wear.  This turns my girlfriend into a twitching, sneezing ball of hate.
 Though I'm not allergic to cat hair, I suffer as well.  Anytime I have any black item of clothing out, that's where Buster will be.  And after I shoo him off, half of him remains on the clothing; you'd swear that the cat had lost 10 pounds in hair alone.
 The Bissell Pet Hair Eraser Handheld Vacuum solves this problem.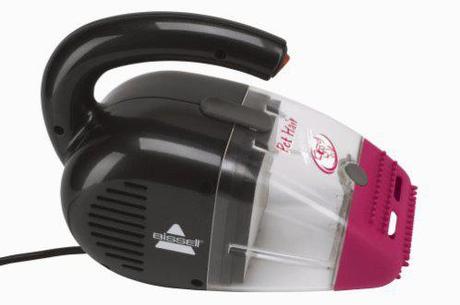 Designed specifically to pick-up pet hair, this lightweight (4.2 pounds) vacuum gets the job done.  Dirt is collected via a washable dense fiber screen and a filter screen.  Two nozzles are provided-one hard, and the other flexible to get into tight areas.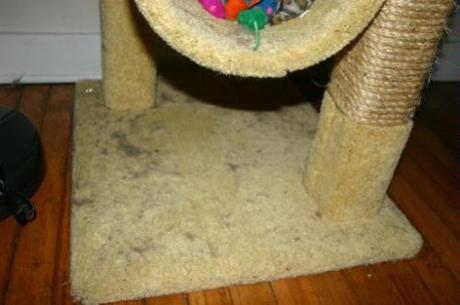 BEFORE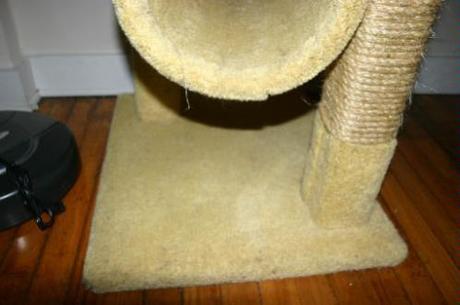 AFTER
 As you can see by the photos above, this little sucker (pun intended) works!  And consumers, with very few exceptions, praise the Bissell Pet Hair Eraser for ease of use and the intensity of its suction power.  As it has uses beyond pet hair (some consumers have used it for sucking up dust along floorboards and pulling dirt out of carpets), the price tag isn't too harsh: around $28.49.
 But there's always a little downside-nothing is perfect.  It appears that the replacement filters are quite costly.  While the dense fiber screen can be washed, the filter screen wears out; and at $12 a pop, this might be something to look into if you plan on using the vacuum on a more than casual basis.
 Regardless of the expense of replacement filters, I'm off to get one of these.  It may keep my girlfriend from kicking Buster (and me) out of the house.  You can find out more about the Bissell Pet Hair Eraser Handheld Vacuum here.