No. 1: Jeb Bush, Republican
No. 2: Hillary Clinton, Democrat
No. 3: Ted Cruz, Republican
No. 4: Marco Rubio, Republican
According to the Center for Responsive Politics, Wall Street or the securities and investment industry dominates the campaign contribution money race, having given $102 million to the 2016 presidential candidates and their super PACs.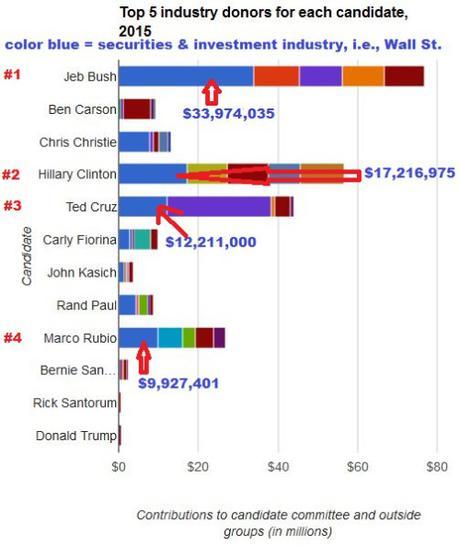 Here's another clearer graph (source: ZeroHedge):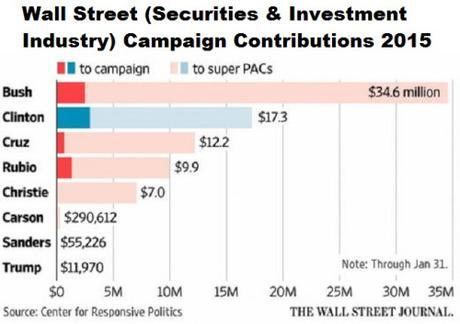 Still think there's a difference between Democrats and Republicans?
Still think Ted Cruz and Marco Rubio are for the "little guy"?
Donald Trump has received the least amount of money from Wall Street and, therefore, is the least beholding to Goldman Sachs, et al.
See also:
Wall Street owns Clintons; Goldman Sachs biggest donor

Ted Cruz's undisclosed $1M loan from Goldman Sachs

GOP consultants call for assassinating Donald Trump

GOP elites would support Hillary Clinton over Donald Trump

GOP operatives coordinate anti-Trump movement via ad blitz

Trump is viciously attacked from left and right: raped, murdered, 'cut off his balls'

Why Democrats, Republicans, Wall St. and the MSM are all gunning for Trump

Why you should be concerned that the largest U.S. nursing association endorses socialist pro-euthanasia Bernie Sanders for President
On January 12, 2016, the Federal Reserve Transparency Act — a bill that would have given Congress the authority to audit the Federal Reserve — fell 7 votes shy of clearing the 60-vote threshold needed to advance out of the chamber. The vote was 53-44.
The 44 senators who voted "No" are all Democrats.
Spearheaded by Sen. Rand Paul (R-KY), the bill, if passed, would have expanded oversight over the central bank and, for the first time, empowered the Government Accountability Office to audit the Federal Reserve.
This was how the 2016 presidential candidates who are senators voted (source: The Daily Signal):
Rand Paul (R-KY), Marco Rubio (R-FL), and Bernie Sanders (I-VT) voted "Yes".

Ted Cruz

(R-TX) initially said he would vote "Yes," but ended up

not voting

.
See also:
The Federal Reserve Was Created to Bailout Banks

Federal Reserve governor: If large financial institution fails, there'll be no bailout of depositors

Texas wants its gold back from Federal Reserve

America's broke but Federal Reserve loaned $95B to Eurobank
~Eowyn