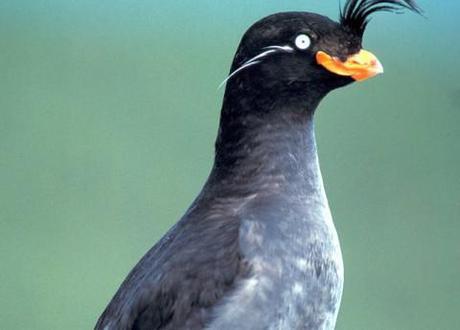 In The Big Year, rare birds such as this Aleutian island-dwelling crested Auklet are a precious commodity. Photo credit: USFWS Headquarters http://www.flickr.com/photos/usfwshq/4731067116/sizes/z/in/photostream/
Can you tell an Aethia cristatella from a Pinguinus impennis? No? How about a crested Auklet from a Great Auk? Still no? Well, that still souldn't stop you enjoying The Big Year, the latest bromance-with-a-twist from director David Frankel. The film is based on the 1998 book by Mark Obmascik, The Big Year: A Tale of Man, Nature and Fowl Obsession, in which the concept of "The North American Big Year" is explored — a competition in which birdwatchers (or 'birders' as they prefer to be called) try to spot as many avian species in North America as they can, and all in a single year.
The film's action revolves around three (wealthy) birders trying to outdo each other for the title of Big Year birding champion of North America — wisecracking Kenny Bostick (Owen Wilson), the champion defending his record of 732 birds seen in one year who's also trying to keep his marriage with Jessica (Rosamund Pike) together; Stu Preissler (Steve Martin) a retired businessman whose employees are begging to come back to the fold; and finally, Brad Harris (Jack Black), a 36-year old divorcee computer programmer. Preissler and Harris decide to team up to relieve Bostick of his title, and, presumably, hilarity ensues. The trailer promises stunning panoramic shots of North American landscapes coupled with slapstick silliness, but the critics aren't so sure. Here's the pick of the bunch:
Bighearted family fun. The Big Year "has an innocence and charm that will make it appealing for families, especially those who have had enough whales and dolphins for the year", enthused Roger Ebert of The Chicago Sun-Times in a broadly generous review.
The Big Year never quite takes off. Brian Lowry at Variety gave the film an affectionate review, although he concluded that the film doesn't quite work. The film eschews "broad, easy laughs", but can't quite find itself without them, he noted. In the final appraisal, Lowry said, "The Big Year is pleasant enough, but finally suffers — pardon the analogy — from being neither fish nor fowl."
Nice birds, boring men. There're some "avian wonders" here, but the rest of the film is lacking, adjudged Peter Rainer of The Christian Science Monitor. He lamented that the stellar cast (especially Martin) had to deal with such "subpar material."
Too many A-listers spoil the broth. Bill Weber called the film "test-marketed tapioca" in a negative review for Slant. All "traces of eccentricity and charm" have been drained from The Big Year sniped Weber; he lamented that the book could have been made into a film that wasn't "sunk by the A-list aesthetics of test-marketed tapioca."

More on film

The Avengers trailer hits the web
Lack of driving in Ryan Gosling-starring Drive prompts Michigan woman to sue
Human Centipede 2 world premieres
Johnny English returns
More film »