Hi Huneybees,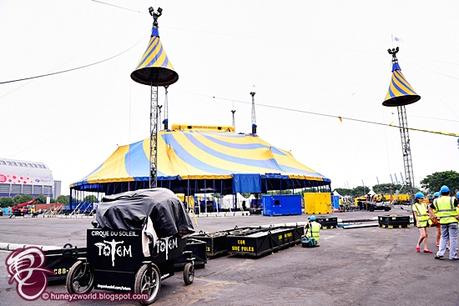 If you were around the Marina Bay Sands' vicinity, you would have noticed that a huge canvas tent has been erected beside the open grass field next to the open public car park. But i
f you missed it, there's much a catch up for you to do on the Art Scene as this is the
Cirque Du Soleil
's iconic tent also known as the
BIG TOP
. It is easily identified by its blue and yellow stripes, you can never miss it!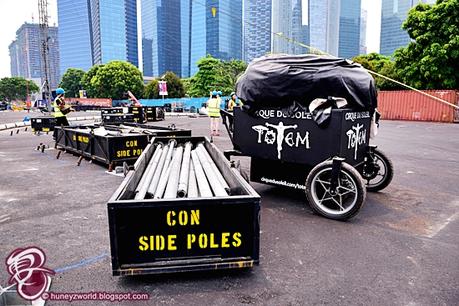 The poles are all ready on standby.
Huney'Z World, with me donned in safety shoe, hard helmet and reflective vest, was privileged to be invited to witness the raising of the BIG TOP on last Saturday as part of the media preview to the unfolding of the much anticipated show, TOTEM. This awe-inspiring production will be performed in Singapore from 28th October to 6th December 2015.
According to the General Manager, the whole setup of the venue would take 8-10 days to complete and the raising of the BIG TOP alone would take 1 whole day!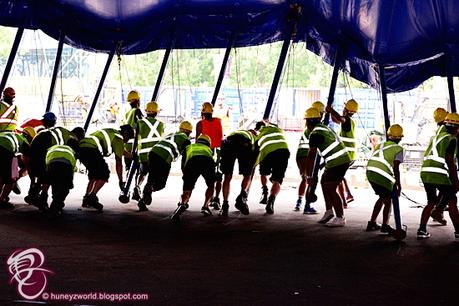 As much a tradition as the speed and accuracy of the whole exercise, 100 muscular men were deployed to work as a team, moving in unison in one direction to physically position all poles upright that help raise the iconic blue and yellow canvas tent, where the performance will be staged, come 28th October.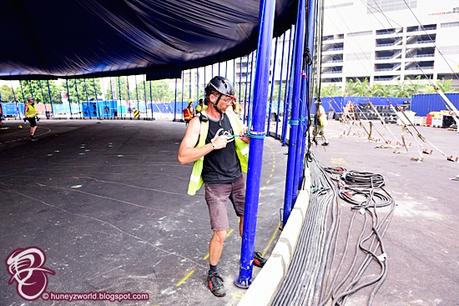 About the big top and the 

Cirque du Soleil

 village:
The big top seats more than 2,600 people.

The entire site set-up takes 8 days. This includes installation of entrance, hospitality and rehearsal tents, box office, administrative offices and kitchen.

The big top stands 19 metres high and is 51 metres in diameter.

The 4 masts each stand at 25 metres tall.

550 pegs are required to hold the big top firmly to 4,506 square metres of asphalt.

TOTEM travels via 85 containers carrying close to 2,000 tons of equipment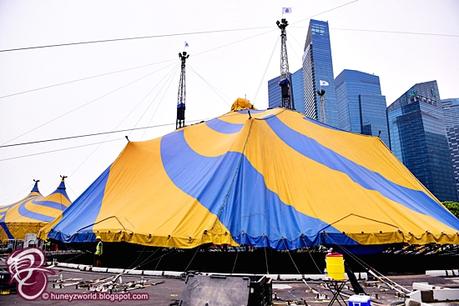 Before, with just a pole in the middle to support.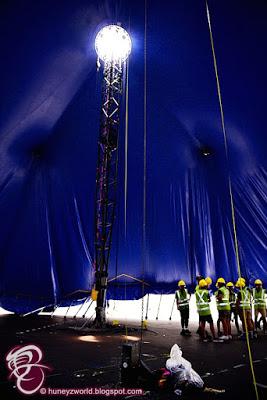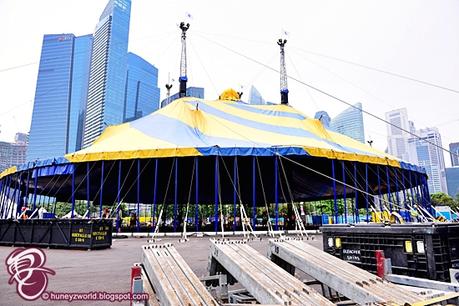 After...
Huney'Z World is the accredited social media outlet for Cirque Du Soleil - TOTEM in Singapore.
Do look out for our media coverage of the show soon!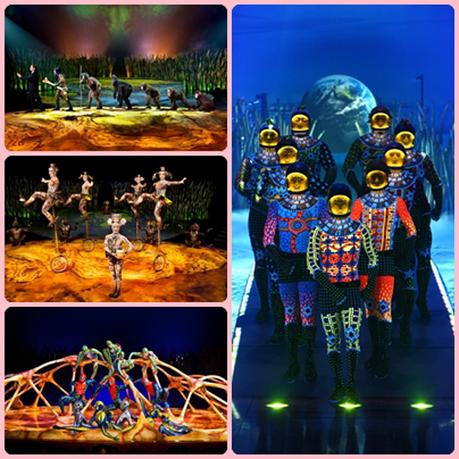 Meantime tickets are selling fast and you could get yours through either any SISTIC Authorised Agents or Marina Bay Sands counters. 
TOTEM opens in Singapore on 28 October 2015 for a limited engagement. For more information, visit 
www.cirquedusoleil.com/totem
Have a great week ahead!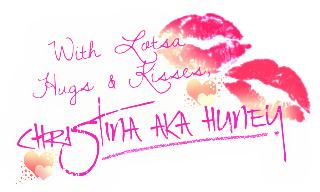 Don't forget to stay tuned to my blog / like my blog's Facebook page / follow me @huney_84 on Twitter & Instagram  for the latest updates!

http://www.huneyzworld.blogspot.com http://www.colourhuney.blogspot.com