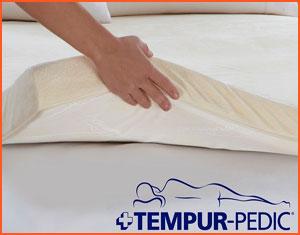 These best TEMPUR-Pedic mattress reviews in 2018 will present our top five mattresses from this company. Based in Lexington, Kentucky, this company saw the potential of how NASA's development of viscoelastic foam could be used in mattress technology. Most people are now aware of how this foam was initially developed for the seats of astronauts, to absorb the G-forces and also in aircraft seats to improve survivability in a crash.
Known generally as 'memory foam' this is a type of polyurethane foam that softens with heat and pressure. It is now commonly used in mattresses and pillows, and TEMPUR-Pedic is the flagship of memory foam mattresses and pillows. Let's not beat about the bush - they are expensive, and there are cheaper alternatives on the market. However, there is no denying the high quality of a genuine TEMPUR-Pedic mattress.
Here are our five best TEMPUR-Pedic mattresses in 2018. If you want the real deal, then this is what you get! Our reviews use the Queen size TEMPUR-Pedic memory foam mattress as standard.
* SC = SmartClimate system to keep you cool.
Best TEMPUR-Pedic Mattresses Table of Contents
1. TEMPUR-Flex Hybrid Supreme Medium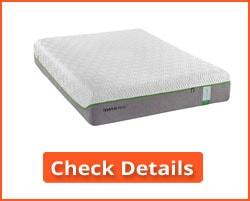 The TEMPUR-Flex Hybrid Supreme Medium mattress combines the benefits of responsive memory foam. The term 'Medium' refers to its hardness level, and this is an ideal mattress for side sleepers and back sleepers. TEMPUR-Pedic is well known for the high quality of its mattresses, and this is its flagship product.
That said, this is definitely the best TEMPUR-Pedic mattress you can buy. The high quality of the firm's responsive memory foam is well known, and few, if any, companies can match it. The Flex Hybrid Supreme Medium mattress consists of six layers which combine to make this a supremely comfortable mattress to sleep on: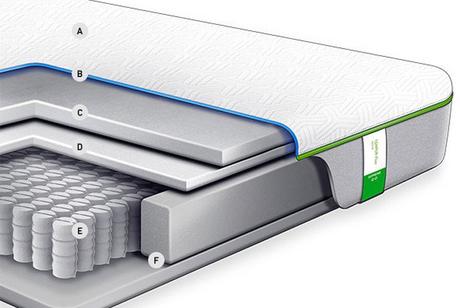 Top Layer: The company's EasyRefresh soft cover with a durable zipper that can be accessed from any side. It is easy to remove for machine washing and drying and offers the perfect cover to keep your mattress clean.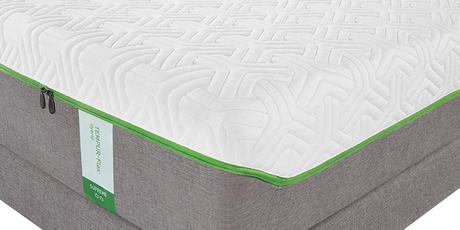 Layer 2: This 1-inch layer is TEMPUR-Pedic's proprietary SmartClimate System. The top cover of this layer wicks away moisture to keep you dry, while the inner layer of this system absorbs heat to keep you cool during the night.
Layer 3: The next layer down is the Comfort Layer - a 2-inch layer of TEMPUR-Pedic ES material: a soft memory foam that cushions you to provide exceptional comfort above the support layers beneath it.
Layer 4: The fourth layer is a highly responsive layer fashioned using TEMPUR-Response foam. It automatically responds to your personal body weight and shape (including pressure points) and also promotes excellent partner separation. You are not disturbed by your partner's movements.
Layer 5: The fifth layer is TEMPUR-Pedic's Dynamic Support layer. For the first time, TEMPUR-Pedic is introducing steel springs to its range. The dynamic Support layer is one of the encased 6-inch steel coils. These react with the response layer above to provide support that adapts to the movement of your body. This is where the 'Hybrid' reference comes in with the TEMPUR-Flex line of products.
Layer 6: This 2.5-inch 'Base' layer offers support for all the layers above, and also helps to remove heat from them. It disperses heat from the mattress and helps to keep you cooler at night.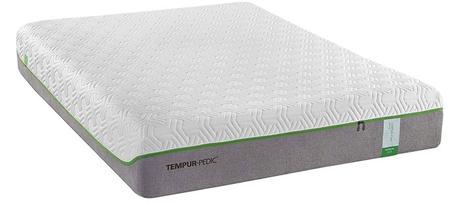 Together, these layers combine to form TEMPUR-Pedic's 'top of the range' product: the TEMPUR-Flex Hybrid Supreme, a superb mattress that is suitable for all types of sleeper. It is highly recommended for those suffering from orthopedic issues such as back pain, neck pain, and general joint issues. It is, without a doubt, our #1 choice.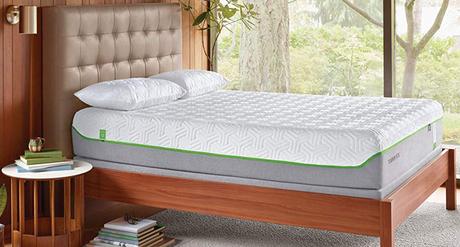 Editor's Notes: The TEMPUR-Flex Hybrid Supreme mattress is a superb example of its kind. It offers comfort combined with ergonomic support for those with orthopedic issues. Pressure is minimized on pressure points, and motion transfer is significantly reduced. This is the epitome of memory foam mattresses combined with the support benefits of individually wrapped steel coils (hence the term 'hybrid') and usually appears at #1 in the best TEMPUR-Pedic mattress reviews. This would likely be the best TEMPUR-Pedic bed you have slept on - in fact, likely the best bed you have slept on period!
Purchase This Product on Amazon
2. TEMPUR-Pedic Cloud Supreme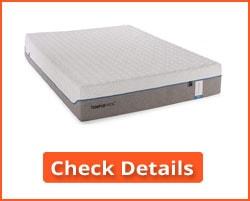 The TEMPUR-Pedic Cloud Supreme mattress is similar to the TEMPUR-Flex Hybrid reviewed above, but without the steel coil layer. This mattress is 100% foam. It features Layers 1-3 of the Hybrid mattress reviewed above, and Layers 4, 5 and 6 have been replaced by a support layer and a thicker base layer. The total thickness is the same 11.5 inches of the Hybrid mattress.
This is the ideal choice if you prefer not to have a support layer of steel coils. Keep in mind that the individually pocketed coils help with motion isolation and also conform to the shape of your body when you sleep. Nevertheless, if you prefer not, then this is our best choice of TEMPUR-Pedic mattress for you. It is available in a full eight sizes and will conform to your body shape just as much as the hybrid mattresses.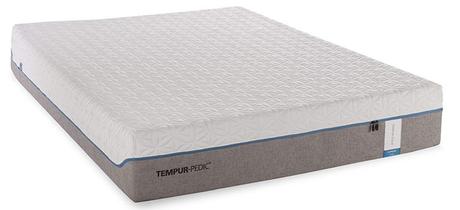 Editor's Notes: This mattress is second only to the TEMPUR-Flex Hybrid Supreme Medium mattress in terms of features. It is equal to it in quality, and just as capable of providing a comfortable, supportive sleep for both very heavy and light-weight people. The memory foam construction isolates the motion of partners, so each person can sleep well irrespective of how their partner moves about the bed - unless they both try to grab the same space of course! Then the woman wins!
Purchase This Product on Amazon
3. TEMPUR-Pedic TEMPUR‐Contour Supreme Firm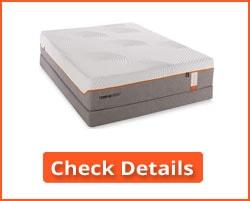 The TEMPUR-Contour Supreme Firm mattress is firmer than either of the two mattresses reviewed above. If you prefer a firmer sleeping surface, then this is it. As with the other TEMPUR-Pedic mattresses, the TEMPUR-Contour Supreme mattress conforms to your shape and absorbs your body weight, thus practically absorbing the pressure on your pressure points: shoulders, hips/buttocks, and knees.
It is fitted with the zippered EasyRefresh top cover as those mattresses above, and the same SmartClimate memory foam system to help you stay dry and cool when sleeping. Beneath that is the main support layer, manufactured using TEMPUR memory material to provide support, and a base layer that is designed to support all the layers above it. The entire construction again creates a mattress of 11.5 inches thickness.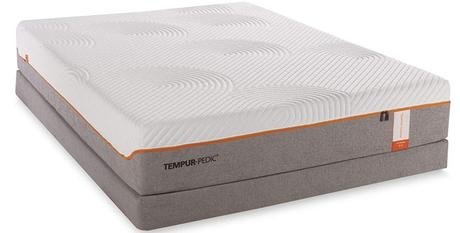 Editor's Notes: This mattress is the best TEMPUR-Pedic mattress we could find for those of heavier body weight and who prefer a firmer sleeping surface. The two prior TEMPUR-Pedic mattress reviews above are the best for people who like comfort, a soft surface to sleep on but also reasonable core support that prevents them from disappearing into the mattress.
Purchase This Product on Amazon
4. TEMPUR-Flex Hybrid Prima Medium
Available in Twin, Twin-XL, Full, Queen, King and Cal King sizes, the TEMPUR-Flex Hybrid Prima Medium mattress is constructed with the same six layers as our #1 choice, the TEMPUR-Flex Hybrid Supreme Medium mattress - only at a total of 10 inches thick.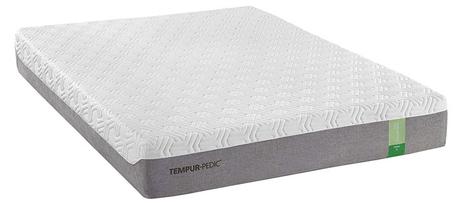 This mattress comes with the EasyRefresh soft cover that can be machine washed and dried, the SmartClimate and Comfort layers and also the TEMPUR-Response foam over the steel coil Dynamic Support layer. The entire structure is supported by a base layer that not only provides good support but also helps keep the mattress cool.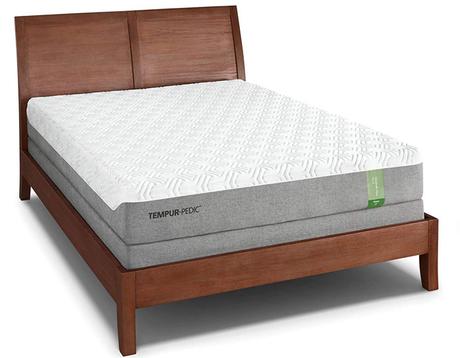 Editor's Notes: Because this mattress has a good two layers of TEMPUR-Pedic responsive memory foam, it supports your entire body by responding to your body's heat and pressure. The mattress enables your spine to retain its natural shape whether you sleep on your side or your back. This is also true for stomach sleepers, but to a slightly more limited extent. The spring structure provides a good level of support and is slightly firmer than the TEMPUR-Flex Hybrid Supreme medium mattress.
Purchase This Product on Amazon
5. TEMPUR‐Cloud Prima Medium-Soft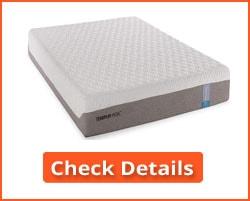 The TEMPUR-Cloud Prima medium-soft mattress is constructed with four of the six layers of our #1 choice (TEMPUR-Flex Hybrid Supreme). Note that this mattress contains no springs: it is 100% memory foam. Its total thickness is 10 inches constructed using some of TEMPUR-Pedic's most innovative foams:
Top Cover: The top cover, a soft super-stretch material with grey sides, wicks away moisture and keeps the mattress clean.
2nd Layer: This has its own cover that helps to keep you cool and dry while you sleep. This layer and the comfort layer below establishes the medium-soft characteristic of the entire mattress. Beneath this, the comfort later comprises TEMPUR-ES material: an extra-soft rapidly adaptive memory foam that conforms to the contours of your body.
3rd Layer: Next is a support layer of TEMPUR memory foam that helps to distribute your body weight evenly over the whole area of the mattress. This is a higher quality of memory foam than that used by other mattress manufacturers.
4th Layer: The bottom base layer of higher density memory foam supports all the other layers, gives you a firm base to sleep on and helps to disperse heat generated during the night.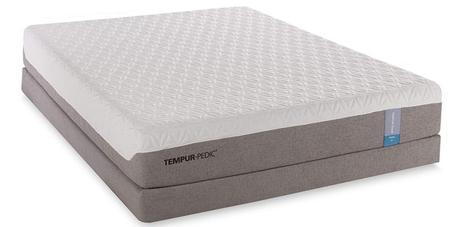 Editor's Notes: The TEMPUR-Cloud Prima range offers a good level of softness with the support provided by higher density memory foams. The plush top layers offer a plush sleeping surface over the good adaptive, rapid-response support provided by TEMPUR-Pedic's innovative, unique memory foams. Your body weight is evenly distributed, rendering this mattress ideal for side and back sleepers.
Purchase This Product on Amazon
TEMPUR-Pedic Vs. Latex and Regular Memory Foam Mattresses
Before we conclude this review with our Buyer's Guide and FAQs we often come across, let's first discuss how TEMPUR-Pedic material compares to latex foam and regular memory foams. Here is how the three types of foam weigh up against each other.
Adapting to Body Shape
Regular memory foam reacts to your weight and body temperature to conform to the shape of your body, whatever way you sleep: on your side, back or stomach. It then reverts back to its original flat shape when you get out of bed.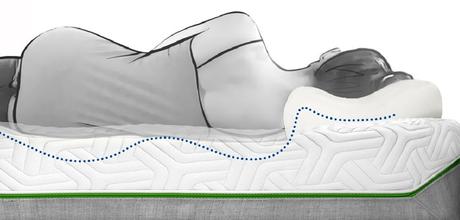 TEMPUR-Pedic also does this, but unlike regular memory foam, the TEMPUR-Pedic material does so every night for many more years than regular memory foam can. Latex can do the same, but only for a very short time before it stops reverting back to a flat mattress.
Relief For Pressure Points
Regular memory foam conforms to your body shape and cradles its pressure points. This reduces the pressure on areas such as your hips, shoulders, and knees. TEMPUR material does the same; only it does so for much longer before the 'memory' aspect of the foam begins to fail. Latex foam is not so good at this and can be hard on your hips and shoulders.
Temperature Regulation
Memory foam can heat you up at night. However, gel-infused memory foams can cool you through the gel absorbing your body heat. TEMPUR material is a more advanced form of memory foam with an open cell structure that regulates heat and cold to create an ideal sleeping temperature. Latex heats you up, and also has to use gel technology to keep you cool. Gel technology does not cool you as effectively as the open cell technology.
Durability
Regular memory foam can be fairly durable and last a good while if it is used properly with the correct density for your body weight. TEMPUR foam is more durable: it was designed to withstand the G-forces involved in space shuttles and high-impact crashes. Latex foam is almost as good as TEMPUR-Pedic foam and should last for many years in a mattress.
Health Issues
Latex is generally regarded as the safest type of foam, to use in a mattress. It is naturally hypoallergenic and resistant to dust mites, bed bugs, etc. Regular memory foam is not so good and is also manufactured using chemicals that can conceivably present a risk to those suffering allergies. TEMPUR material is resistant to dust mites, bed bugs, and other parasites. That is why TEMPUR-Pedic mattresses are preferred by those who are allergic to such parasites and microorganisms.
Buyer's Guide to TEMPUR-Pedic Mattresses

TEMPUR-Pedic is a registered trade name for Tempur-Pedic North America, LLC. The company specializes in adaptive or memory foam mattresses and other products such as pillows. When purchasing a mattress, you should first establish what type of mattress you need.
Do you need a mattress that:
1) Helps reduce your back pain?
2) Helps keep your neck and spine in proper alignment?
3) Helps you get to sleep quicker at night - maybe you find it difficult due to joint pain or for some other reason?
4) Reduces pain if you are being treated for muscle or orthopedic issues and need a comfortable sleeping surface?
5) Helps you feel less hot at night?
6) Helps to reduce the effect or proliferation of allergens such as dust mites?
7) Enables you and your partner to sleep in different positions: the mattress that suits you best might not suit your partner?
8) Helps isolate the movement of partners: your sleep may often be disturbed by the movement of your partner?
9) Helps keep you cool while sleeping?
10) Is highly durable and lasts a long time?
TEMPUR-Pedic mattresses can help you with all of these issues. However, everything is not all rosy with memory foam, and here are some of its negative aspects and potential solutions:
1) Because it softens with the pressure and heat of your body, a memory foam mattress might not provide the level of support you need.
2) Some memory foam mattresses can make you feel hot at night because you tend to sink into the mattress as you heat up.
3) If your bedroom is heated, the mattress could be too soft (memory foam softens with heat) and if too cold, it could be hard to sleep on.
TEMPUR material (the type of memory foam used in TEMPUR-Pedic mattresses) has an open-cell structure. This type of structure enables air to flow through the mattress at night keeping you cool. As the warm air created by your body circles away into your bedroom, the cell structure of the TEMPUR Material draws in cooler air.
Additionally, to keep you cool you can use any TEMPUR-Pedic memory foam mattress with the SmartClimate system. This helps you remain cooler at night than other types of memory foam can. Some memory foams are manufactured using gel beads, and while these may help to absorb heat while you sleep, the TEMPUR-Pedic system is likely the best solution.
You can choose the best TEMPUR-Pedic bed for your needs from the five we have reviewed above. These are our best TEMPUR-Pedic mattress reviews in 2018. Our top comparison covers what we believe to be the five best TEMPUR-Pedic mattresses available today.
TEMPUR-Pedic Mattress FAQs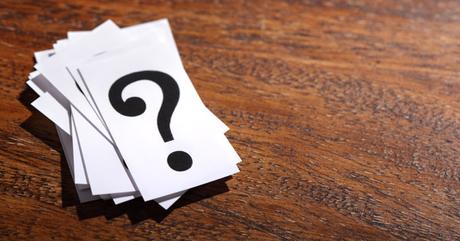 Summary