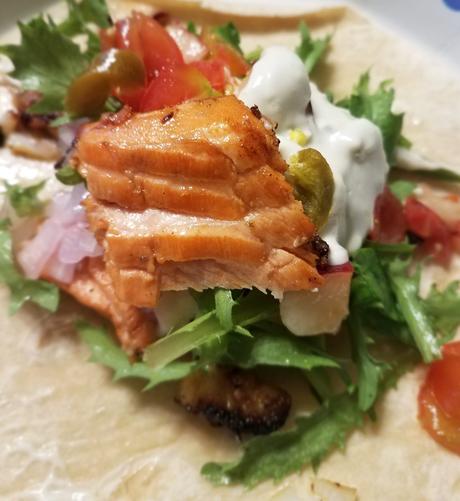 Fish or Salmon tacos can be a hit or mix. I have found that crunchy pan-fried, baked or grilled goes well in tacos. So after much trial, and error here is my favorite taco recipe, and my staple when I want to switch things up at home.
Ingredients:
For the Salmon Tacos:
¼ cup organic avocado or olive oil
2 garlic cloves, minced
Juice from one lemon or lime
1½ pounds Wild caught Atlantic Salmon
½ cup red sweet fermented onions
¼ cup fresh garlic, minced
½ teaspoon Himalayan salt
¼ teaspoon ground black pepper
¼ teaspoon ground paprika
¼ teaspoon ground cumin
1 pack of Low carb wraps (I like these) and ADORE these (Gluten-free, not keto though)
arugula or mixed greens
Avocado slices or guacamole
1 small tomato cut up in small pieces
jalapenos (optional)
Wet Ingredients:
For the Salmon Tacos:
For the Garlic Aioli Sauce:
1 cup of organic plain yogurt (wanna be badass? Make Kefir cheese and add pieces of it or make Kefir for added probiotics) or you can use Mayonise too.
3 garlic cloves minced
½ tablespoon Himalayan salt or to taste
2 ½ teaspoon lemon juice
¼ teaspoon freshly ground black pepper
Nutrition Facts
Per Serving: 151 calories; 16.4 g fat; 1.5 g carbohydrates; 0.3 g protein; 8 mg cholesterol; 335 mg sodium.
Equipment:
Salmon Tacos Method:
Blend the garlic and all of the ingredients (wet and for the salmon) in the food processor. Pour over salmon, making sure the salmon is evenly covered. Refrigerate for up to 4 hours. (No time to marinate the salmon? Do it anyway even for a few minutes while you prep. It'll still taste good!)
Add avocado oil and garlic to a frying pan. Sautee garlic until golden, then add the salmon steaks.
Cook for about 10 minutes turning them occasionally. (if the salmon steaks break a little that's ok) you are going to use pieces to make the tacos anyway.
While you do this, put your low carb tortillas in the oven to warm up.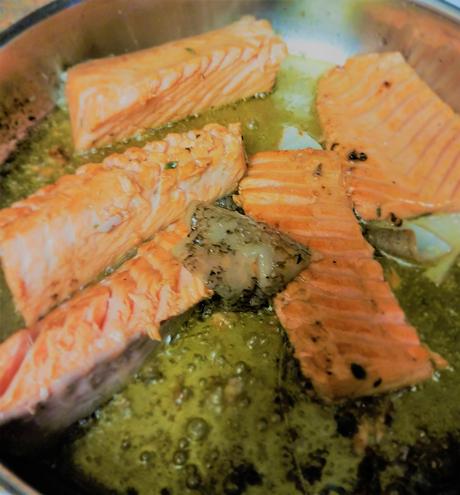 Once your salmon is cooked and has some golden color set it aside. Here's where you are going to put your tacos together.
Garlic Aioli
Mix Yogurt or mayonnaise, garlic, lemon juice, salt, and pepper in a bowl. Cover and refrigerate for at least 30 minutes before serving.
Assembling the Tacos
Line up all of your ingredients, grab a wrap and add the heavier ingredients first, then the lighter ones on top.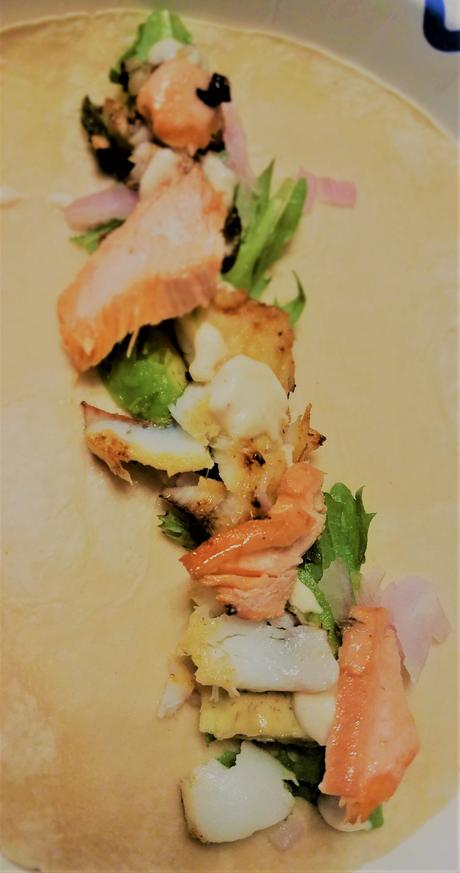 Drizzle some more lemon (optional) and the garlic aioli before serving...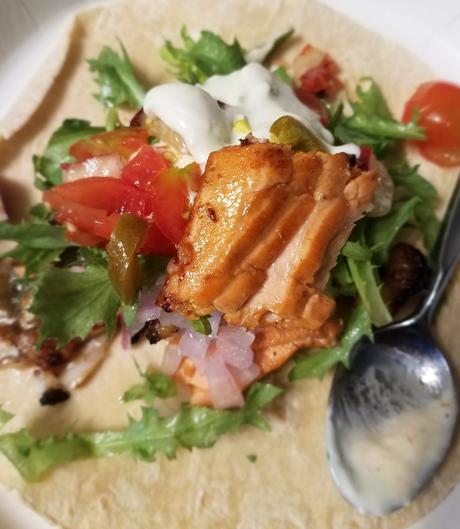 Enjoy!
Ta-da! Low Carb Salmon Tacos-and they're perfect for your Keto too! ! Delicious, nutritious, light and different for your next diner... Bon appetite!