Food Fridays:
Healthier eating is definitely in store for a more IMPROVED ME, but not dining out is not an option for our family. Sometimes necessity, sometimes a treat - I've tried to find the best choices when running through the drive-in is a must on the agenda. 
Recently, Taco Bueno and Taco Bell joined some of their competitors like Taco Cabana by adding healthier choices to their menu with steak, chicken and veggie bowls filled with ingredients like beans, rice, lettuce, cheese and other condiments. Since Mexican food is one our family favorites, we took on the challenge of finding the best of the "bowls." 
Here's what we found: 
TACO BUENO
Bueno Steak Bowl
http://www.tacobueno.com
Around $6-7
This bowl came in a rather large great cardboard, recycle-friendly bowl filled with 

flame-grilled all-white-meat chicken, rice, pico de gallo, black beans, romaine lettuce mix, and 1 ounce of Chipotle Citrus Vinaigrette. While the steak looks ample, after a few bites we didn't have any meat to eat with the rest of our bowl. The rice was pretty good, made the whole bowl complete and we were adequately full after our last bite!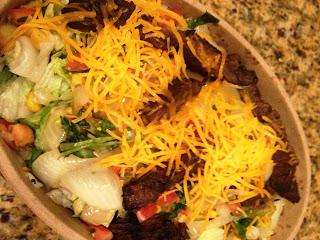 Nutritional Info: 
I couldn't locate the specific nutritional content, but was able to calculate the bowl was around 400-425 calories. However, I've requested the information and hope I can update this soon!
TACO BELL
Cantina Steak Bowl
http://www.cantinabell.com
Around $5-6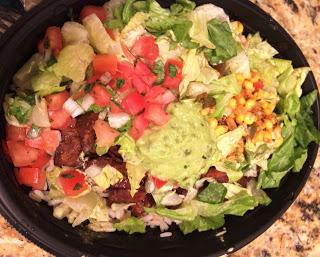 While an upgrade from Taco Bell's presentation, this bowl still seemed to have that fast-casual deliverable. And even though there weren't ample size steak fajita meat, the small bites of meat were flavorful. The rice needed a little extra something to it, but a big dallop of guacamole make it all work. The amount of food wasn't overwhelming though with a good-sized portion to fill you up, but not out! 
Nutritional Info:
Calories                560
Cholesterol   60mg
Carbs                   64g
Fat                       22g
Sugar    4g
Protein                 26g
TACO CABANA
Build-Your-Own-Chicken-Bowl
http://www.tacocabana.com/byocb
Around $5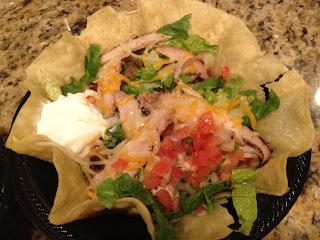 As pictured, this Taco Cabana BYOB is 925, but omit the shell and it's only 425 calories! 
Nutritional Info:
Calories                425
Cholesterol        60mg
Carbs                    47g
Fat                        8g
Sugar  7g
Protein                 26g
So which restaurant had the tastiest bowl? 
Our 5-personal panel (we called in a friend to help) was pretty well split between the Taco Bell bowl and the Taco Cabana bowl. To be honest, Taco Cabana is our personal family-favorite, but Taco Bell is a close second as a go-to dinner choice. One panel member loved the Taco Bell bowl flavor with the grilled corn and beans, while another member loved the Taco Cabana taste. As for fresher ingredients, Taco Cabana also won the contest. 
For the price these two also win the race with Taco Cabana being on top of this one with more choices to suit your taste. Taco Cabana also seemed to provide the most amount of food for the money and most "homemade" ingredients with salsa, pico and other condiments. 
For the calorie count, they all can make the cut at around 400 calories, but it's all about what you put on your bowl. Taco Bell had the most calories the way it was ordered at 560, but consider what you put in your bowl before your order to try to get it down to a healthier range. 
Want to reduce the calories? Then consider ordering the bowl without rice or maybe get your good fats from guacamole and not sour cream. At Taco Cabana you can order your bowl with a taco shell, but it adds around 400 calories, so think how much you want that shell before ordering. Taco Bueno and Taco Cabana wins this contest for health. 
Overall - Taco Cabana wins this showdown this time! But we'd love your thoughts!
One note: Wonder why Chipotle or Freebirds wasn't including in the challenge? After looking at their ingredient choices, price point and lack-of-drive-through, it just seemed we wouldn't be able to compare them apples to apples! If I could choose a carnitas Chipotle bowl through drive-through, I'd be there every day!