This January, Italian designers and brands, as well as many of their international peers have showcased their latest collections for the fall-winter 2016-17 season. From Brioni to Ports 1961, there were many amazing collections and looks that walked down the runways of the most stylish city in Italy.
Because every look of a collection must define the collection, we have put together a roundup of the most interesting, most creative and most innovative looks from this season's Milan Fashion Week.
Here are our top 10 picks, in no particular order: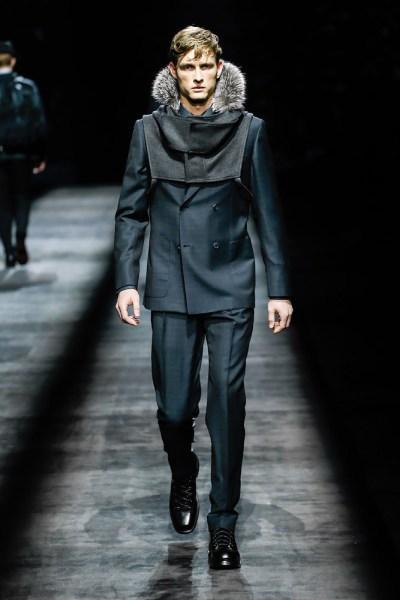 The concept of "Fashion Week" is all about novelty. This is why this look by Brioni was one of our favorites: while we've seen detachable scarf-capes before, it was great to see one done by a high end brand and, on top of that, paired with a suit. That's definitely something we would wear!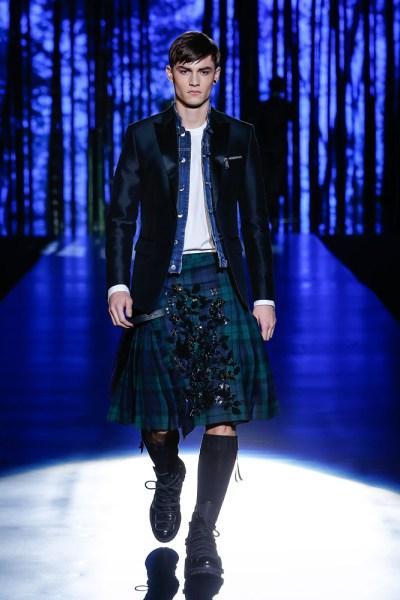 There is a rather limited number of types of clothes in the world: jackets, shirts, socks, etc. This is why, when a brand reinterprets these basic pieces in a new, creative and original way, it makes for a veritable wow-moment. The Dsquared2 collection was filled with reinterpretations. It was masculine and strong and definitely made a statement about the man of 2016.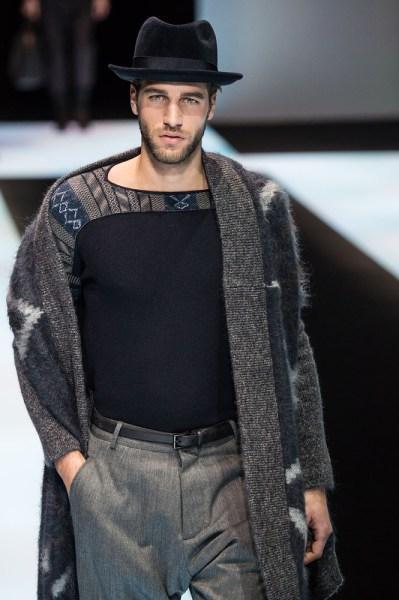 One of the definitive highlights of the Milan Fashion Week FW 2016-17 event was the Giorgio Armani Menswear show. With a fresh take on classic concepts, Giorgio Armani delivered a show in the true sense of the word. The clothes contour a new male aesthetic, which is what fashion and, moreover, style, should be all about! The impeccable fit, the mix of fabrics, prints and textures all worked for the best in creating a unique style, more than almost any other show.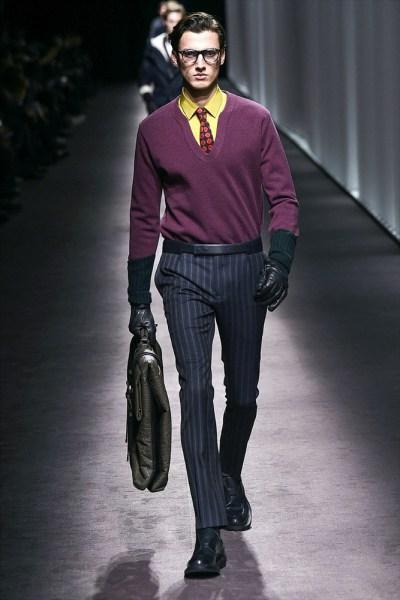 A show that was truly remarkable was the Canali show, which reinterpreted old-timey looks. However, their looks were not your average grandpa's outfits: the sweaters featured a very cool and edgy neckline, which allowed contrasting shirts and ties to show and were paired with pants that featured striking, but elegant prints and a modern cut. Moreover, we really appreciated the styling: not only were the belts and bags awesome, but the tucked in sweater make one look twice.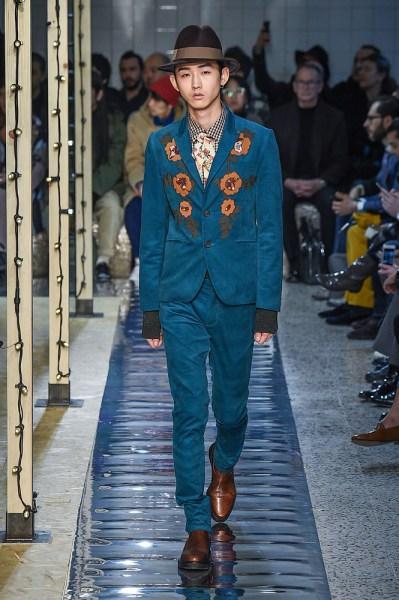 Sensitive, fresh and personal are the words that describe the Antonio Marras collection best. With an eye for contrasting colors, prints that compliment them and accessories that complete the looks, the Antonio Marras aesthetic is one to be hung on the wall.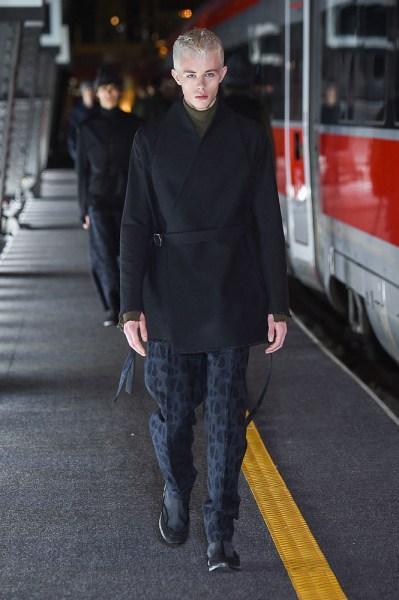 The Damir Doma collection was all about contrasting pieces that go well hand in hand. In this particular look, we can see how a boxy, soft and strong coat works very well with a pair of printed, loose pants. The belt of the jacket touches it right in the right place in order to create stunning proportions, balance and eloquence.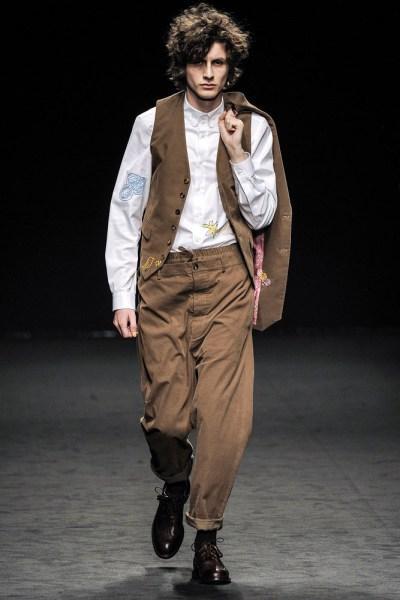 Also playing with proportions, cuts and fabrics, Vivienne Westwood showcased a collection that featured easy, relaxed and elegant pieces. Making loose, overly-casual pieces look stunning is a really hard thing: you really need to know where to place your cuts, how to construct a garment and how to make it wearable and Vivienne Westwood did all of that and more.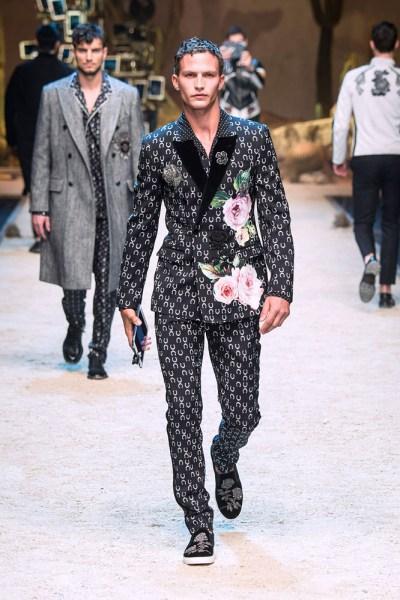 Dolce and Gabbana is a household name for a reason. Season after season, they have delivered great style, a cohesive, but always new aesthetic and fashion shows like no other. This season, it was all about mixing elements and going overboard, as the clothes made us think that maybe more is indeed more.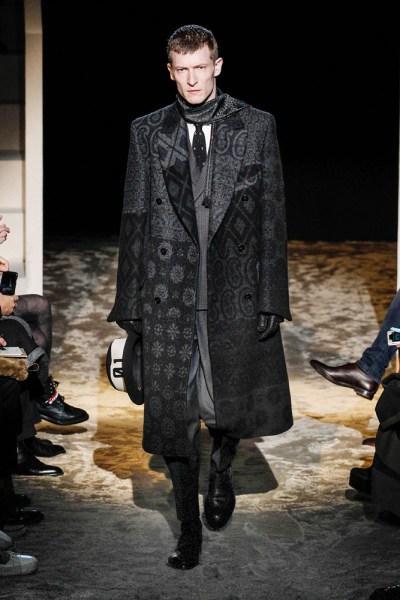 The opening look of the Ermenegildo Zegna fall-winter 2016-17 collection, which, as with any collection, defines what the spirit of the show will be, was a true lesson of mixing prints. The bold garment made use of several prints that worked together very well because of the neutral nature of the colors. Well done!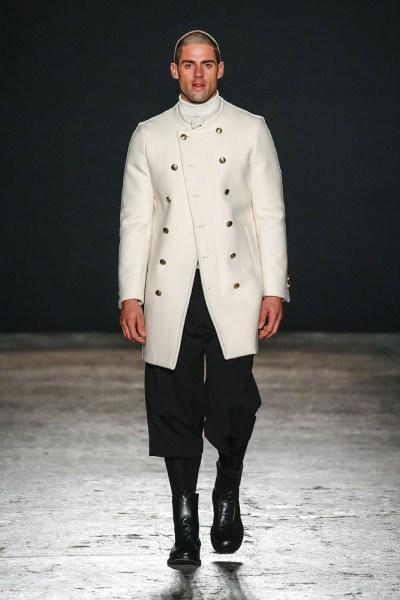 The Regency era has served as an inspiration for many items of clothing, but Ports 1961 took it to a whole new level. This season, the label offered a very subtle, elegant and modern take on the embellished looks of the Regency period, which they crafted in rich but simple fabrics that worked extremely well with the fine cuts and soft edges of the garments.
We're very excited that so much great, new fashion has come out of Milan this season. Can't wait for the new clothes to hit the shelves and, obviously, our closets. It's great to see so much color in fall collections and what is a better help to get you through the winter than adding some color to your closet?
Fraquoh and Franchomme
Further reading:
A look at the best of the 2016 resort collections
The 10 best kooks from London Collections: Men FW 16-17
P.S. We want to hear from you! Which look was your favorite from Milan Fashion Week Fall-Winter 2016-17? What other brands would you have picked for the selection? Share your feedback, questions or thoughts in the comments below! For more articles on style, fashion tips and cultural insights, you can subscribe to Attire Club via e-mail or follow us on Facebook or Twitter!