So you find yourself in the centre of Milan in front of Milan's stunning Duomo.  It's almost lunch time, and all of the shopping and sightseeing has you hungry….the problem?  You have a gluten sensitivity or Celiac Disease and there is NO WHERE TO EAT!!
What to do?
Do you head back to your rental apartment or hotel in an attempt to find something or make something before you starve?  Or do you incure some serious data roaming fees on your phone in an attempt to find a place near by?
Let me save you some headaches……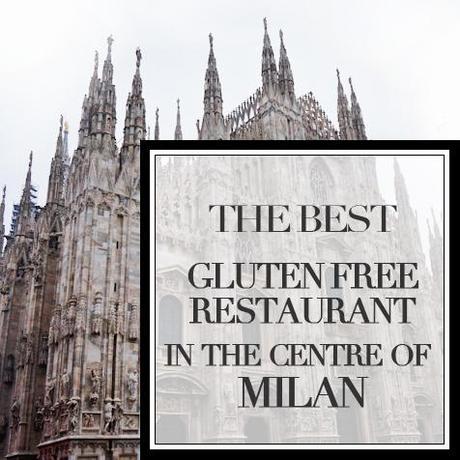 In the ENTIRE historic centre of Milan there are almost NO restaurants that offer a certified, gluten free meal, especially one worthy of your money…aside from:
LA CANTINA PIEMONTESE
Run people.  RUN THERE!  Hands down one of the BEST meals I have had in Milan, and I have had a LOT of meals in Milan….good ones.  Not only that, but they offer one of the most extensive gluten free menus in the city, offering traditional Milan dishes and more daring revisited Piedmont dishes as well.  This is my review of La Cantina Piemontese, part of the Gluten Free in Milan series on Reasons to Dress.com.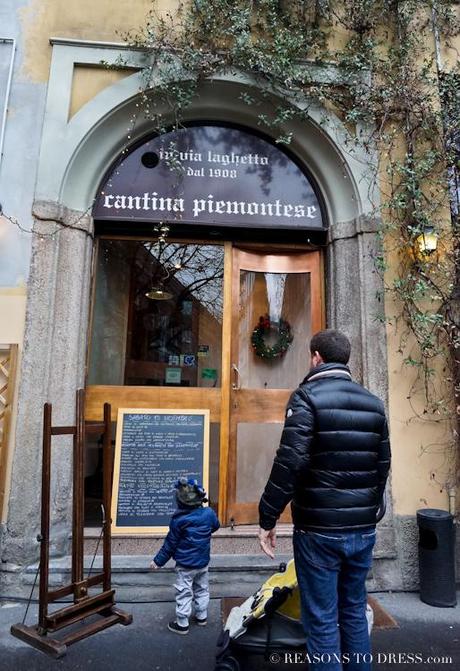 Location Location Location
La Cantina Piemontese is only about a 7 minute walk from the Milan's Duomo.  EVEN if you are unable to follow simple directions and a map, and EVEN if you make a few wrong turns, the most it will take you to get there from Milan's Duomo is 12!   At the bottom of this post you'll find a map and the address, but you'll want to look for this street, VIA LAGHETTO: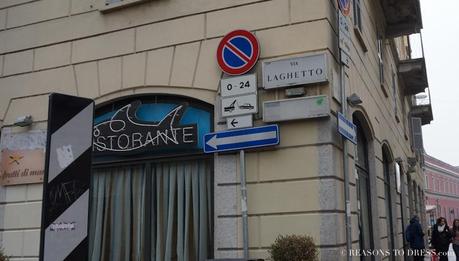 You should see a round sign overhanging a little ways off in the distance that says "Cantina Piemontese", head to the end of this little street and the entrance is on your right.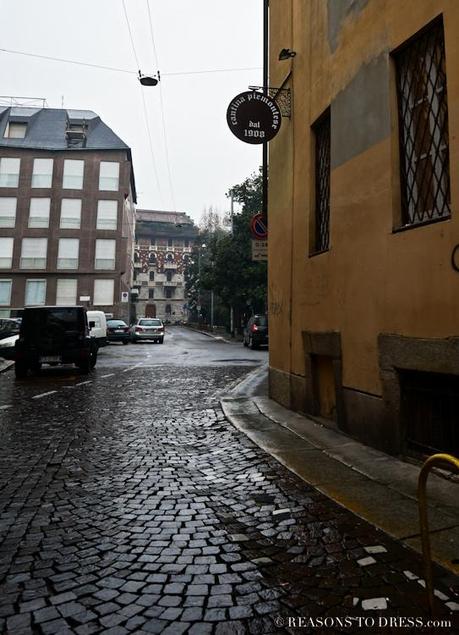 Ambiance and Atmosphere
A quaint restaurant with plenty of tables you WILL WANT TO BOOK IN ADVANCE because come lunch time on any day of the week this place fills up.  If you are going to take a risk and not book than GO EARLY! If you are going with children be sure to have a stroller that completely folds up, or I would recommend leaving the stroller outside and locking it with a bike lock because the restaurant, being in the centre of Milan doesn't have much room to store bulky items.
You'll also want to book one of the children's highchair over the phone when you make your reservation and have a few (low volume) cartoons that your kids have never seen to keep them seated. There were at least 3 other families with young kids in the restaurant while we had lunch, and all of them were occupied with phones/ipads.  There is no room to let kids roam or wander, so to be courteous to the other diners I would stress this point!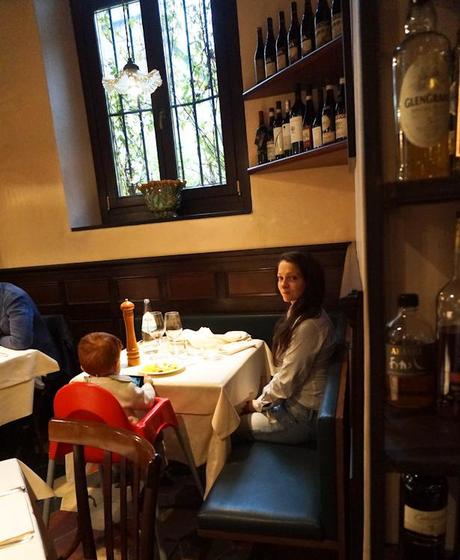 In the summer time there is a nice patio out front that I would also recommend booking in advance if you have your heart set on eating outside.  This place is romantic, so if you are looking for a gluten free Saint Valentine's Dinner spot in Milan I would HIGHLY RECOMMEND IT!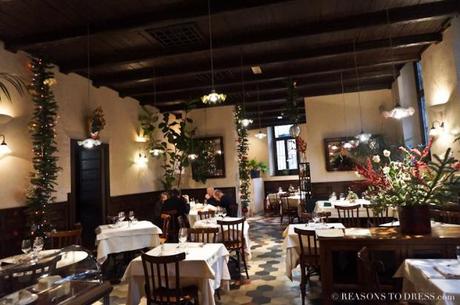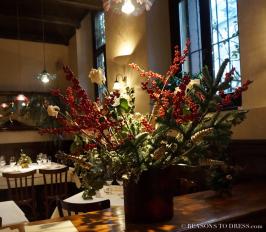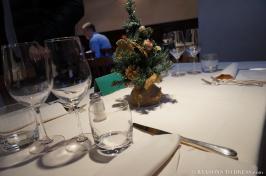 Gluten Free Hospitality
At the time of booking if you mention that you will be ordering from the gluten free menu they prepare a bread basket with different gluten free breadsticks, crackers and foccaccia breads.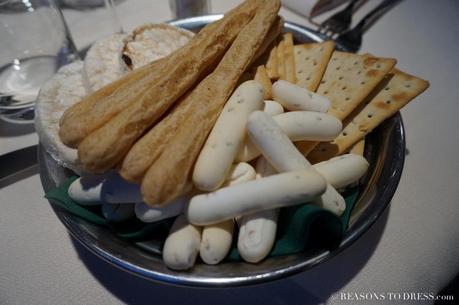 90% of their menu is gluten free.  Whereas many places offer a few gluten free items, the Cantina Piemontese has taken on the philosophy of serving everything they can gluten free and only managing the exceptions (dishes WITH gluten) separately.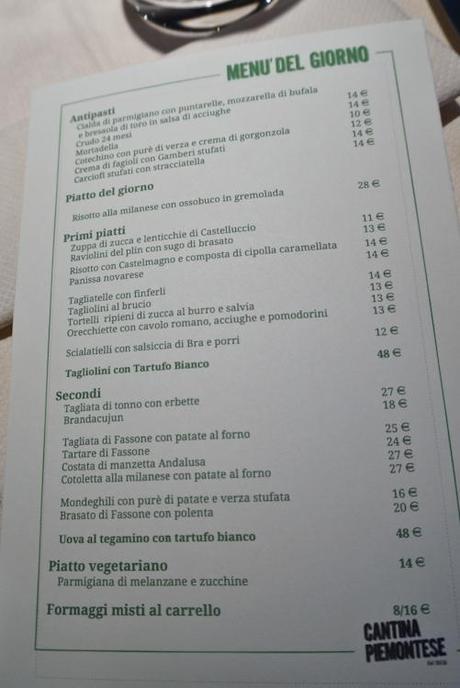 The Menu
The Cantina Piemontese has many signature dishes that you will always find on the menu and a rotational daily and weekly menu as well.  We started out with an apetiser of their version of the Parmigiana di Melanzane e Zucchine, a vegetarian layered dish of cheese, eggplants and zucchine. Melt in your mouth goodness, this was on par with any good parmigiana that  I've had anywhere in Italy.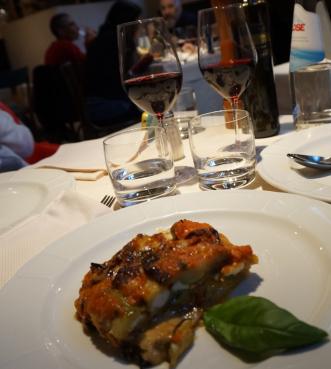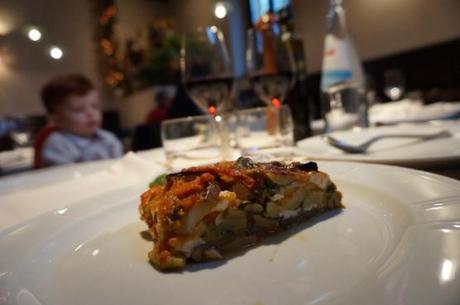 I could not RESIST ordering the most typical Milanese dish:
Risotto alla Milanese con Ossobuco in Gremolada // milan style Saffron Rice with Ossobuco,cross-cut veal shanks braised with vegetables, white wine and broth and served with gremolata.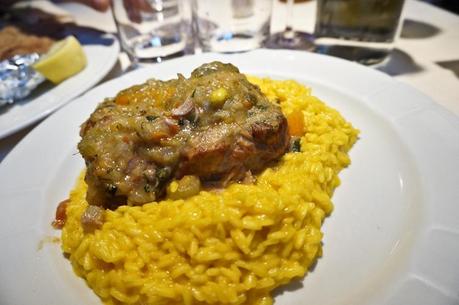 The Cantina Piemontese is one of the few gluten free restaurants is ALL OF MILAN that offers this traditional dish in a gluten free version.  Any person with gluten sensitivity or Celiac Disease /Coeliac Disease knows that rice and risotto dishes, if make with broth stock cubes there is a high risk of gluten contamination.  Rest assured their risotto is made with REAL broth, and their stewed ossobucco was ONE OF THE BEST I'VE EVER HAD.
This is as authentic as it gets if you want to have a real Milan experience.  The only other dish I would recommend to cover all of your traditional Milan dishes without gluten bases is the:
Cotoletta alla Milanese
Hammered until extremely tender and almost paper thin, their version has been breaded in gluten free breadcrumbs and fried until the outside is crispy and the inside is tender and delicate.  Served with oven roasted potatoes, between this and the Risotto my husband and I were FULL.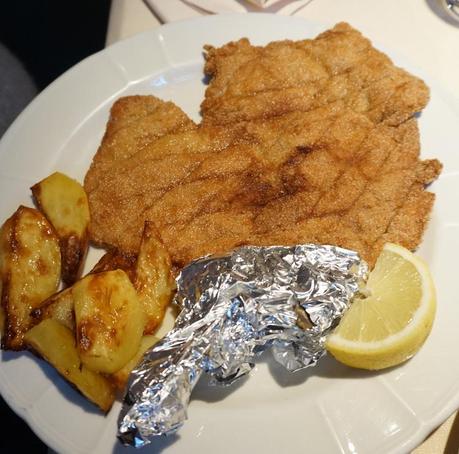 But that didn't stop us from ordering dessert!  how could we resist. The Cantina Piemontese has a daily gluten free dessert menu that offers something for every sweet tooth.
We shared a Panna Cotta (Crème brûlée) with field picked strawberries and a rich dark chocolate cake served with fresh raspberries.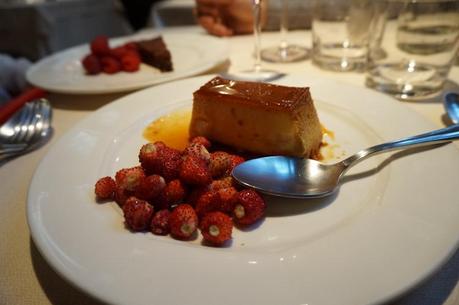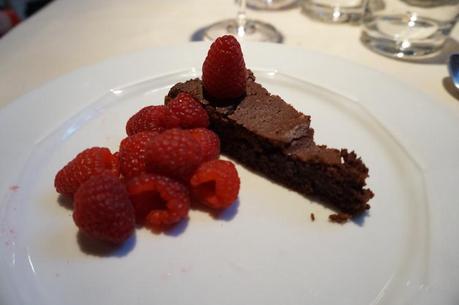 Nothing about this meal was disappointing.  The only thing that left me unsatisfied was the fact I didn't have enough room to TRY EVERYTHING.  WE will be back to taste the many other items on the menu that had our mouths watering.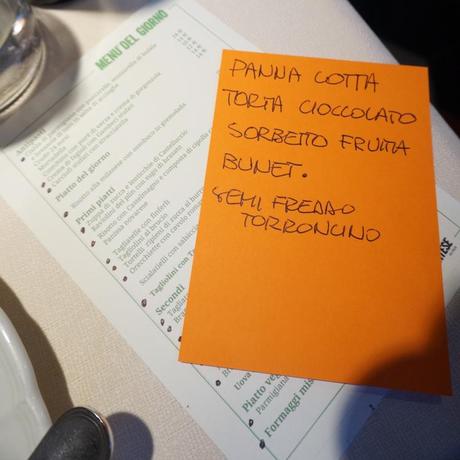 With over 90% of their complex and mature menu available gluten free why not try some of these other dishes such as:
Cialda di parmigiano con puntarelle, mozarella di bufala e bresaola di toro in salsa di acciughe // A bowl made from parmigiano reggiano cheese with "puntarelle" (winter chicory), mozzarella and cured bull salame in an anchovy sauce.
Risotto con Castelmagno e composta di cipolla caramellata Panissa Novarese // Castelmagno Cheese risotto (some say the world's most expensive and delicious cheese!) with carmelized oniones and served with a traditional Piemont side of Panissa Novarese.
Taglionini con Tartufo Bianco // Tagliolini pasta served with white truffle
Brandacujun // A typically Ligurian dish of potatoes, baccala (salted cod), pine nuts, parsley and olive oil.
Plus, there were many dishes with Fassone Beef from the Piemont region of Italy.  They serve it as a roast, with polenta and as tartar!
If you are looking for a gluten free restaurant near Milan's Duomo than look no further.  A one minute cab ride or 7 minutes walk will have you at the Cantina Piemontese enjoying all of the specialty dishes milan has to offer  and all of them WITHOUT GLUTEN!!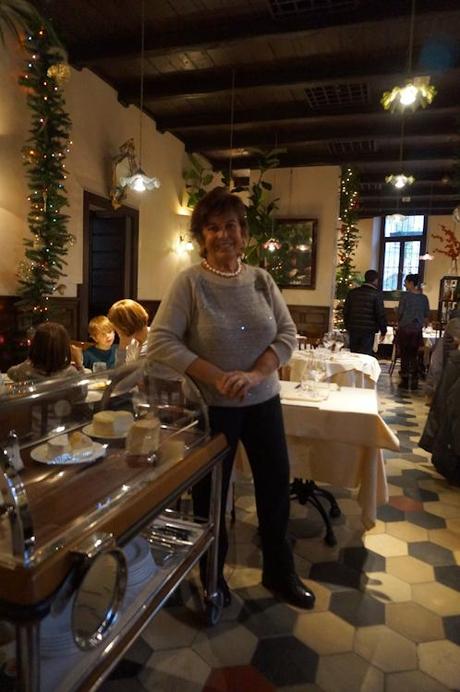 Gluten Free in Italy
I hope you've found this review helpful, a special thanks to the Cantina Piemontese for being a part of this series.  If you are attending EXPO2015 in Milan and you are looking for gluten free options please feel free to check out the other posts in this series.  I've reviewed the gluten free breakfast at the Enterprise Hotel and a great, a yummy, fast and cheap lunch or dinner option at Tigella's, serving some of Italy's yummiest street foods gluten free and soon I'll be reviewing a few other places to have great gluten free food in Milan.
Reasons to Dress is a lifestyle blog, and now that I find myself with my son who has a Gluten Sensitivity, finding delicious gluten free options is a part of my life!! Even if you aren't interested in gluten free travel, please feel free to pass this along to someone who might me. And I sincerely hope that this review and series makes someone's vacation much more positive and easy.  Just because you have a gluten intolerance doesn't mean you can't travel and enjoy all that life has to offer.
This Fall I'll be launching a new website dedicated to Gluten Free in Italy, in the meantime you can follow along here for updates.
Instagram – @glutenfreeinitaly
CANTINA PIEMONTESE – Info & How to Get There!
Find them here on FACEBOOK!
Via Laghetto 2, Milan
Phone: +39 0278 4618  E-mail: [email protected]
Feel free to follow Reasons to Dress on Bloglovin' so you never miss a post!
You'll get one email a day with all the new posts from all of the blogs you follow.