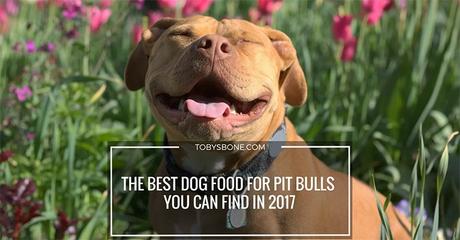 Pit Bulls are one of the most muscular dogs. This breed was made to lure the bulls into the ring, what describes their energetic and playful nature. As such, they require special nutrition that is rich in protein. When it comes to choosing the right food for your pet, you should get the knowledge regarding the dog's breed and the health issues that are common among that particular breed. Food allergies are also something you should pay attention to, not all dogs are the same, and your dog may be more sensitive to some foods than his Pit Bull relatives.
More...
Quick Guide to Some Good Foods For Pit Bulls
Food
Nutrition
Our Rating
Price
**Below, you'll find our more detailed reviews, but you can also click the links above to see current prices or read customer reviews on Amazon.
Making The Right Choice
Grab your pen and paper, as we get into detail to make sure the right choice was made. The raw meat is always the best option, but it could be expensive. You can always mix some raw meat in his diet on your own from time to time. Another good idea is a bone from a butcher house nearby.
Since most of the people need to rely on at least some amounts of dry dog food, it is important that the ingredients and nutrition facts of the food are checked. Any high-quality protein food would be a good choice for a Pit Bull, but make sure it's not one of those cheap versions that contain too many salts. Also, the excellent addition to have are nutrients critical for healthy joints and proper digestion.
Allergens
If your dog has shown a sensitivity to food, grain-free might be a good option for your pet. Grain-free food has no grains, so it's easier to digest. However, it might contain some allergens like eggs and soy. If your Pit has shown allergic reactions in the past, the hypoallergenic food is the healthiest option.
Hypoallergenic food doesn't contain grain, gluten, corn, eggs or soy. When you're making a transition from one food to another, take it about two weeks so your pet can adjust appropriately. Also, try out different mixtures and brands until you find the one that suits your pet the best.
Symptoms of an allergic reaction to food could appear after a few days. If the poop is not firm, there's more gas than usual and the loss of appetite is present, it's a good time to search for a new food. While searching for a new pack of dog food, take a look at the top ingredients of the last one and try to find a different mix.
Optimal Nutrition
For an active breed like Pit Bulls energy is vital. They require much more fat, carbs, and most important, a lot more protein than other breeds. When your Pit Bull can satisfy his exercising needs, he will stay healthy and live much longer. The more attention you pay to his diet, the fewer visits you'll pay to the vet.
The number of calories, vitamins, and minerals needed for your Pit Bull is determined by its size and age. Pit Bull puppies usually require up to three meals a day along with a healthy treat. Third meal and a treat are necessary until puppy's transition to adolescent age. Adult ones are completely ok with two meals a day.
Protein
The minimum amount of protein in food for puppies is 22%, the adult dogs require 4% less. The recommended amount, however, is 25%-30% for adult dogs and even more up to 30%-40% for muscle growth diets. Protein is an essential nutrient for muscle building, tissue and bone repair.
Fats
Fats are the fundamental source of energy. They also form a layer under the skin to serve as a protection and to regulate the body temperature. Fats are also needed for healthy skin and shiny coat. The best fat percentage in food for Pit Bulls is 15%-25%.
Carbohydrates
Carbohydrates are the energy providers that help with digestion also. Usual sources are brown rice, sweet potatoes, barley, and oatmeal. High-quality carbohydrates are the ones from sweet potatoes and oatmeal.
Vitamins and Minerals
Just like in the human diet, dogs need vitamins and minerals for a better immunity also. Most of them are gained through a fruit and vegetable rich diet. The more different fruits and veggies are involved, the better the diet will be.
Calories
A number of calories needed for your Pit Bull depend on its age, weight and activity level. For puppies and younger dogs, 1100 calories per day are enough. Active adults should get somewhere around 1800 calories, while older dogs are ok with 870 calories per day.
Ingredients to look for
Whole meat
Fruits and vegetables
​Oils and fats (omega 3 and omega 6)
​Vitamins (A, E, beta-carotene, etc.)
None or natural preservatives
Ingredients to avoid
Wheat, corn, and soy
Meat by-products (low-quality protein)
​Salt and sugar
Artificial preservatives
The Best Pit Bull Food You Can Order Online - Reviews
**Below, you'll find our more detailed reviews, but you can also click the links above to see current prices or read customer reviews on Amazon.
​
Recommended for adult large breed dogs, makes it a good choice for Pit Bulls. The first and primary ingredient in this food mix is the chicken. Like many other dog foods, this one is also served based on the dog's size. I used three standard cups as usual. The amount of protein found inside is 23%, fat 13%, calcium, vitamins along with the omega 3 and omega 6 fatty acids.
My Pit loved it, had no adverse reactions to it. As I already mentioned I like that the food I give to my dog has at least 25% of protein because I like to have both of us on a high protein diet to cover our mutual running exercises.
Value for money is definitely on the top pick, and I was able to purchase it while it was on 10% discount. Don't worry if there's "small breed" writing on the packaging; it doesn't mean it's not for a Pit Bull. That means that the pieces of food are cut to be very small, nothing more. My dog almost just swallowed it all without chewing, don't worry about that also, the pieces are so small they are easy to digest.
Things I Liked
Conclusion - My best choice
Having in mind all of the important nutritional facts I stated at the beginning, and my personal preference of high protein mixes, the Wilderness Blue Buffalo High Protein Dry Adult Dog Food takes the cup. With its large amount of 34% protein, it's an absolute winner if you want your active dog to be strong and healthy. Also having no corn, wheat or soy makes it a clear better choice over the other types of food. With all the antioxidants and fatty acids for a shiny and healthy coat, I noticed a significant difference. Not to mention I turned my dog into a body builder, he got to a better shape than me in a no time. One more thing I noticed, he stopped chewing grass as
dogs tend to do when they need help with digestion.

June Frazier
Hello, Everyone! My name is June, and I live in North Dakota with my dog, Toby.Dogs are my passion, which had led me to dedicate my life to caring for and training dogs, a life that I began to lead as soon as I graduated high school. With a wealth of knowledge to pass on, I decided to make this blog and share my experience with my fellow dog lovers!