Engagebay is the best CRM software for your e-commerce business. It is the world's most economical software with all-in-one service. They have catered to more than 28000 clients globally.
Zoho CRM software for eCommerce proudly serves over 150,000 clients in 180 countries globally. This trusted CRM software can transform your business by converting more leads, improved customer engagement and revenue growth.
Freshworks is another leading CRM software for e-commerce businesses. They have handled more than 40000 clients globally and many more to come.
If you are at a stage in business when you are getting a lot of leads per day or starting a new venture, in both scenarios, CRM is the best tool to organize all the data and optimize the customer journey.
Today, I will be discussing a couple of CRM platforms available in the market for your eCommerce business.
You can increase your revenue for sure if you choose the best CRM for your E-commerce business.
Today we will give you a holistic description of seven CRM tools. You will get the following information in this article:
Information about Seven CRM tools:
Detailed Features
Pricing of different tools
Pros and Cons and
We will say the best tool suitable for your business.
Bottomline Introduction

There are dozens of CRM software available in the market. You need to have clarity and understanding of the CRM you are going to purchase. Currently, Engagebay CRM is the best option available in the market for e-commerce business. They provide all the required pre and post-sales services. This is the best CRM software for boosting your leads generation and revenue.
So, let us get ahead with today's topic. You will get to know all these tools, overviews, and pros and cons, and much more. This will help you to make a sound judgment to start or boost your e-commerce business.
Before delving deeper into the description of tools, we should know what CRM is.
Best CRM for ECommerce
In the e-commerce business context, CRM helps in lead generation, conversion, and interactive customer journey.
Let's start with the description of the tools.
In the current market, Engagebay is the best CRM available for your e-commerce business. So we will start from Engagebay here.
Engagebay
Engagebay is the best CRM software for your e-commerce business. It is the world's most economical software with all-in-one service. They have catered to more than 28000 clients globally.
Customer Relationship Management (CRM) software of Engagebay helps your business organize email lists, sales pipelines and track deals to increase sales and revenue.
You can find everything you need from one CRM. Here you will get CRM software, Marketing Automation, Help desk software, and live chat software in one place.
Features:
Pricing:
Engagebay offers several packages for their clients. You can avail of free service too, but to explore advanced features and get a quick outcome, it would be great if you choose any of their available packages.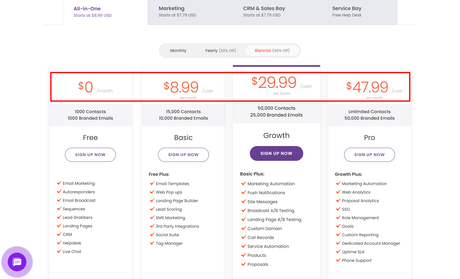 Their available packages are as follows:
All of their packages come in Free, Basic, Growth, and Pro versions. They are available in the Monthly, Annual, and Biannual options,
All in One package- starting 8.99 US Dollars
Clients have the option to go for an All-in-one package or one specific feature.
Marketing Automation- starting from 7.79 US Dollar
CRM and Sales Bay Software- starting from 7.79 US Dollar
Visit Engagebay for more offers and discounts on your pricing.
Freshworks
Freshworks is another leading CRM software for e-commerce businesses. They have handled more than 40000 clients globally and many more to come.
Their software is easy t o use and requires minimal customization. They are Chennai based company and have crossed revenue of over 100 million US dollars in 2018.
Features:
Pricing:
Freshworks offers Customer for Life Cloud packages in Growth, Pro, and Enterprise categories.
Along with standard packages, Freshworks also provides add-ons.
Visit Freshworks for more updates and offers.
Pros and Cons of Freshwork CRM Software tool.
Freshworks CRM helps in the onboarding process for new prospects. It is a good option for someone who is using CRM for the first time.
Freshworks has integration with several other similar apps. It helps in interacting with calls and calendars.
Freshworks follows leads virtually for your business. This user can track the customer journey, making it easy to target them based on behavior, preference, etc.
Cons:
There is much scope for improvement in tech support. It usually took a lot of time for a response.
They could have added a proposal generator for improving sales.
Zendesk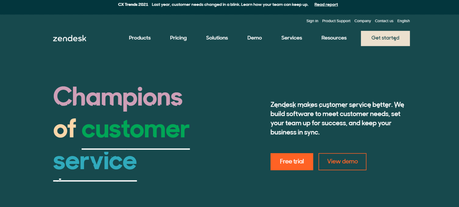 Zendesk is a leading CRM software for e-commerce businesses. This San Francisco-based company has provided automated CRM software since its foundation in 2007.
It has a market capitalization of 17.3 Billion US Dollars. It gives many CRM services to make your customer journey fruitful and increase sales and revenue.
Features:
Ø At Zendesk, customer experience is their focal point. When your business grows, supply-side problems become more common. Customized Support Solution:
Zendesk offers flexibility to customize solution tools such as AI-powered automation, advanced workflow features, and self-service to handle queries and staff together.
Automation helps agents in getting specific questions as per their skill set. It saves time for both customers and agents.
Ø : Zendesk offers exclusive offers if you are starting your venture. With sign-up, they provide 6 months of credit to up to 50 agents. A CRM for Start-ups
This credit can be redeemed for any package of Zendesk sell, talk, chat, explore, guide for free. Customers expect the same kind of experience whether you are a new eCommerce business or an established brand-they handhold new eCommerce companies with sales support, customer engagement, and increased sales with more conversions.
Ø Zendesk provide a dynamic workplace with AI-enabled automation. This CRM will help your team to work faster, smarter and target customers more intelligently. Automation and Dynamic workplace:
With automation, you can target specific customers in the niche market. You would not find any creepy robots or pop-ups.
Pricing: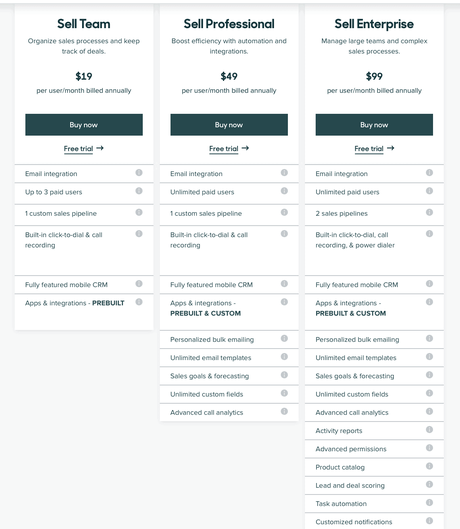 Zendesk has different packages for sales and service categories. In sales, there are foundation support and suite packages.
Packages in the Service category are:
For all the packages and offers, visit Zendesk.
Leadsquared
Bangalore-based CRM Software provider, Leadsquared, established in the year 2011. Their marketing automation and sales execution CRM allows eCommerce and other businesses to improve their customer experience and conversions.
They help B2B, and B2C Businesses nurture, manage and track their leads efficiently. They provide services in sales CRM, Marketing automation, integrations, conversions, mobile CRM.
Features:
Pricing:
Leadsquared offers four types of packages for clients.
Lite: It is available for Rs. 1250/monthly
Pro: It is available for Rs 2500/monthly
Super: It is available for Rs. 5000/monthly
Billing happens annually.
Our next tool to discuss today is Zoho CRM software for Ecommerce business.
Zoho
Zoho CRM software for eCommerce proudly serves over 150,000 clients in 180 countries globally. This trusted CRM software can transform your business by converting more leads, improved customer engagement and revenue growth.
This is one of the most used Customers Relationship Management software out there.
Zoho is an Indian multinational company established in 1996. Their headquarter is in Chennai and offices in seven locations across the world.
Features:
Ø With Zoho CRM Software, your sales team can devote their time and energy to target customers, creating as well as nurture leads, building repos with customers. Automated process for sales closures:
The sales team can easily generate estimates and make quotations, proposals, and orders.
Ø With their analytics tools, your team can monitor every aspect of the sales process. Analytics for better insights and communication:
Businesses can create customized dashboards with analytical widgets for sales, such as target meters, KPIs, charts, funnels, etc. You can do a lot more with deal insights, activity stats, lead analytics, and email analytics.
Ecommerce businesses will see sales and conversion boost with these actionable data intelligence tools.
Ø Users can access mobile CRM apps with Zoho CRM software. For an eCommerce business, sales are the ultimate objective. Track KPIs on the move:
Every lead matters, so keep track of the sales team even when they are on the go. The sales team can log in from anywhere and work on leads.
Ø Zoho offers state-of-the-art security controls. Your organization and products are secured with features such as two-factor authentication, IP restrictions, audit logs, and encryption. Secure data:
Only you can authorize any person to access your dashboard. So, feel secure with Zoho CRM software.
Pricing: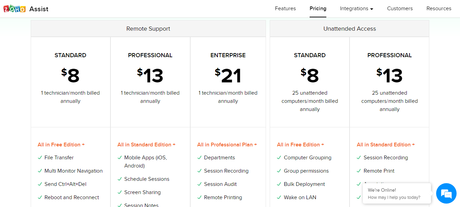 Zoho offers four packages.
Billing happens on an annual basis.
Visit Zoho for more information and offers.
Pros and Cons
Pros:
As per PCMag Survey, Zoho has been named as the most recommended CRM software for businesses. It is the only CRM with a positive NPS amongst hundreds of CRM available.
Zoho CRM software is a visionary unique way for their exceptional customer help desk, increased market expansion, and customized solutions. According to the PCMag survey, Zoho is the most recommended CRM and the only one with a positive NPS score among other leading CRM vendors.
Zoho is a complete platform for everything we need from a CRM. To generate leads, organize them, conversion and increase sales. Zoho helps at every step with their customized solutions.
Zoho is one of the most affordable CRM available. The business of all categories can afford it and start interacting with their target customers immediately.
Some reviewers complain about a problem with product integration on Zoho CRM.
Few people feel that it becomes expensive to use Zoho because they have to pay for every tool on the software separately.
We will discuss the Act!. Another prominent CRM software for Ecommerce.
Act!
Act! CRM Software is a state-of-the-art customer relationship management tool for all kinds of businesses. Act! keeps track of all customer touchpoints and client's products, stored in a single database.
This database can be shared within the team for optimum performance. One of the USP of this software is integrating data with MS Office, Google Contacts, and Gmail. This helps in a better marketing plan and targeting. Act! has reached a user base of more than 3.8 million.
Features:
Ø Marketing automation and CRM together: With automated marketing tools and CRM, your team can make a more informed planning decision. With proper planning, you will get more leads, conversion, and sales for your eCommerce business. Possibilities are unlimited with Act! CRM software.
Ø Stay connected on All mobile devices: Their tool Companion helps you stay connected from all mobile devices. This free CRM mobile app will keep you connected with your iPhone, iPad, and Android devices.
Ø Microsoft Outlook Integrations: This is one of the unique features of Software. Users can maintain a complete database on MS Office via Act! Contact Link. It will save time, seamless workflow, and integration in one place.
Pricing:
Act! offers CRM packages in three variants.
Essentials: It is available for 15 US Dollars/monthly
Standard: It is available for 30 US Dollars/monthly
Expert: It is available for 45 US Dollars/monthly
All billing happens annually.
The last tool which we are discussing today is Maximizer.
Maximizer
Vancouver, Canada-based CRM software provider, Maximizer has worked with more than 120,000 businesses across the world. They are in this business for 25 years and have helped companies with their sales, revenue, leads, and conversion.
Maximizer CRM offers all the features users require to succeed.
Feature:
Dynamic and adaptive dashboard: Data analytics tools have been simplified in Maximizer CRM software. Anybody from your sales team can monitor through their dynamic and adaptive dashboard . You do not need any specialized skill set to operate the Maximizer dashboard. Users can track quarterly, yearly performance with the click of a mouse.
Automated Campaign creation and tracking: Use Maximizer for relevant leads and maximum conversion. Clients can access and monitor everything from a single platform. You can create automated campaigns, generate your return on investment with an ROI calculator and track your outcome.
Pipeline Management: Your sales pipeline should be effective, clear, and visible. With an all-in-one dashboard of Maximizer, your sales team can manage leads effectively, track them and convert them for sales closure.
Customer Support: A Happy and satisfied customer is the best brand ambassador for a brand. If you want your eCommerce business to be successful, you must invest in customer support services. Maximizer CRM tool has made this simple for your business. Your executives can easily track, manage and resolve any customer-related query, including billing, return procedure, and tech support, comfortably.
Data deployment options: Maximizer offers two options to secure data. One is the cloud option. This method is cost-efficient and protected by Tier IV certified data centres. You will get access to all updates and features very quickly with the cloud option. The second method is On-Premise CRM. In this option, you store your data on your web-server. Maximizer provides a URL for this option, which you can use to access your dashboard anywhere on a desktop, laptop, or tablet.
Pricing:
Maximizer offers three package options.
Business Plus: It is available for 49 US Dollars.
All billing is done annually.
Pros and Cons of Maximizer CRM:
Pros:
Maximizer is very economical in its price range. It is much cheaper than other leading CRM software such as Salesforce.
It is easy to organize leads, operate sales planning, and track the customer journey.
Integration with other CRM programs such as Mail Chimp makes relevant customer experience.
Cost-effective and simple interfaces are perfect for small and micro-businesses.
Maximizer needs to improvise on handling huge data.
Some reviewers opine that there should be a delete option on the dashboard. There should be some option to delete without physically deleting data.
FAQs On Best CRM For ECommerce 2021
✔How can CRM Software help my eCommerce business?
CRM software helps in organizing data. The sales and marketing team can make better marketing strategies for business growth. CRM software targets customer journey at each of their touchpoints. These touchpoints will help your sales team target customers as per location, behavior, preference, etc. This will give better segmentation and targeting a specific audience. Hence increase in leads, conversion, and more sales. Benefits for investing in SRM Software for eCommerce business. CRM Software gives you the following benefits: More customer retention. Enhanced productivity Real Time communication between various departments Smarter Sales pipeline Reduction in marketing cost because of automation Tracking of all sales leads, very few missed sales call Enhanced customer care response rate
💥 What is the cost of CRM Software?
There is not a fixed rate for CRM Software. It is not possible to answer the cost of CRM software. Rates vary from company to company. If you are going to subscribe to CRM Software, do research, visit sites on the web, see their services, and match your requirements. This research will help you to make a sound judgement. Currently, Eagle bay CRM Software is the best option available both in performance and cost (economical).
Quick Links:
Conclusion: Which Is The Best CRM For ECommerce?
We have come to the end of this article. There are several other CRM tools available in the market. But we have shortlisted these seven as per our research and understanding.
You should prepare your own list before going out to buy a subscription. It is rarely possible that one CRM tool fulfils all of your business goals. So, it is essential to compare various CRM as per your requirements. And after proper research, come to a sound judgment. Size and finances should not be detrimental factors.
I would suggest you go for the Engagebay CRM tool for better conversion and relevant leads at economical rates. It would not make a hole in your pocket.