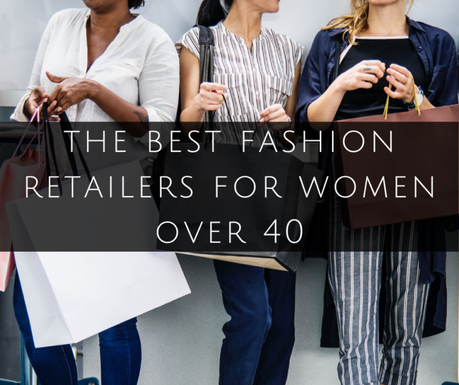 If you've found that your reliable go-to clothing retailers seem to be too matronly or too juvenile, you're not alone. And you're likely over 40. There's something about turning 40 where you change so much and your wardrobe doesn't seem to keep up. You have different priorities, your body changes regardless of diet and exercise, and your lifestyle changes requiring different needs and different style from your clothing. It's a big reason why I created Wardrobe Oxygen. Our lives and our styles change as we grow and I wanted to be a resource to offer ways to have your wardrobe grow with your life. Below I share my tips for the best clothing retailers for women over 40.
The Best Clothing Retailers for Women Over 40
When compiling this list I thought of retailers that offer chic and stylish clothing that works for the body and the life of a woman over 40. I don't believe there are rules for what women over 40 should and should not wear; we're grown women who can wear whatever makes us happy. However, I and many women I have know and have connected with in the Wardrobe Oxygen community share that with growth comes knowledge. We know what silhouettes make us feel confident, what sorts of laundry instructions we're willing to follow and which are too much time or trouble, what fabrics work for our position at work or our weekend hobbies, and how we're looking for clothes that will last longer than a season. The retailers I share below focus on clothing that is more polished, whether it is casual or corporate, higher quality and styles that are on-trend without being so trendy they will look passe in a year.
Anthropologie
Anthropologie is known for elevated boho style, but I think that categorization is limiting. Over the years, Anthropologie has put more of a focus on their curated collection of apparel by increasing brands and also increasing sizing up to 3XL. Unlike many retailers that have separate styles for plus sizes, Anthro offers the same link for Misses, Plus, and when available, Petite and Tall. They offer fun prints, unique embellishments, and clothing that can move with you. Anthropologie is a favorite place for summer clothing - cotton voile tunics, breezy maxi skirts, shift dresses, linen pants, and cool graphic tees that don't look childish. Come fall and winter, you're sure to find fantastic cardigans and kimonos and dresses that transition from desk to drinks with ease. While Anthropologie offers eclectic styles, I find the pieces I buy from this retailer are wardrobe favorites for years beyond my more utilitarian closet staples.
Argent
Banana Republic
Banana Republic has gone through a lot of... personalities over the years and those of us over 40 can remember a lot of them. Now, Banana Republic is a place for clean, simple yet very chic style. It's a great place for workwear, but what I love is they have so many pieces, from merino wool sweater to suiting, that are machine washable. With the change in our lifestyles this year, Banana Republic has been pivoting offering breezy summer separates like shorts at a comfortable length, t-shirts in gorgeous colors and prints that are opaque and not too fitted, and beautiful below the knee length sundresses styled so you can wear your favorite bra. Their denim is cut well and they now have a great line of high-quality activewear that is worth checking out. I love that while they have plenty of neutrals I can always find great pieces in jewel tones, bright pastels, and primary shades. And if you haven't visited Banana Republic recently, their size range now goes up to 20 with many styles available in petite and tall. Here is a link to all my posts where I am wearing and reviewing Banana Republic.
Boden
Chico's
If you think of Chico's and envision polyester palazzo pants and quirky embroidered tunics, you haven't visited this retailer in a long while. While Chico's still offers comfortable and creative fashion, the look has streamlined with the trends offering quite chic options in a range of sizes up to 20/22 with many available in petites, tall, and lengths. One of the things I like the most about shopping Chico's online is the extensive and detailed customer reviews. Chico's has a strong fan base and their feedback makes for easier shopping! Here is a link to all my posts where I am wearing and reviewing Chicos.
Garnet Hill
Halsbrook
Hobbs
A UK-based fashion brand that started in 1981, Hobbs offers modern cuts, feminine tailoring and heritage craftsmanship up to a US size 16 with petite offerings. A great destination for suiting and dresses for work and social occasions, Hobbs is clothing that will stand the test of time in your wardrobe, making getting dressed easy and chic for many seasons.
J. Crew
J. Crew has been around for decades, and while their classic/preppy/with a twist aesthetic has remained, they have moved with the times offering modern silhouettes, on-trend colors, quirky prints, and current accessories to update your wardrobe. I find J. Crew to be a fantastic destination for suiting, summer basics like shorts and sundresses, and one of my favorite places to find graphic tees for grown women. J. Crew is available up to a size 3XL which is equal to a 24, and many pieces available in tall and petite. I really appreciate J. Crew's diversity of models, showing women of different ages and shapes.
J.Jill
Lands' End
While many think of Lands' End for parkas and fleece, they are also a great destination for women's fashion. The quality is usually stellar, the prices reasonable for the construction and fabric, and they have amazing sales. I appreciate the extensive and honest customer reviews that also share the reviewer's age range (great for gauging whether such adoration is from a college kid or a retiree). Lands' End offers sizes up to 24/26 and many pieces, including swimwear, comes in petite and tall offerings. Lands' End is also my favorite destination for swimwear that is stylish, classic, and works with a variety of body types (hello cup-sized swimwear, long torso, and mastectomy styles). I have dresses from Lands' End that are a decade old and still look stylish and like new. The modeling of fashion on their website offers little in understanding the true quality, fit, and drape of their clothing; I find following their Instagram (and those who tag Lands' End on Instagram) to be a great resource when shopping this retailer as it offers photos of people out and about of all ages and shapes in their fashion. Here is a link to all my posts where I wear and review Lands' End fashion.
M.M.LaFleur
Modern Citizen
Pari Passu
Talbots
Talbots is one of my favorite fashion retailers, and it's another store where you can't base the fashion off their poor website styling. If you remember Talbots as the place for chinos with pineapples embroidered on them, they are worth a revisit. While the brand still has a bit of a preppy classic vibe, there's a lot of the line that fits a variety of personal styles. From quality knits to figure-flattering dresses, Talbots has a denim line I find extremely flattering and well made and a really stylish activewear/athleisure collection. I also recommend signing up for Talbots emails as they often have sales and promotions. Talbots is one of the few retailers that not only carries petites, but has most of their pieces in regular, petite, plus, and plus petite. Here is a link to all the posts where I wear and review Talbots.
Universal Standard
Universal Standard is a smaller and newer retailer, but one you should check out. Offering clothing in sizes 00-40 with some in petites and lengths, they are one of the most inclusive clothing brands out there. So inclusive, you'll find models of all ages, shapes, and abilities showcasing their style on their website, in newsletters, and social. Universal Standard excels in elevated wardrobe staples: some of the highest quality t-shirts, great-fitting jeans, dresses for work and for weekend, blazers, pants, outerwear, and loungewear. Predominately solids and from quality fabrics, these are chic pieces that can build the foundation of your wardrobe. Here is a link to all the posts where I wear and review Universal Standard.
White House | Black Market

And now I would like to hear from you readers... where are your favorite places to shop that are stylish, flattering, and appropriate for a grown woman? I'd love to hear your thoughts on the best clothing retailers for women over 40!