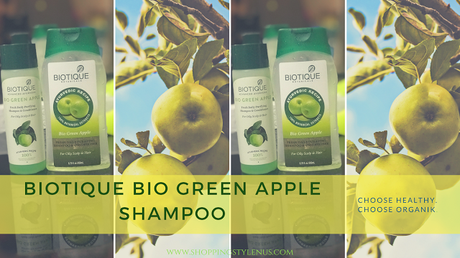 Do you have oily scalp that turns greasy as soon as you step out? Do you also get compliments (read: comments) on the commendable job of applying oil and stepping out of house with the oily hair (in reality, you washed your hair this morning!)?? I feel you because...
This was exactly me and I had been dealing with that issue for quite a long time until...
I turned to Biotique when I wanted to try an under eye cream but not so expensive and I was impressed, although I don't remember if it really worked on my puffy eyes or not. It's only because there are many products I buy but I don't regularly use them. I am guilty!
My second Biotique product was it's kajal that I am still using, but only at home during night because I like kohled eyes. Why don't I step out wearing this kajal is another story.
My third Biotique product is Bio Green Apple Shampoo. This product has become my go-to, to treat my super oily scalp that cannot go more than a day with shampoo. I have been using this shampoo nearly for over three months (I switched to other shampoo by L'Oreal after a month). The reason for switch was that if I did not oil my hair regularly or use any hair mask or conditioner (that I never do because they make my hair limp and greasier) , my hair felt stripped-down. A little dry!! It means, this shampoo is strictly NOT for dry and frizzy hair!!
Biotique Bio Green Apple shampoo smells like freshly cut green apple. If you are someone who has oily scalp and get headaches due to strong scents in products - then it is safe to use this shampoo considering you like fruity scents.
Price Rs.155 for 200ml is awesome for a preservative free and dermatologist tested product that works as a shampoo and conditioner. However, I'd suggest invest in a good organic, preservative free hair mask like me that would become icing on cake for your beautiful hair.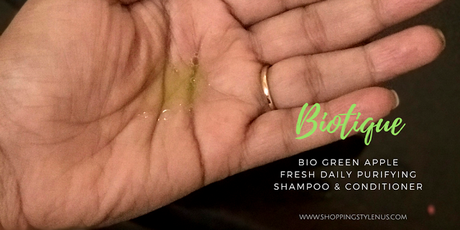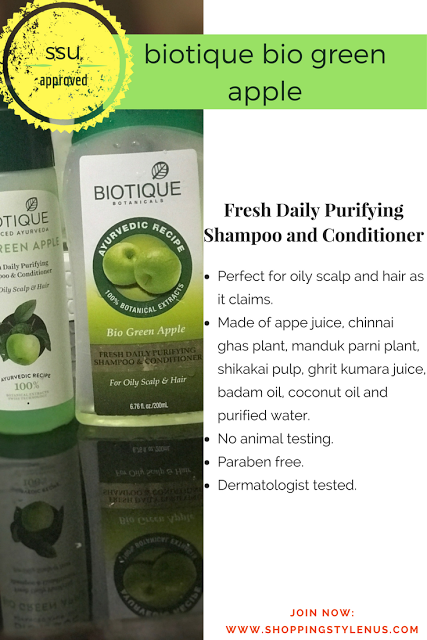 SHARE ME
I am already on my second bottle, this is how much this shampoo is doing for me. I promise my hair that this shampoo will always be a staple on my bathroom shelf, despite of multiple shampoos and brands I would be trying in future because, hello!!, I'm a blogger!
Hope you Light-bugs enjoyed this post! I'd suggest if you want to try this shampoo, be loving for your hair and show some care by oiling it well.
Before you go -
Everybody would love to know your favorite shampoo and why?
Love and Light
SSU
*This post may contain affiliate links, products sent by brand/PR for consideration, paid content.
Disclosure Policy