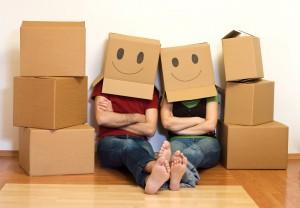 CC: Image Source
There are some occasions in life when we need hat little bit of extra help to make things run efficiently. Most things around the house are easily managed, but when it comes to moving from one home to another, many of us need a helping hand to help us relocate. The physical side of moving house often requires professional help to prevent valuable items from getting broken and family members from getting injured whilst trying to move heavier objects. For those who have only moved house once, twice, or even never, hiring removal professionals can help you plan and organize a moving day that has minimal hassle, meaning that you can quickly start settling in to your new home.
Professionals are Trained
You may shrug at the concept of needing to be trained in heavy lifting, but it is incredibly important to be trained in the correct way to move heavy items in order to prevent serious personal injury. If you, or a family member, is injured during the move then you may find your relocation becomes more stressful and difficult meaning that you will arrive at your new property feeling distressed and in serious pain that could potentially become a long term issue.
A professional man with a van will be trained in the correct and safest ways to lift heavy, precious items and will be able to carefully transport them without the risk of personal harm, meaning that you and your family can relax with the knowledge that your move has met important health and safety requirements.
You can get a Personalized Service
Removal experts are well aware that no move is the same, so will be well prepared to deliver a personalized service to you and your family. It may be that you are relocating to another town or city, and therefore need a longer man and van hire, or that you will need to make multiple trips from one property to another. Whatever the requirements, a man with a van company will have no doubt experience identical or similar situations so will be able to help you organize the most efficient move possible.
You will Save Time
Time is important when moving house, as many estate agents and landlords require properties to be vacated and keys to be returned or collected at set times. If attempting to move without help, you will notice how quickly time flies as you attempt to transport all your furniture and possessions, whilst making sure that the property is left in an appropriate, clean state.
When using a professional company to assist with your move, you can easily stick to a timescale, and you may even vacate the property quicker than first thought, meaning that you have extra time to focus on unpacking in your new property.
They have the Right Driving License

Many people consider hiring a self-drive van to help them move as they believe that this will save them money whilst letting them move bulkier items, but this can actually get them in trouble legally. In order to be able to drive a large van, you will need to have a special driving license that is different from the license that most people hold. You can prevent yourself from breaking the law, and finding yourself unable to drive your pre-hired vehicle by hiring a man with a van who is fully qualified to help you move.
Looking to hire a professional moving company? Stop searching! Start selecting! Post your need in BidsByPros.com today and connect with local pros.
Author Bio Box:
Beth Stubbings has moved six times in her life and is well aware of how difficult moving without professional help is. She would recommend The Man With Van Network for man and van hire to help you and your family move house with ease.
Shared by Don Zilleri

Don Zilleri
Don Zilleri is an author and researcher. He is specialized in business marketing, development and is a small business owner. He learns as he writes by researching and interviewing experts and professionals in many categories and topics. Join him in Facebook and become part of his pro network in LinkedIn All Don Zilleri's article's authored exclusively for BidsByPros.com All rights reserved. If sharing, credit Bids By Pros in article source.