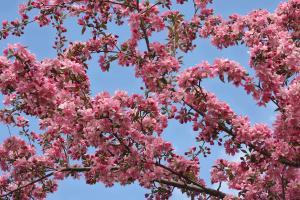 For many of us, time spent not traveling can feel like a tedious money-making exercise, something to endure before the pot refills and wandering can recommence. This seems a pity, though, especially when getting back on the road is not that simple. My travel fund savings rule is to buy nothing but essentials wherever possible, but I also have family and friends scattered across Britain, all of whom expect me (being the one without kids) to visit them. I've been spending, on average, £450 a year visiting them all -  that's now I've learnt to dredge the net for cheap car rental, book trains 12 weeks in advance, and not turn up laden with gifts.  (Photo "Spring Sky" by muffet1)
For me, that's a huge chunk of cash. Much as I love my friends and family, it's felt like my travel pot is chronically hemorrhaging. A couple of years ago, however, I embarked on a little personal development that, amongst other things, involved not being so bleedin' grumpy. It's nice to visit them, after all, and in a way doing so is one of life's essentials - for me and them. If I can't run away from my loved ones to find that travel buzz, I should bring the travel buzz to them. I decided to start spending that £450 more creatively.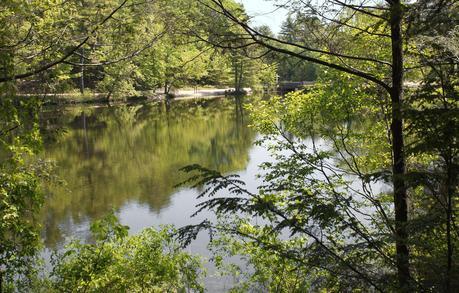 The solution was to find cool places where we could all hang out together without spending much and crucially, the kids would be manageable. England is full of curious rural nooks and their residents definitely aren't dozing - this year I found an amazing campsite near the South Coast which features a converted London bus and a (nearly finished) converted British Navy helicopter amongst its eclectic accommodation. The kids (who ranged from 1.5 years to 9) all deemed it amazing.  (Photo "Peaceful Lake" by MEJones)
So did my partner (who's 29) - while I was chatting to the site owner, I glanced round to see M's enraptured face peeking from the lofty helicopter cockpit! He must've said the right thing to the refurb team. And that's what traveling - for me, at least, is all about - getting talking to people, being shown what they're up to in what might be their day job, but which looks to you like utter novelty. And it kept happening - like when we stumbled on an excellent chef in the unlikeliest dingy-looking pub, which we'd only gone in to use the free WiFi.
That feeling you get when you're traveling - exhilarated, intrepid, at liberty and open to friendship - those moments of serendipity when you find something awesome because you were chilled out and bumbling along, exploring. It turns out you can carry it with you, and rather beautifully share it with others. None of my loved ones have the gall or gold to lug their toddlers round Vietnam, but since we started exploring closer to home, they've all felt more liberated. And I've felt like I'm seeing the world, with all its familiarity and surprises. There's no culture shock, admittedly, but I'm saving up for a nice dose of that (hopefully in Burma) - even if it will take a little longer to get there.
-----------------------------------
This post was a guest post by Sophie Collard (@QunoSpotter).  Sophie is a travel writer who you'll find writing about places to travel or people she's met while on her travels.  She's traveled in the UK, Europe, Australia, New Zealand and South East Asia and loves how train travel gives a sense of distance and changing landscape.  Check out Sophie on Twitter and find out more about her incredible adventures!