This week's The Beauty Behind The Blog, Blogger Q & A is with Becca, the gorgeous blogger behind Becoming Becca.

Tell us a little bit about yourself and your blog!
Hi readers! I am Becca, a lover of all things beauty related. My humble little blog Becoming Becca began as an outlet for my beauty passion, I needed somewhere to voice my thoughts and opinions on products, show products I had discovered, share my makeup looks and communicate with like-minded people.
Your one piece of beauty blogging advice to those just starting out.
 My one piece of advice for those starting out with a beauty blog would be to use lots of photographs in your posts. The majority of readers will make their mind up about your blog within a few seconds, including bright and engaging photographs along with your posts increases your chance of people sticking around or following you.
Your makeup inspiration comes from…
I take inspiration from everywhere! From television, movies, red carpet appearances, other beauty bloggers, and Pinterest, I am forever taking screen shots of images or writing notes in the notepad next to my bed or scribbling on scrap paper in my handbag. There really are so many wonderfully creative people out there to learn from and be inspired by.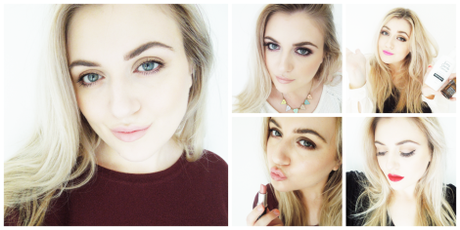 Is not to prime really a crime?
I am a big believer in properly caring for your skin and treating issues rather than just covering them, that way makeup sits far nicer, makeup lasts longer and you can look your absolute best. In saying that though, I do think for some people there is a place for primer, such as for those who would like to diminish the appearance of pores or reduce shine. If someone is partial to primer so be it, if someone thinks primer is a waste of time and money then they are entitled to think that, I am not big on telling people what they can and can't do and I definitely don't believe in 'beauty rules'.
Your favorite TV show.
Don't make me choose! I love television far more than any normal person should, I will watch my favorite shows repeatedly, I can recite lines, I love watching behind the scenes footage, I follow shows on social media, I am forever recommending new things to watch to family and friends. My all time favorite TV Shows include The X Files, The Walking Dead, Homeland, Scrubs, The Office, and True Blood, but honestly I could name a hundred more. The only thing you won't catch me watching is reality TV, not ever.
One quote you live by.
The phenomenal Sophia Loren was once quoted as saying "Beauty is how you feel inside, and it reflects in your eyes. It is not something physical."  I think that is a pretty healthy outlook on self body image.
Head over to Becoming Becca for great beauty related posts. You can also find Becca on social media:
Instagram: @becomingbeccaAU
Twitter: @becomingbeccaAU

| Bloglovin' | Facebook | Twitter | Instagram |