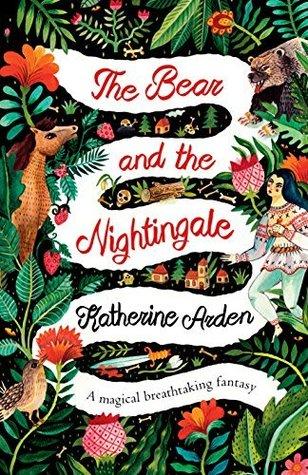 The Bear And The Nightingale by Katherine Arden
Published by Ebury Digital
Ebook
Expected publication 12 January 2017
336 pages
NetGalley
Connect with the author

I was given an ARC of this by the publisher via NetGalley and voluntarily reviewed it.
WHAT'S IT'S ABOUT
'Frost-demons have no interest in mortal girls wed to mortal men. In the stories, they only come for the wild maiden.'
In a village at the edge of the wilderness of northern Russia, where the winds blow cold and the snow falls many months of the year, an elderly servant tells stories of sorcery, folklore and the Winter King to the children of the family, tales of old magic frowned upon by the church.
But for the young, wild Vasya these are far more than just stories. She alone can see the house spirits that guard her home, and sense the growing forces of dark magic in the woods...
Atmospheric and enchanting, with an engrossing adventure at its core, The Bear and the Nightingale is perfect for readers of Naomi Novik's Uprooted, Erin Morgenstern's The Night Circus, and Neil Gaiman.
EXTRACT
IT WAS LATE winter in northern Rus', the air sullen with wet that was neither rain nor snow.
WHAT I THOUGHT
I fell totally in love with The Bear and the Nightingale about a quarter of the way through and stayed enchanted until the last word. This amazing debut ticks all the boxes for me: great writing that sucks you in, brilliant and original storyline, fantastic and vivid characters, magic, fairy tales, demons and magic and other stuff. This book is filled with magic and wonder and evil and suspicious minds in small, remote villages. At times this book seems fairly tranquil and easy-going like a soothing fairy tale with all the dark bits taken out. And then something happens to knock you flat on your ass with a what the hell just happened? look on your face. I love books that surprise me and this book did it over and over. My heart was in the throat for the last half a dozen chapters when things get pretty dark. This book will be in my head for a long time. I adored it. Highly recommended.


I'm thirty-five years old and live in Glasgow in the UK with my partner of ten years. I work in a support team for a call centre. I like reading especially Joyce Carol Oates and Stephen King. I write fiction and poetry. I enjoy watching TV (Grimm, Torchwood, Doctor Who, Lip Service, The L Word etc). I like to play video games and am a fan of survival horror especially the Silent Hill franchise. I like to watch movies especially horror and anything where someone dies. View all posts by pamelascott30