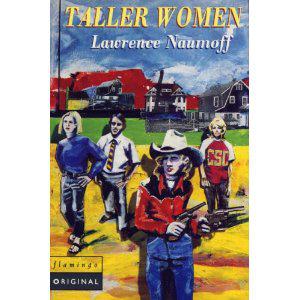 Click on the image to buy this book for a penny, excluding postage & packing.
Occasionally a novel comes along that swallows you whole, making you sigh with pleasure, think deep thoughts, and blink with a delighted astonishment. Taller Women is just such a novel. Following hot on the heels of Naumoff's previous novel, Rootie Kazootie (Harvest Book), it continues the theme of wise women, filled with hope and sadness, and near-silent men afraid of the truth in their hearts and the questions from their lovers.
In manic Lydia and whimsical Monroe, Naumoff portrays a tangled relationship that steers off the road into emotional territory for which neither has prepared. Like the shifting plates beneath the earth's surface, they bump and grind, facing mutual confusion and a hope for something better around the corner. With off-beat humor and genuine insight, Naumoff recognises the sad, funny, scary and absurd battles that occur between the sexes.  He is a wonderful novelist and, absurdly, not well-known or appreciated enough.  Try him, he's marvelous and I don't believe you will be disappointed if you like the view above.