Evening all,
I spent my whole evening reading through Muddy Water's report on Olam – http://www.muddywatersresearch.com/research/olam/initiating-coverage-olam/ , and briefly covered Olam's 45-page rebuttal – http://olamonline.com/olam-dismisses-muddy-waters-findings . I have to admit I should have read Olam's response more clearly if I want to come to an objective and well-informed conclusion. Nevertheless, I am not going to comment on the "fundamentals" in the battle between Olam and Muddy Waters. However, I strongly suggest you to read the report by Muddy Waters not only to see what Carson Block has to say but also to enjoy the humor and potshots that Muddy Waters aimed at Olam's management. After skimming through Olam's response, I tell myself that in most arguments and debates, one party is guilty and the other is correct. Before the truth is established or justice is served, both parties will always be able to present their case and support it well. The point is this: on the surface, it is never easy to pick out the clear winner. With that, I decided I will leave the high-profile battle to the "big boys". As a chartist and retail investor, I can either step aside or rely on my own resources and attempt to gather the pickings when the dust settles; simply put, take a view (it is 50/50) and hope I rooted for the right party.
I want to remind us once again of the huge head and shoulders that was identified in Olam's chart. Huge head and shoulders patterns are quite commonly found in market tops. It is, therefore, important to know how to identify them.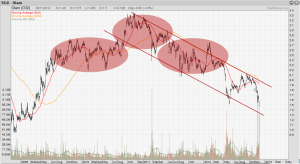 Even before Muddy Waters became known to retail investors on this island, Olam was already in a severe, clearly-defined downtrend. Albeit with hindsight at this moment, I can say that chartists should have seen Olam as bearish several months ago. (Look through my older posts for an example of my bearish technical opinion). As a believer that fundamentals come out in the charts, it is not at all surprising to me to see the Muddy Waters surprise attack sending Olam's share price lower and shaking shareholders' confidence. This is not the first time that events happen, and the existing trend in a market simply exaggerates or continues.
In the chart below, I zoom right in on recent price action. On November 20, Olam gapped down, only to fill the gap the next day. Sellers took control yesterday, and now Olam is at $1.50. Olam is precariously low at this level. Strictly spreaking, Olam is already below previous major lows in the middle of this year. If we hang on to support at this major low, it can be argument for a bounce up. But, Olam looks horrible now, with more selling pressure today. I am itching for a short here which makes me side with Carson, but I must apply my ordinary trading principles and money management skills. Short-sellers will probably make a huge killing at the end of the day when Olam buckles as Muddy Waters proposes, but if Olam is not guilty of what Muddy Waters claims, then traders should at least have their money mangement strategies to save them.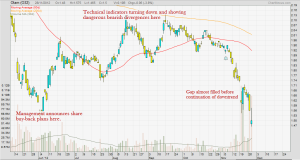 All analyses, recommendations, discussions and other information herein are published for general information. Readers should not rely solely on the information published on this blog and should seek independent financial advice prior to making any investment decision. The publisher accepts no liability for any loss whatsoever arising from any use of the information published herein.