Turtuk is about as close as you can get to Pakistan in India, physically and literally. This delightful village is crunched into the narrowing Shyok River valley in the furthest corner of India, right at the tippy-top of the map. Only when the Indo-Pakistan war ended in 1971, Turtuk (together with 5 other Balti villages) was then included within the Indian line of border control. It remained off limits until 2 years ago and keeping it well off the the beaten track.  It was perhaps one of the nicest ways to end this trip, as Turtuk was in every sense a treat – culturally intact, untainted by tourism and simply delightful.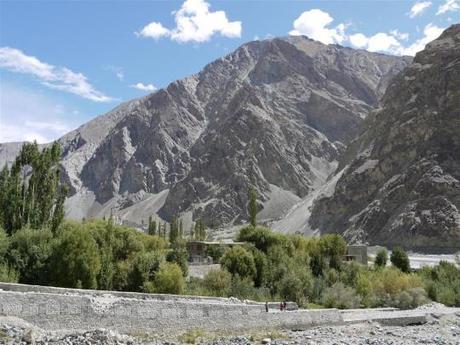 The region of Baltistan falls within the Karakorum range, K2 being the highest peak, only 100 odd kilometres down the road. Once again stark arid scree littered mountains dotted with splashes of green villages punctuate this striking landscape.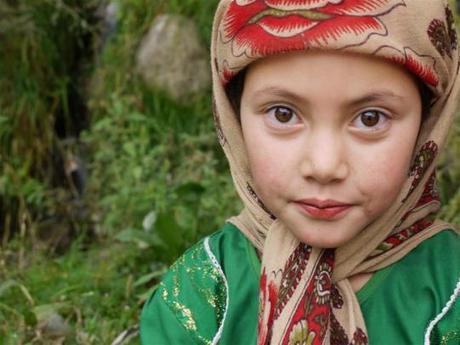 The people of Turtuk are every bit as beautiful as the region. Although classified as Ladakhi's they are Balti in every sense, the 'tribe' that typifies this alluring region where the world's 2nd highest mountain is literally a stones throw away.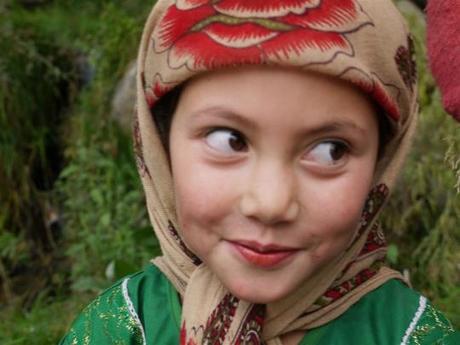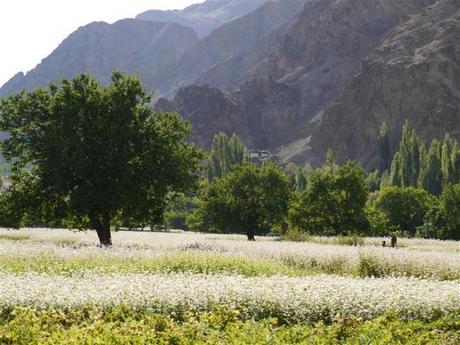 Turtuk is around 160km from Leh, a good 8hrs by car (although we part-cycled) and is at a lower altitude, somewhere around 3000m, evident for the great variety and abundance of crops, peaches in particular and a variety of wheat (in the foreground). Villagers proudly boasted that 'in Turtuk we can plant at least 2 crops of wheat per season,' (unlike anywhere else in Ladakh!')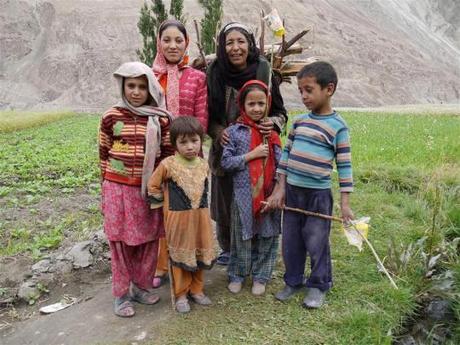 Welcoming committee: On arrival we were greeted by a friendly little team - Ama-le who had been busy in the wheat fields with her daughter and a team of cheeryl children who had made flags out of maggi noodle packets.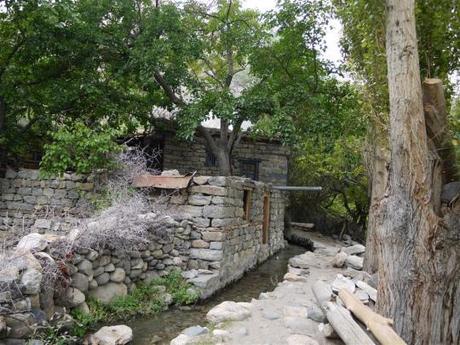 We made our way through a myriad of cobbled walkways to the only true Homestay in town - Homestay Rangyoul owned by Hussein a young local from Turtuk who had a wealth of knowledge and information to share about his village.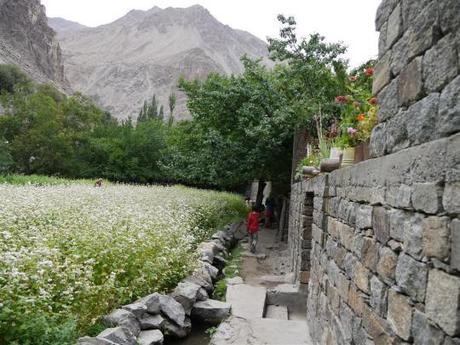 Delightful in every sense, once again the Ladakhi/Balti 'town' planning was simple, sustainable and inspiring. Flowering fields of wheat and the sweet smell of drying apricots in the air with the idyllic sound of rivers in full flow.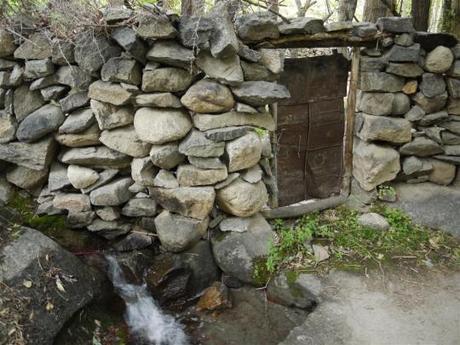 As with other Ladakhi/Balti villages glacial melt water is channeled through the village in an elaborate series of channels. A use for everything is found - flattened barrel now used as a door for closing off the household courtyards.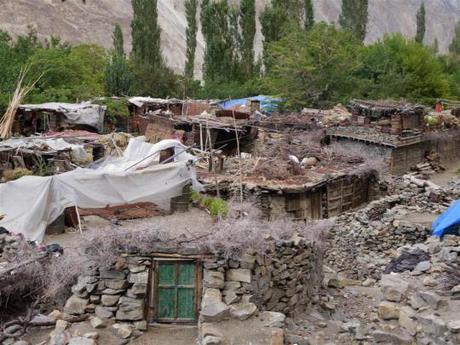 Hodge-podge of homes, note all the apricots drying on the roofs.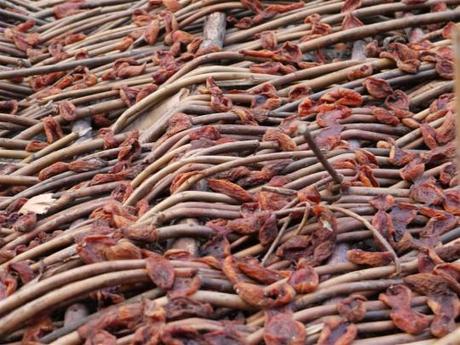 We were once again proudly told, that Turtuk was famous throughout India for is fabulous apricots. No less than 7 varieties and the sweetest in the country. I concur that these are the best apricots I have ever tasted!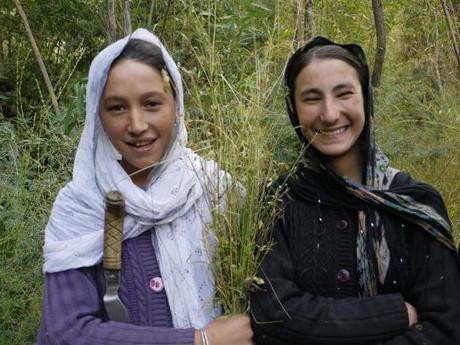 Friendly high school girls cutting grass for their sheep and goats.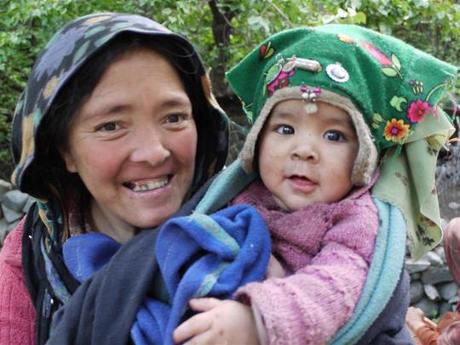 Balti baby bonnet!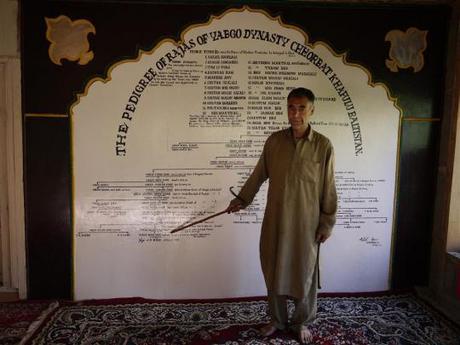 The last of a great empire: We were honored to meet the Yagbo Modh Khan, the direct descendant from King of Western Turkistan that ruled over this area (called Baltistan Chorbat) for over 1000years (800AD - 1800BC). Turtuk was a central village and place for the king, today Modh Khan lives in the remnants of his home and has his own private museum of family artifacts over the ages. A proud historian himself he has written up the history of his village and compiled the family tree from a cloth version that was passed from generation to generation. What welcoming and humble man, sadly he writes 'Turtuk was the center of language and tradition, after the liberation from Pakistan in 1971 the people have become ignorant of their own culture. Traditional music and dance have faded from their minds, the don't spare the cultural and traditional ways'.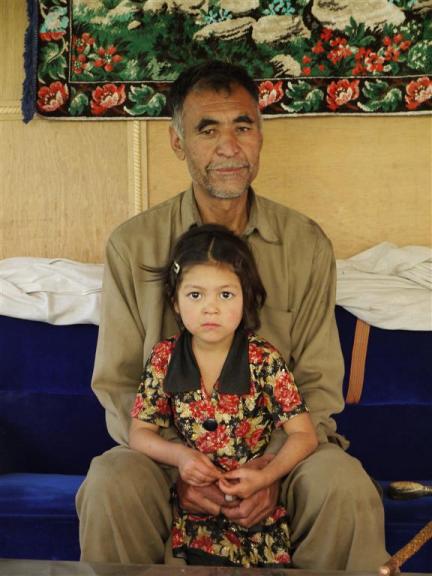 'Is that your grand-daughter?'. 'No' Yagbo Modh laughed, 'this is my one and only daughter, I married very late'. I felt happy to have met this wonderful man who had documented so carefully the history of his life and village of which he was so proud.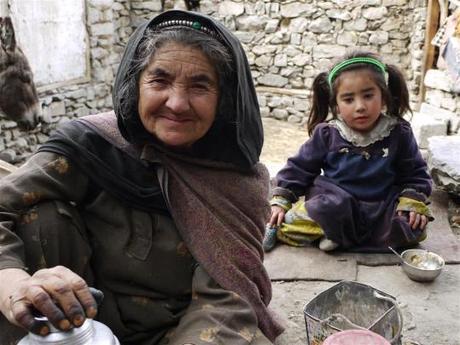 Four generations - Abi-le invited me to have some tea and apricots in their courtyard.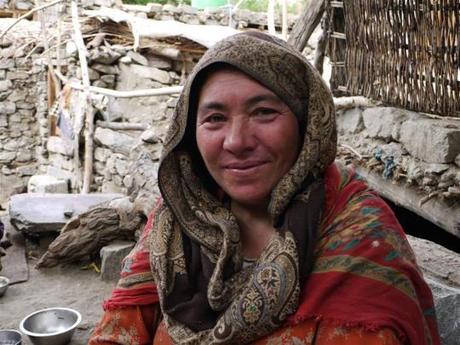 ..and Amaa (mother)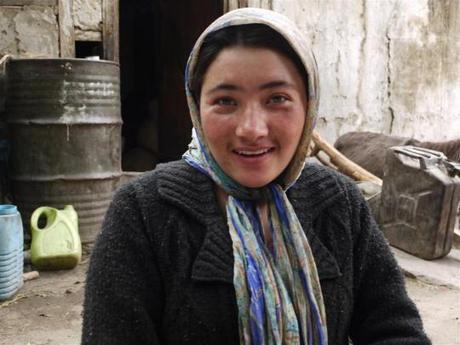 ...and Daughter, who was due to have her own baby in 3mths time.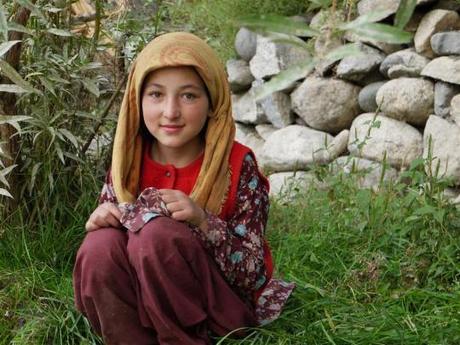 Children in Turtuk were very eager to have their photos taken, many of whom had never had the opportunity to see a photo . Once back in Leh I made copies and post to Hussein from our homestay to distribute.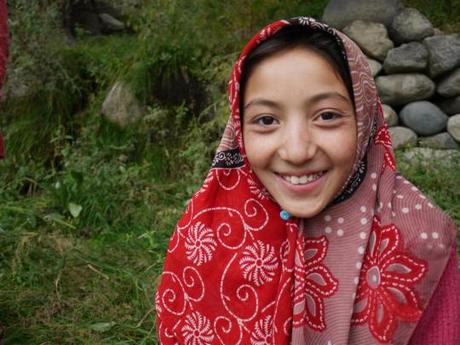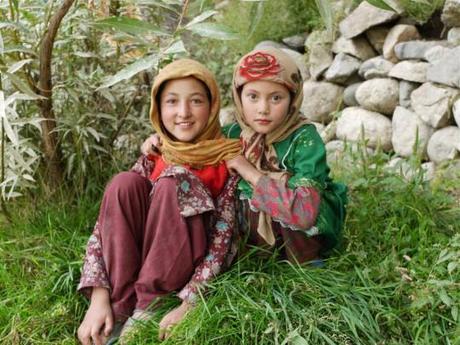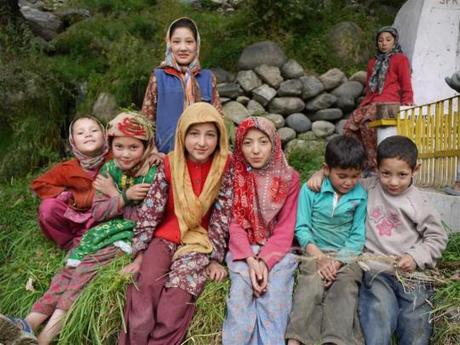 First language is Urdu, then Hindi and some Ladakhi. Most also knew some smatterings of English too.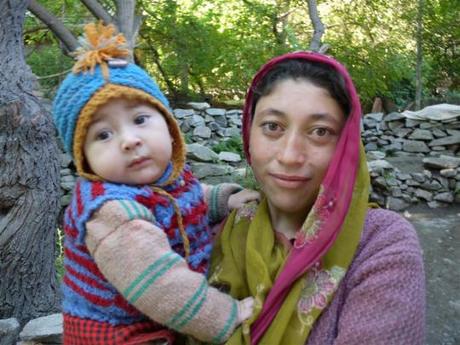 Everyone was so very friendly and seemed to be enjoying the visitors. This little boy from our homestay was happily passed round and round to everyone.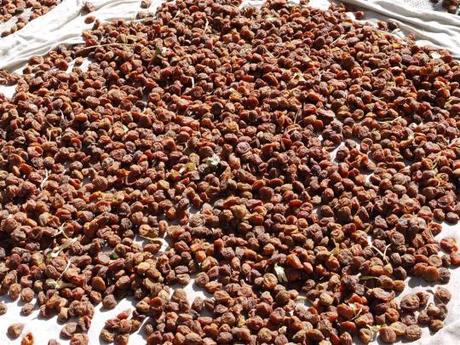 More amazing apricots. When the kernel is cracked open, a delicious nut (almond) is an added treat. Tartuk also boasts its own apricot juice factory, slightly horrified at the thought of a factory in this idyllic setting, I was relieved to encounter the factory: 'a one man and machine show', that pitted, pressed and packed apricots into the most delicious juice. Available throughout Ladakh, not bad for local exports!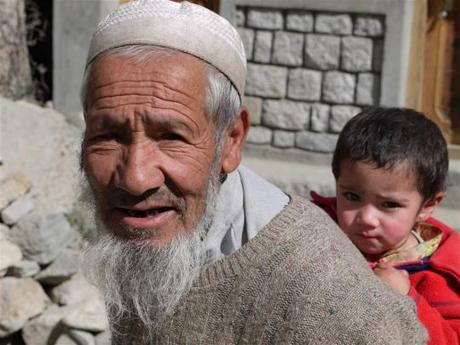 Friendly grandad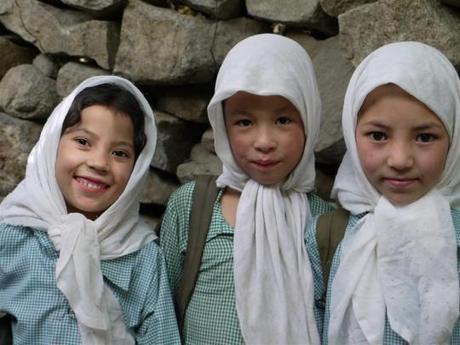 Sweet schoolgirls.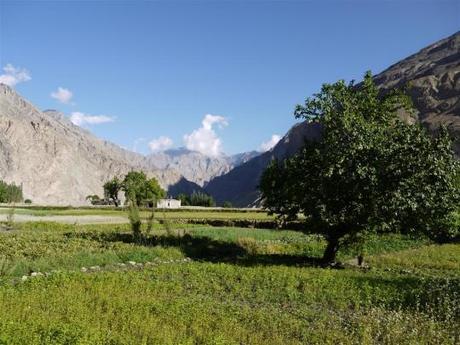 Looking toward Pakistan: Apricot trees and blue skies, what a privilege to have visited Turtuk. Interestingly the border and 1st village in Pakistan is just less than 3km away, and is obviously home to many relatives of Turtuk. However in order to visit their family in Pakistan they will have to take at least a 5 day journey of back-tracking: all the way across across Ladakh to the plains India, entering Pakistan in Peshawer and climbing all the way back over the Himalayas and up the Skardu valley!