Apologies for the late hour, but having just come off nights, my brain still considers midnight to be pretty early in the day. I will re-post later today for the information of those without my current nocturnal issues.
On Monday afternoon I got my first sight of the documents produced following the decisions made by the Police Arbitration Tribunal yesterday with regards to the Winsor Part One recommendations. Paul McKeever, Chairman of the Police Federation of England and Wales, says:
"We are extremely disappointed with today's decision by the Police Arbitration Tribunal and know that many police officers across England and Wales will be angry and dismayed about their future. However, we entered in to the negotiation process in good faith and therefore, whilst not happy with the entire decision, accept their ruling."
Amongst the items discussed in the reports are the removal of double time pay for rest days worked at less than five days notice, removal of the  automatic four hours of pay in preference to pay for time worked, suspension of annual pay increases and Senior officer bonuses and suspension of SPP, CRTP and other financial benefits which off-set the impact of a career in Policing on an officers personal life and that of his or her family.
Please click on the Police Federation logo below to download your very own copy of the document in pdf format.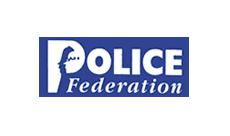 There are many other aspects of the recommendations that I am not going to explore here, (the pdf is wordy enough) including re-invented unsociable hours payments, housing allowance, on-call benefits and the allocation of public holiday shifts.
Of course this document may well be made redundant when the Home Secretary finishes deciding the degree to which the PAT decisions will be ratified. I wish I could say that this document represents the start of some degree of stability, but I can't…and we still have the delights of Winsor Part 2 to look forward to.
Happy reading…
MC
NB: Please do not print this 48 page document unless you absolutely have to or intend to plant a few trees to offset the paper used. Thanks.