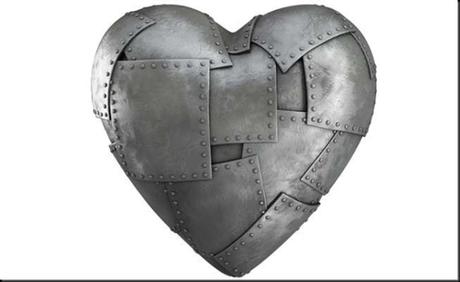 We have another full Moon in a couple of day's time as the Moon in Virgo opposes the Sun in the sign of Pisces. This full Moon occurs as 11.23 degrees Virgo across the service and sacrifice axis in the heavens, and the contrast between these signs is very marked.
In Virgo everything is calculated to the smallest degree, and this is a sign of achieving only what we know we can through the careful measurements and assessments that Virgo wants us to make. In this sign we use the facts available to us in order to make incremental improvements to situations. Virgo is a practical earth sign and so we are dealing with what is tangible, visible to us and what we already know is true. This is a sign of work, or doing the basics correctly, of routine and as I previously mentioned, of service.
Pisces on the other hand works best when there are no hard or fast rules, and there is no structure to rely on. Pisces is a freewheeling sign where the individual is best left to their imagination, intuition and feelings to come up with the best results. There are no limits under Pisces, and this sign takes a broad brush approach to find the answers it needs. Also with any situation under Pisces there is no right way or wrong way, and it's perfectly ok to sacrifice your morals to get a solution. What we do have through both Virgo and Pisces is compassion and help, be it via practical and quantifiable means through Virgo, and spiritual approach as well as universal love through Pisces.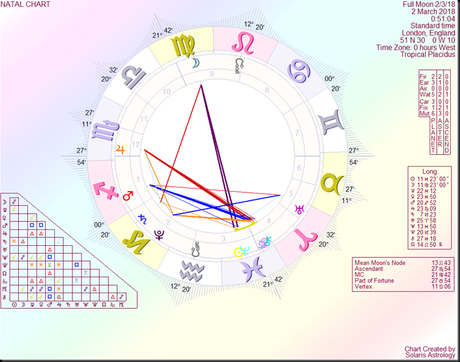 As I have written countless times, the Full Moon is a reflection of the Sun's light on the Moon, and in the same way it reflects the issues of the day through the sign that the Moon is in. Everything is revealed now as we reach the culmination of a cycle of the Moon. This is the crescendo point and a moment when our emotions are at a peak. This is why there are so many issues between partners and people during a Full Moon, as everything hidden is stripped away, and we can see the full extent of any situation reflected directly back at us.
Now we see things in very practical terms under this Virgo Full Moon. The emotional need it to quantify what we need and what we don't, therefore everything has to be accounted for now, and we will have to cut our cloth accordingly and to make hard and fast decisions on what to do. Virgo is quite tough, looks at everything with a critical eye and then suggests what is best for the future. The Sun in Pisces opposite to the Moon at 11 Pisces sits with Neptune close by at 13 degrees of the same sign, so the actual energy that we are trying to control is disparate, uncoordinated and very chaotic, so these are the issues that we are trying to grapple with and get a firm hold on. Something in your life may be getting out of control, and you may have to take restrictive or careful action to reign it in, before it spirals out of orbit. This may be an addiction, a need to escape, an illness or a tendency to fritter away your resources without due care and attention. Your concern now may be a person that you have to organise, or a business, a work project or a course of study that is overwhelming you. Maybe your family are driving you crazy, and their actions are causing you to lose focus? The Neptunian side of things is very potent here, and may be undermining all that you are trying to achieve. Neptune may I remind you represents anything that you cannot control, so think in your life where you are suffering or being dragged down, and act on it.
This full Moon lands close to a fixed star, Zosma in the constellation of Leo the Lion. This is significant as this is a star of suffering and the oppressed, and this full Moon is going to highlight the fate of something that is being victimised in some way. The Virgo Moon is not going to show much sympathy to those who are crying foul or complaining against the situation they find themselves in, and there is very much a feeling of "get on your feet, pull your socks up and start acting like an adult" about the full Moon here. There is little emotion or time for complaints, and this Full Moon in this sense will be cruel to be kind, focusing us on what we can achieve rather than the flights of fancy of that which we cannot influence. There is a sense of cutting our losses, and making best on what we can save or achieve, and leaving behind what we cannot. What I see out of this Full Moon is tough love that we have to find in our hearts. We will have to be hard headed, sensible, maybe even drab and boring, and be able to resist the temptations of that exciting and tempting escape route from the practicalities of the moment, that the Sun and Neptune wants us to follow.
Elsewhere on this Full Moon chart, Jupiter makes a triple trine to Mercury, Venus and Chiron and Mars makes a triple square to the same planets. This triple conjunction is very creative, artistic, imaginative and avant-garde and there is motivation to act in a new way and come up with ingenious designs, thoughts and visions. These we can spread out on a wide basis through the trine to Jupiter, therefore this is a full Moon of practicality and the intangible, that can broadcast your message or ideas to those who need to hear or see them.
There are going to be opportunities to expand your life, your influence and personal power and to change your philosophical point of view as Jupiter is in Scorpio, but there is also a lot of potential tension here too, and if the Pisces side of the equation reacts badly to your practical and rather too conservative approach in wanting to do their own thing, then arguments, bitter and harsh critical and emotional retorts may occur. You may have to try and find some middle ground to keep these two opposing ideas happy, and that will mean some flexibility and concessions or sacrifices taken on both sides. Taking liberties and thinking that you'll be able to get away with things by going down easy street will not be an option now. The Moon in Virgo urges us to work hard, to graft and not to avoid the responsibilities that we are charged with.
At the midpoint of this Jupiter link to Mercury, Venus and Chiron is Pluto, and the focus of all the ideas, growth and healing that we want to enact now will be the long term goal of fundamental change to the structure of our lives. This is a long ongoing process that we are all enduring as Pluto continues to grind through the sign of Capricorn; it has 5 more years to go before this transit ends, and this is a point in time where we can achieve some transformation, and be able to break new ground if we take practical steps allied to a more innovative and inventive approach.
In short it's time to get our hard hats on and go into battle to save a part of our lives that is under attack or being disintegrated or undermined. We will have to find a balance between what we can achieve and what is impossible, and bridge the gap between that which needs to be controlled and that which has to have some kind of fluidity to operate well. All this will need us to show a compassionate and yet down to earth approach if we are to achieve the ultimate goal of making our lives ultimately better than they are right now...