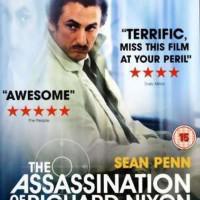 Movie: The Assassination of Richard Nixon
Director: Niels Mueller
Cast: Sean Penn, Naomi Watts and Don Cheadle
Rating: ***1/2
What is power if it's not a state of mind? 'The Assassination of Richard Nixon' by debutant director Niels Mueller deals with the state of mind of Samuel J.Bicke, an ordinary man in 1974-America who dreamt of a life without lies, deception and  betrayal. To protect his American dream, Sam Bicke decided to do the unthinkable, and this is his story.
How long will you wait hoping for the wrong to become right? Not long before you'd give up and continue living your life the way it is. Sam Bicke (Sean Penn) was a firm believer in his rights and a man of integrity. In 1974, he was employed as a furniture salesman after he walked out of his family tire sales business. He'd been dreaming of setting up his own business with close friend Bonny Simmons (Don Cheadle).
While working as a furniture Salesman, Bicke applied for loan in order to start his own business because he hated his current job which required him to lie to customers about the price of furniture. Unfortunately, he's denied loan because his would-be partner is black. And at that point in America blacks were still treated as minority and were stripped off their rights. Sam blames the system for all adverse events in his life and holds Richard Nixon, the then president responsible. Lost and lonely, Sam orchestrates the perfect plan to put an end to the misery in his life. What extreme measure did Sam Bicke take and therefore what did he bring upon himself forms the rest of the story?
In lay man's language – 'The Assassination of Richard Nixon' is the story of a man who was on a mission to fix the system. Niels Mueller directs this film with sincerity and passion to show the world what power could do to someone when misused. Sam Bicke had one little problem – he wanted to be known, seen and spoken about by people. Throughout the film one question remains unanswered – was Sam Bicke mentally unstable. The pace of the film is neither slow nor fast and gradually builds a momentum that eventually leads to an explosive climax. 
The aura the film creates is very controversial. It may lead you to assumptions such as whether Sam was right or wrong? It might also imbibe certain values which may not be considered embraceable. Niels direction is extremely artistic and boasts finesse to such level that you will almost forget that this was his directorial debut.
Sean Penn doesn't need any special mention because he throws all his talent in this film and displays a whole assortment of acting personas. Sean is one of the actors to have successfully pulled off real-life roles so well that even the real characters appear artificial before him. In this film in particular, Sean shows us the pain and struggle of a common man wanting to live the American dream in such a way that you wouldn't mind cheering for him at the end of the film, despite knowing he's not doing the right thing. Naomi Watts and Jack Thompson throw in a solid performance and appear fitting in their respective roles. The film has a heart that beats at great pace trying to explain from the perspective of Sam Bicke.
In essence; 'The Assassination of Richard Nixon' is a poignant story of one man's struggle against a system.