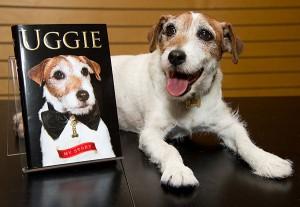 He's back and we're barkin' psyched!
Uggie – the scene-stealing Jack Russell Terrier from 2012's Best Picture winner, "The Artist" – has been named the spokesdog for the Humane Society of the United States' Pets of Valor Award, the agency announced Wednesday. The award pays tribute to the bond between humans and animals "by honoring rescued or adopted dogs and cats who have exhibited an extraordinary sense of courage or resolve by helping a person in need."
You know, kind of like when Uggie saved his owner from the fire in "The Artist."
The pooch scored a Golden Collar award for the performance but announced his retirement between appearances at the Golden Globes and the Oscars. Of course, Uggie must have learned about retirement from baseball player Roger Clemens because his idea of relaxing and lapping up tasty snacks involved starring in a Nintendo commercial and releasing an honest and raw autobiography (he confessed to the murder of a kitten, after all).
And, now, he'll be helping to announce the winner of the Pets of Valor Award on June 2.
"Uggie's honored to have been chosen by The Humane Society of the United States to be spokesdog for The Pets of Valor Award, although he did hesitate at first when he heard that cats were to be included, but now he likes the idea of having an excuse to bark for them, instead of at them," Omar Von Muller, the dog's owner and trainer, said in a press release.
"It's always gratifying when a star of Uggie's magnitude takes time out of his busy schedule to give back," Beveryl Kaskey, senior director of HSUS' Hollywood Outreach, said. "As spokesdog for The Humane Society of the United States' Pets of Valor Award, Uggie proves he's a hero both on and off screen by advocating for the adoption of his fellow companion animals."
People who wish to nominate their dog or cat for the award have until March 31, 2013, to submit details to humanesociety.org/petsofvalor. Five finalists will be selected and the winner will be chosen via a public online vote running from May 24-31, 2013.
~ Courtesy of Yahoo! News
Tags: bond, Pets of Valor, spokesdog, The Artist, Uggie