Opening a bottle of wine is a commitment, a commitment to finish the bottle.
I'm sure everyone has heard a variation of this saying because as soon as a bottle is uncorked or unscrewed,  oxygen enters the bottle and affects the wine. Initially that's a positive event when consumers swirl a glass or decant a bottle. At this initial stage, the oxygen enhances aromas and softens the wine by breaking down of tannins. But eventually too much oxygen will flatten the wine by diminishing the aromas and flavor and eventually alter the wine's color to a disagreeable brown. The question then becomes, when dos the transfer from positive benefit to negative hindrance occur? And of course, it all depends on the wine.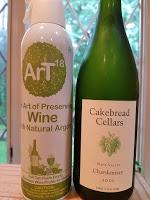 I recently received a promotional sample from a company trying to postpone that determination by allowing consumers to finish a bottle days and perhaps weeks after opening. The ArT of Preserving Wine offers a can of natural heavy Argon gas to displace oxygen in open bottles of wine. Since Argon is heavier than oxygen it displaces that gas and forms a layer between the wine and the oxygen - thus extending the life of an open bottle of wine. And it must be true if the marketing material states it.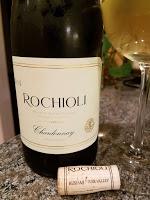 Right. I test ArT on several bottles anyway, both white and red, but was most interested in white wines since they are more susceptible to faster oxidation because of their lower tannins. Plus we seemed to have had more white wines needing to open than reds. I started with several Albarino wines left over from a Snooth tasting and for the next few days as advertised the wines stayed fresh. Very fresh. I then experimented with a 2010 Cakebread Cellars that I feared would oxidize quickly. Unfortunately the bottle was consumed entirely by day two - it is a Cakebread. I took smaller pours with the #ChardonnayDay gift, the excellent 2013 Rochioli Chardonnay. On day one this wine was complex, with buttery and lemon characters and persistent acids.   Day two and three showed similar characters with the acids and aromas started to wane on day four.  But still a delicious wine at that point. Now I can't verify whether a wine will stay fresh for weeks as ArT claims, but I can for just short of a week.
A can retails for $9.99 with 130 uses per can. If you can't make the commitment to finish the bottle on opening then consider the ArT. Cheers.