"I always visit Bulgari because it is the most important museum of contemporary art." – Andy Warhol
The Fine Arts Museums of San Francisco  announce The Art of Bulgari: La Dolce Vita & Beyond, 1950 – 1990, an exhibition of approximately 150 pieces created by the renowned Italian jeweler over four decades. This exclusive exhibition will highlight jewelry that defined a pivotal period in Italian design, and will include many pieces from the personal collection of Elizabeth Taylor. The Art of Bulgari: La Dolce Vita & Beyond, 1950 – 1990 will be on display at the de Young Museum from September 21, 2013 through February 17, 2014.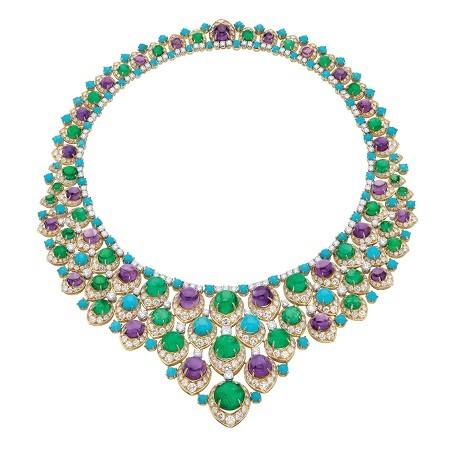 "Bib" necklace, 1965 Gold with emeralds, amethysts, turquoise, and diamonds
39 x 6 cm Formerly in the collection of Lyn Revson
Bulgari notably began to create its own trademark in jewelry in the 1960s by embracing boldly-colored combinations of gemstones, use of heavy gold, and forms derived from Greco-Roman classicism, the Italian Renaissance, and the 19th-century Roman school of goldsmiths. The company helped to develop a look that would come to be known as the "Italian school" of jewelry design. Pieces in the exhibition display the jeweler's eclectic creativity and invention during this period.
Works in the exhibition also include those from the 1970s and 80s, a particularly innovative period for the jeweler and one influenced by Pop Art and other contemporary trends. "The hard-edged designs of the 1970s included a whole range based on the Stars-and-Stripes motif, while in the 1980s the Parentesicollection had a modular architectural presence; both show how the jeweler could lead in new directions with a strong sense of design," said Martin Chapman, curator in charge of European Decorative Arts and Sculpture at the Fine Arts Museums of San Francisco.
Bulgari's successful cultivation of prominent patrons and movie stars like Sophia Loren, Ingrid Bergman, and perhaps most notably, Elizabeth Taylor, has long been a key aspect of the jeweler's reputation. To help explore the cultural context in which these objects were made, the exhibition will include innovative uses of sketches, photographs, and other archival materials that help to reveal a fascinating intersection of celebrity, design, and fine craftsmanship.