Sponsored Review
I've been having quite some success with home treatment ranges so I was pretty stoked to see that For Beloved One has just launched its Mandelic Acid series, which promises to booster skin renewal by shrinking pores, reduce acne scars, and eliminate whiteheads for brighter and flawless-looking skin. But wait...what is Mandelic Acid and what's the big deal, you might ask?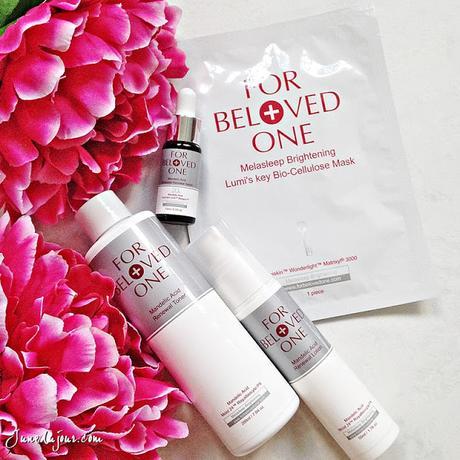 Mandelic Acid is actually extracted from precious bitter almonds, and is milder than other types of acids used in beauty products. It starts by softening and boostering skin's surface revnewal so as to effectively lighten skin's fairness. As a preventive measure, MandelicAcid also helps restrict tyrosinase production (the hormone that causes dark spots) and block melanin accumulation, giving you brighter and more luminous skin over time.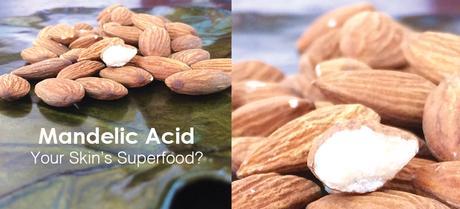 I start off by using a cotton pad to apply the ForBelovedOneStandard toner ($38) watery texture, which is delightful and gets almost immediately absorbed into skin. Alternatively, I like to pat this into my skin with my fingers to prep skin and close pores before makeup. I believe this step is important to gently soften, cleanse skin's surface to efficiently brighten skin and prime it for better absorbption for the rest of the range.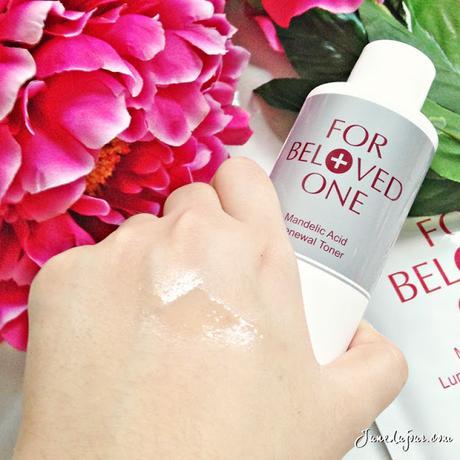 Now that skin is primed and prepped, I'm using the Forbelovedone Mandelic Acid Renewal Lotion ($42) to nourish the skin. It's imbued with patented genetic moisturizing ingredient Revidrate™; sounds flashy but it actually means it boosters skin's capability to self-generate natural NMF and Ceramides for natural hydration. Also, it also uses Subliskin™ and Undaria Pinnatifida (aka Seaweed) Extract to also help and soothe skin after the stimulation caused by AHA.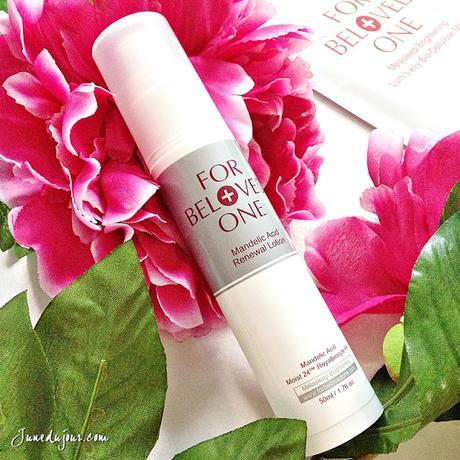 It pumps out to be a milky viscous gelish lotion that glides smoothly onto skin to give a silky, moisturised after-feel without any greasiness. I found it to be very mild and gentle that it's my choice of use after facial treatments when my face is feeling raw. Do go sparing though, I found it abit on the rich side. Believe that this could be a good option to bring for cold weather holidays.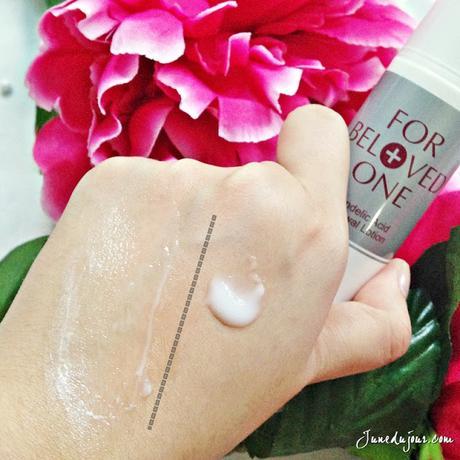 The star product has to be For Beloved One Mandelic Acid Advanced Renewal Serum ($55 for 15ml), contains a high concentration of 20% of Mandelic Acid for effective skin renewal, and now comes imbued additionally with Betapur™ and SyriCalm CLR™ for oil control and soothing benefits; which is perfect for oily combination skin like mine. It comes in a petite dropper bottle which makes it easy to gauge the amount (just 1 full squeeze worth is enough for spot area treatment).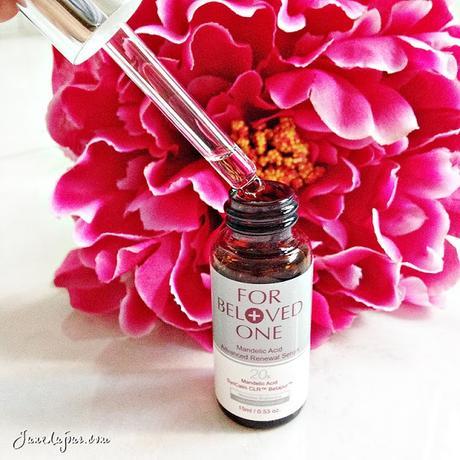 The serum itself feels watery and lightweight in texture, and since I only use it as spot treatments daily, after the toner. It gets absorbed fast into skin, which I then layer over with the lotion. After about 2 weeks, I could observe some lightening in the areas which I have some pigmentation and blemish scar issues.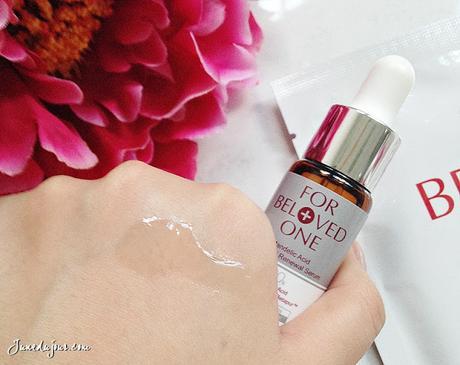 I'm pretty impressed; I initially did not have much high hopes for this as I've been using a number of brightening essences but with little success. Not this: 
as compared side by side, the blemish scars on my right cheek was visibly diminished so much so that you can tell the difference. What was previously the bane of existence slowly become a very faint blot that is almost invisible if I dab some concealer (which was possible before).
In both instances, I am only using the Laneige Pore Control BB Cushion, no powder.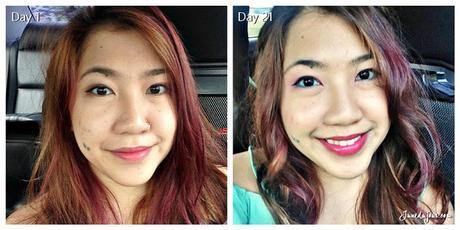 While I love my earlier For Beloved One sleeping mask, I like to alternate it with the new ForBelovedOne Melasleep Brightening Lumi KeyBio Cellulose Mask. It uses Lumiskin Wonderlight Matrixyl 3000, which is a blend of repair and brightening technology, to penetrate deep into skin layers to encourage collagen production and elastin to store skin to suppleness and radiance.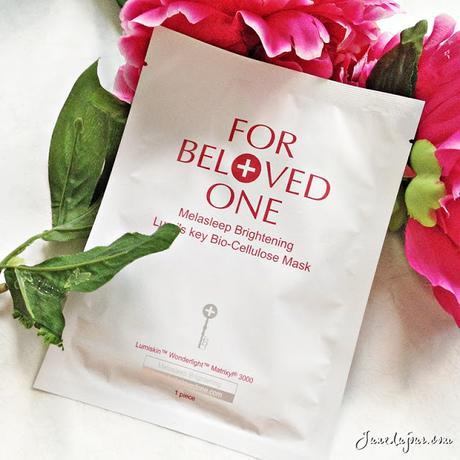 I prefer Cellulose material-masks than the fabric-sheet mask types: they spread onto your face better, locks in moisture better since evaporation isn't as fast and it feels almost like second skin. Do be careful when removing it from the packet, it's very generously drenched that it does drip quite abit so don't waste it by smoothing it all over your neck and decollege area. I think while its on the more pricer end of mask products, it left my skin looking supple and noticeably dewy, and my open pores looked more minimized thanks to the hydrating boost.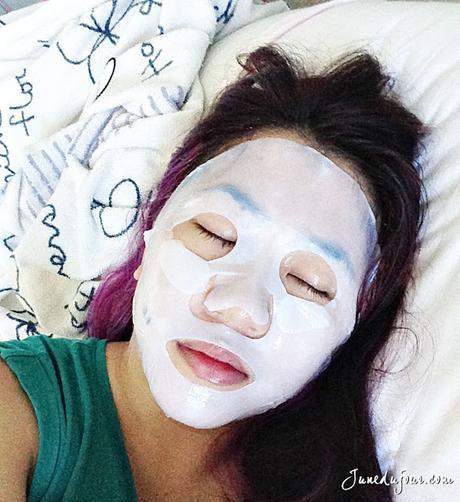 Overall, its one of the better home treatment ranges that I've encountered so far. I think the brand really created the range with a good formulation that not just brightens my skin but stills delivers a good nourishing result. Plus, I'm so glad to find a brightening treatment to finally solve my blemish scar issue! All the products reviewed here is currently retailing at all Sephora stores islandwide.
------------------------------------------------------------------------------------------------------------------------
Speaking of which: I'm delighted to inform that ForBelovedOne is giving away 2 sets of the For Beloved One Mandelic Acid Advanced Renewal Serum 

to my readers, so here's how to win yourself a set worth $55!

1) Like ForbelovedOne and Junedujour on Facebook 

2) Like @ForbelovedOne and @Junedujour on Instagram 3) Tell me why you wish to win the Mandelic Acid Serum in the blog comments section below.
4) Then Tag 3 friends/ colleagues that you want to share the kit with on the Facebook post! 

The giveaway is open to Singapore residents only, and all winners will be announced on 31 August. Good luck everyone!

 Facebook | Instagram