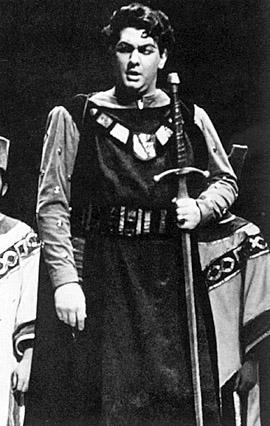 Plácido Domingo as Don Rodrigo in his US premiere at NYC Opera, 1966
Today (July 24) in 1964 marks the premiere of composer Alberto Ginastera's Don Rodrigo, in Buenos Aires, Argentina.
Don Rodrigo, a three-act opera based on the last Visigothic king of Spain, was Ginastera's first. It was a 12-tone opera, a method of composing devised by Schoenberg that gives all 12 tones in the chromatic scale (more or less) equal importance thereby avoiding a key.
The NY Times called Don Rodrigo brilliant in the 1964 review of its premiere though it was considered unsuccessful in Argentina, despite being commissioned by Municipality of the City of Buenos Aires.
Less than two years later, on February 22, 1966, Plácido Domingo had his international breakthrough by singing the (difficult) title role of this opera at the US premiere of the work by New York City Opera, which coincidentally marked NYC Opera's inaugural performance at New York State Theater at Lincoln Center (now the David H. Koch Theater).
Because of this Lincoln Center premiere of Don Rodrigo, a 25-year-old Spanish tenor became a household name.
The YouTube clip below has interviews with Domingo and Julius Rudel, General Director and Principal Conductor at NYC Opera from 1957 to 1979.
The excitement Rudel shares about his company moving to Lincoln Center and the sheer joy that Domingo conveys about premiering at Lincoln Center are palpable.