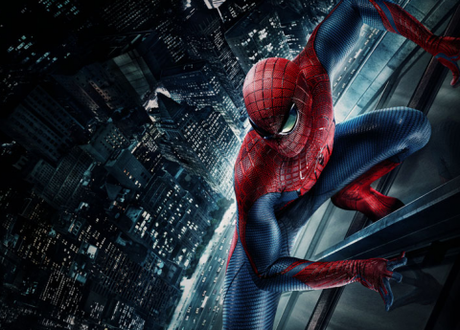 The Amazing Spider Man. From the official, er, website.
The background
The Amazing Spider-Man is directed by Marc Webb, and stars Andrew Garfield as Peter Parker, the young man who gets bitten by a radioactive spider and develops, um, spider powers. Parker's in love with Emma Stone's Gwen. The villian, Dr Curt Connors, is played by Rhys Ifans. It's not long since Sam Raimi's Spider-Man films, starring Tobey Maguire, but then a franchise is a franchise. Critics are swooning over Andrew Garfield's Parker, and agree that the film is well-made and sweet.
Best Spider-Man yet?
This is "the best Spider-Man movie yet," said Rich Juzwiak on Gawker. There are no "lofty statements on power and responsibility." Instead, it finds "sheer exhilaration in storytelling." Andrew Garfield's moments with Emma Stone are "electric." The film "succeeds at everything it attempts." Let's hope that Spider-Man will continue.
This Spider-Man can stay
Nigel Andrews on The Financial Times said that the film "confirms that there are amazing energy resources in that myth-lode called Marvel Comics." Was Marc Webb "hired at the point of a pun?" he wondered. Garfield is "wonderful", bringing "Bambi eyes, nervous energy and a skittering delivery"; he's "an Adonis in touch with his inner Woddy Allen." Stone is a "letdown." The film is "lightfooted even with heavyweight cameo casting" from Martin Sheen and Sally Field. "This Spider-Man can stay."
Garfield has an instinctive wisdom in his acting
Jenny McCartney in The Sunday Telegraph's Seven Magazine confessed to a "soft spot for Spider-Man." Despite his troubles, he's always seemed "modest." Garfield, "diffident and confident, polite and stubborn" manages to make the character "his own." His acting has an "instinctive wisdom", and, contrary to Andrews, McCartney thought that Stone matched "him with easy elan." Sure, the plot's "predictable, but this fluid film has free-ranging fun with the physicality of what it feels like to be a spider."
The villain isn't that great
Robbie Collin in The Daily Telegraph said that the film was "aimed primarily at women." But if the film "has a weak suit, it's the supervilliany", with Ifans being "underdeveloped." Some have "criticised the 'unconvincing' special effects employed to bring Ifans's scaly alter ego to life," said Collin, but he wasn't "entirely clear what a convincing rendering of a giant angry lizard in torn purple trousers and a lab coat might look like." Manhattan is "immaculately rendered", and the action sequences "count."
Garfield's better than Maguire
Kate Muir in The Times went so far as to say that Garfield is an "improvement" on Maguire. This "reboot" is "fun", and shows a "kinder, gentler, sweeter Spider-Man." Ifans is "as scary as a Happy Meal toy," though.
But shouldn't we be left amazed?
Cosmo Landesman in The Sunday Times was a bit more circumspect: "The trouble with the new Spider-Man remake is that you can't love it and you can't loathe it. The best you can do is like it. It's sweet, sensible and cute — like the two leads. But this is the story of the "amazing" SpiderMan. Shouldn't we, to use that pre-awesome word, be left amazed?"
Watch the trailer here