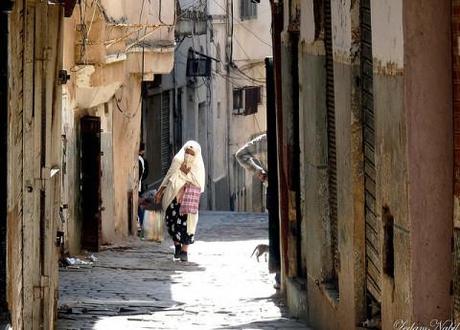 Algiers' Kasbah. Photo credit: Zedamnabil
For years overshadowed by its much more touristy neighbors, Morocco and Tunisia, and completely recovered from a bloody decade-long civil conflict, Algeria stands out as one of the most rewarding destinations in the Maghreb with its lovely capital city, Algiers, at the front row of a long list of attractions that could definitely delight even the most demanding travellers.
Largely bypassed by amateurs and connoisseurs alike when it comes to "exotic" travel destinations, Algeria offers what few other places do in a world sometimes too overcrowded with tour groups, tourist traps and Chinese manufactured souvenirs. This huge country bordered by the Sahara and crowned by the Mediterranean is all about genuine and once in a lifetime experiences. A vibrant culture with French, Berber, Jewish and Arab influences; miles long and almost deserted beaches; camel back safaris amongst lunar landscapes; marvellous cuisine and some of the friendliest people in Northern Africa; Algeria has it all and you should get there before the rest.
"If there is a sin against life, it consists perhaps not so much in despairing as in hoping for another life and in eluding the implacable grandeur of this one", wrote Algerian born Nobel laureate Albert Camus on his essay Summer in Algiers. A potent and insightful thought that not only expresses the core ideology of Camus but that also lets us reflect on life's temporality and our meager use of it. It's a sentiment that rarely flourishes in our fast-paced and BlackBerry-led lives but one that seems so natural and necessary in Algiers. "What one can fall in love with in Algiers is what everybody lives with: the sea, visible from every corner, a certain heaviness of the sunlight, the beauty of the people", wrote Camus in the same essay.
Algiers was born in 944, when Bologhine ibn Ziri founded the town on what long had been a small fishing port that dated back to Phoenician and Roman times. However, it was not until the sixteenth Century that Algiers started blooming, under the rule of the Ottoman Empire and after a brief domination by Spanish settlers. During the subsequent centuries, Algeria's capital saw the emergence of palatial houses and astounding government buildings as well as what is perhaps the loveliest part of town, its white washed and walled Kasbah (or castle, in Arabic). It's a huge maze of narrow alleys and old houses on top of a hill overlooking the pleasant and always busy port. With the arrival of the nineteenth Century came the beginning of French rule and the chance of the city to expand its boundaries and turn itself into an alluring and exciting mix of Eastern and Western influences, with beautiful gardened boulevards and lovely squares and public fountains. After the independence of Algeria, in 1962, the city entered its final and present expansionary phase that has turned it into a vivid and modern town. Today, with over three million inhabitants, Algiers stands out as a charming Mediterranean capital, with a long and sometimes turbulent history, untouched by mainstream tourism and ready to seduce those who take a chance with her.
Mostly inhabited by traditional Algerian families, the Kasbah not only treasures wonderful mosques, madrasas and military garrisons but also a lot of carefully decorated Ottoman houses from the seventeenth and eighteenth centuries that are currently under a very meticulous process of restoration as part of Algiers' plans to become more of a draw to tourists. The Kasbah, declared by UNESCO a World Heritage Site in 1992 for its "outstanding influence on architecture and urban planning in North Africa", has been neglected for decades but has finally attracted the attention of governmental and private investors because of its huge potential.
The Arab spring is still blossoming and changing the face of a very little known part of the world. Algeria, at its heart, remains pristine and intact. It's the perfect time to give it a whirl.