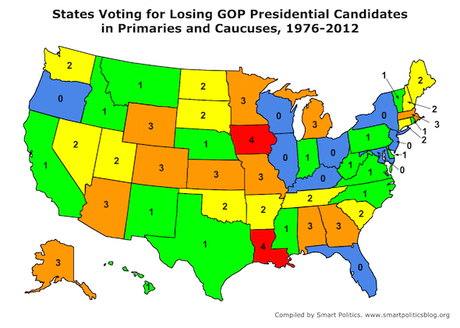 (This image is from the University of Minnesota's Humphrey School of Public Affairs.)
While the race for the 2016 Democratic nomination is pretty much over (in spite of the fact that it has just started), it is far different for the Republicans. While only three Republicans have officially declared their candidacy, a whole host of others are expected to jump into the race for the GOP nomination soon. We could easily have a dozen or so Republicans in the race by the time the caucuses and primaries begin early next year.
So, who will win the nomination? So far, it's anyone's guess. The polls have shown there is no real leader -- with no candidate getting more than about 20% in most polls. Right now the race is wide open.
But there are nine states to watch -- states that could give us a clue as to who the eventual winner could be. Those states are Florida, Illinois Kentucky, Maryland, New Jersey, New York, Ohio, Oregon, and Wisconsin.
The University of Minnesota Humphrey School of Public Affairs looked at the GOP primaries in all 50 states since 1976 -- and those nine states are the only states to have voted for the eventual GOP winner in all of those primaries. They are the states in blue on the map above.
The states in green have voted for an eventual loser one time since 1976. And the states in yellow have voted for two losers, while the states in orange have voted for a loser three times.