This post may include affiliate links, including Amazon Associate links. I may earn money if you click on one at no extra cost to you.
Looking for the best bikepacking panniers for your cycling adventure? Check out this guide to our top 9 favourite panniers.
With so many options out there, it can be a little frustrating trying to find the best bikepacking panniers that suit your needs. Whether you're a long-time bikepacker looking for a new set, or a first-time buyer in need of a great set of panniers, this guide will help you make an informed decision.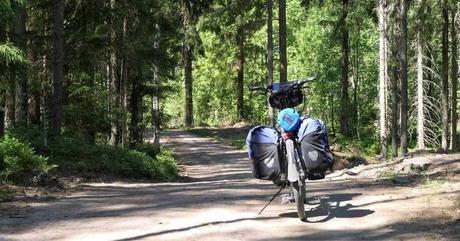 But first things first:
What are Bicycle Panniers?
Panniers are basically bags that attach to a rack, which in turn is attached to your bicycle. Usually, they are sold in left/right pairs and various sizes for the front and back of your bicycle. As you may have guessed, the reason they come in pairs is to ensure that your bicycle remains balanced as you ride.
Depending on the length of your trip and what you need to pack, you can choose to use just one set of rear bike panniers, or a full set of front and rear panniers. The added advantage of having rear panniers is that in many cases you can add additional gear to your rack, including sleeping bags and tents.
Recommended Reading: Bike Touring Gear List: The Essentials You Need to Bring
How do I Choose a Pannier Rack
If you are a newbie to bikepacking you're probably wondering what a pannier rack is and how to choose one to fit your panniers. For you to attach panniers to your bike, you need a pannier rack. This is usually made with metal alloys and can be fixed to the front and rear of your bicycle.
Before you decide to invest in panniers, it's really important to know whether your bike is compatible with a pannier rack. What pannier rack you choose will depend largely on your bike. If you are unsure, you can visit your nearest bicycle store to find out. The good news is, that most pannier bags are made with a universal design and will fit most racks.
Recommended Reading: 22 Best Hydration Packs for Every Adventurer
Are Panniers Worth it?
You may be wondering whether investing in bike panniers is really worth it. There are other options out there like bikepacking bags that are attached to your frame and handlebars. You could also use a backpack if you needed extra space. But there are two major problems with these alternatives.
Firstly, riding with a backpack doesn't make room for much ventilation on your back, which will result in you feeling hotter, sweatier and ultimately uncomfortable. This is especially true if you're planning a trip with longer mileage and in warmer weather. Secondly, considering your seating position on a bike and the strain it already places on your arms and shoulders. A backpack is sure to leave you feeling sore and fatigued after a few hours of riding.
Bikepacking bags (which are not the same as panniers), are great if you are willing to spend more and pack less. They tend to be much more expensive than panniers and have less room. For short trips, or if you are looking to stay as light as possible, these would be a great option. If you're willing to pay the price of course.
The great thing about panniers is that they are cost-effective, most of them are manufactured to be waterproof or semi-waterproof, and they are easy to take with you if you need to stop anywhere. They are also way roomier, and perfect for longer trips.
Recommended Reading: How to Cycle the Eurovelo 13 Alone Across Finland!
What Should I look for in a Pannier?
The best bikepacking panniers are durable and weather resistant. Even if they are not completely waterproof, they should at least be semi-water resistant to keep your gear safe and dry. It's important to know what size of pannier you require. You need to think carefully about what it is you will need to carry with you and how well it will fit your bike and chosen pannier rack. The weight of the panniers will determine the effort you'll exert on your ride. Lastly, remember that back panniers are always bigger than front panniers. You don't want to add anything too bulky or heavy to the front, or steering will become a nightmare.
Related Reading: Adventure Cycling in Finland: Everything You Need To Know And More
The Best Waterproof Bikepacking Panniers
Rear Bikepacking Panniers
Related Reading: The Best Tents for every Backpacker
Front Bikepacking Panniers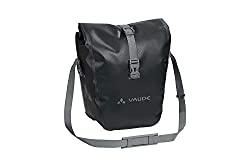 ✔️ Waterproof design makes it perfect for any weather conditions.
✔️ Includes attachable strap so you can carry it will you when you aren't on the bike.
✔️ Can be used on most pannier racks.
✔️ QMR 2.0 attachment system is user-friendly.
Recommended Reading: 54 Camping Gifts that Should be on Everyone's Wishlist
The Best Semi Waterproof Bikepacking Panniers
Rear Bikepacking Panniers
Front Bikepacking Panniers
Moosetrek Zipper Front and Rear Pannier Set
✔️ The Moosetrek has a capacity of 13L in each pannier.
✔️ Easy and adjustable loading hooks make this pack perfect for almost any pannier rack.
✔️ Reflective logos give you increased visibility.
Which of these top 9 best bikepacking panniers will you pick?