" The 67th Milestone " of BML Munjal University has emerged to become one of the most unique cultural, science and technology festivals. A conglomeration of scientific thinking, innovation and cultural richness with a foot in every genre, the fest caters to an audience of more than 5000 people each year.
Why come to The 67th Milestone?
The 67th Milestone provides a platform for one and all to display their skill, passion and determination. It is an amalgamation of science, technology and culture coming together to create an experience unlike any other. It is a display of motivating orations, various competitions like Robo Wars, hackathons with an addition of breathtaking professional performances, DJs, fashion shows and more. There are several cash prizes for the winners of every event.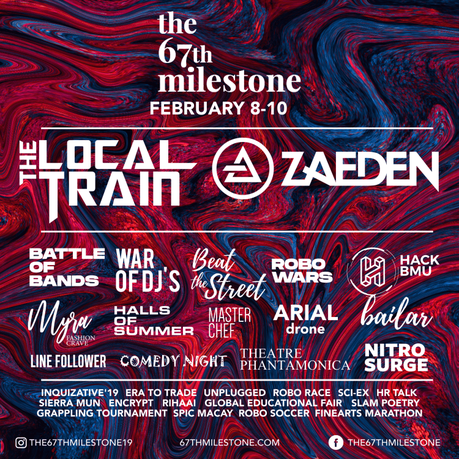 This year, BMU is already at its great start with "The 67th Milestone '19" kicking off on 8th of February. There are many fun activities in store for everyone to enjoy alongside plethora of competitions in various fields. The organizers have added more events this year and contacted the best of the best performers for the fest. Now it's time to celebrate the amazing artist line-up at the three-day cultural extravaganza.
THE LOCAL TRAIN
The Local Train is an Indian Hindi rock band from Delhi. Since its inception in Chandigarh in 2008, the band has gone on to achieve massive commercial success and has become a staple in cultural and music festivals across the country.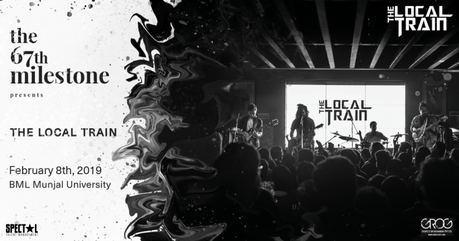 ZAEDEN
The famous Indian DJ and record producer popularly known for remixes of Coldplay's Magic, Maroon 5's Animals and Bieber's Love Yourself is performing on the second star night. Get ready to jump on your feet and dance and rave to the electronic dance music like no one's watching.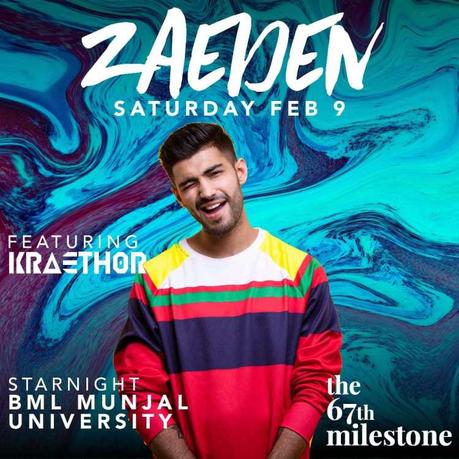 Comedy Night
After the two day cultural extravaganza, every fashion enthusiast and gets a chance to have their moment with the fashion show: MYRA-The Fashion Crave and enjoy and judge the contestants like an expert themselves. The fest comes to an end bringing the room full of laughter with Comedy Night and giving everyone's stomach a break.
With 67th Milestone just a few days away, come and experience the festival as we celebrate the vivaciousness and distortion among the youth. 'The 67th Milestone '19' will strive to surpass the expectations and hopes of the participants and will set new benchmarks for the Annual fests in India.
For more information, go to our
Fest Website: http://www.67thmilestone.com/
Facebook - https://www.facebook.com/the67milestone
The 67th Milestone'19 fest of BML Munjal University