Spend game day at the right place
Not only is fall the season for pumpkin spice latte's and Ugg Boots, it's also the season for football! There's nothing better after a long day at the office than going to your favorite bar to watch some Monday night football. We put together a list of five awesome sports bars in Chicago where you can watch your favorite team kick butt. We also had the pleasure of choosing our favorite appetizers/ entrees from each place so you can order right away!
The Scout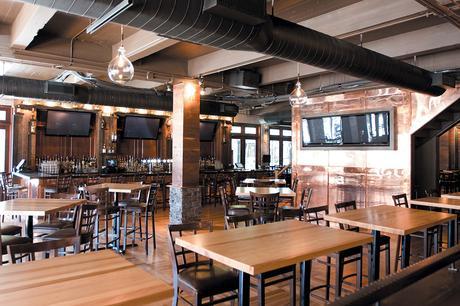 1301 South Wabash Avenue
The Scout is a great sports bar because they have a lot of televisions, so you'll never have to worry about missing out on watching your team play if the guy next to you is watching baseball. They also have indoor and outdoor seating and are known for their delicious food and attentive staff. Not to mention, the Blackhawks took the Stanley Cup there when they won it in 2015… No big deal.
Our food recommendation:
The Parm #7: Breaded chicken thighs, whole milk mozzarella, cello parmesan, fried sage on a New England roll, served with a side of tomato basil dip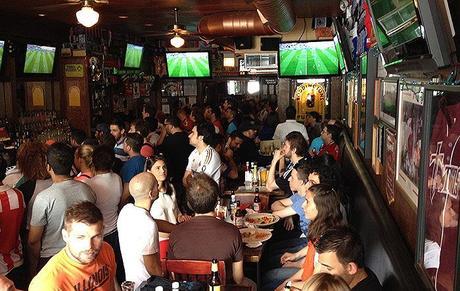 1934 Irving Park Road
Mostly referred to as the 'Best Bar in the City' and the 'Best Sports Bar in the World', The Globe Pub has over 30 TV's and over 400 beers so you can truly enjoy your game. For fans of international sports, they offer Direct TV, Comcast, and Dish programming so they can show as many international sports events as possible. This is a great place to make new friends as you're cheering for the same team.
Our food recommendation:
Global Burger: 8oz Angus patty on a soft sourdough bun, served with lettuce, onion, tomato & pickle. (Other toppings available with extra charge)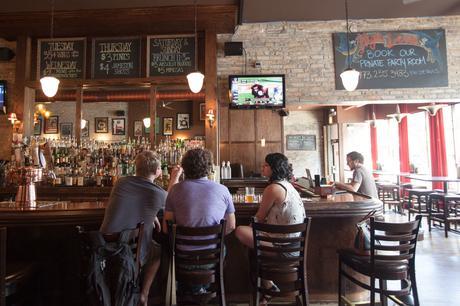 1938 West Chicago Avenue
Known for their amazing wings and reasonable prices, High Dive is a great neighborhood bar to watch the game. People love High Dive because of their domestic craft beers and they also have a pool table and a jukebox. This isn't your typical crowded sports bar with a hundred TV's, but it's definitely a great place to watch the game and socialize with friends.
Our food recommendation:
Chicken Wings: Buffalo, bbq, spicy bbq, sweet chile, and pineapple habanera served with ranch or bleu cheese
The Anthem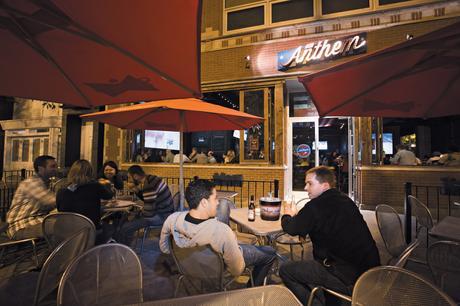 1725 West Division Street
This retro 'woody-wagon'-inspired bar is a great place to catch your favorite game. The vintage couches, chalkboard wall, and 1800s American flag are sure to take you back to the glory days. Their beer list consists of regional drafts and classic domestic cans and, if you reside in Wicker Park, this bar is probably in great stumbling distance from your place.
Our food recommendation: 
Western BBQ Burger: Angus beef patty, roasted garlic bbq sauce, aged cheddar, crispy bacon, fresh fried onion petals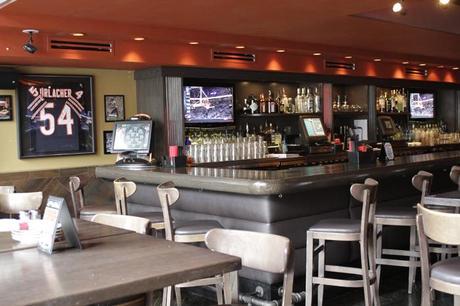 2047 West Division Street
An upscale bar meant for game day, The Fifty/50 is popular mostly because of their awesome lunch specials and popular nightlife. Check out their Yelp page and you'll see hundreds of reviews with people raving about their food. This is the perfect sports bar to watch football and their wings were voted best in Chicago by WGN, CBS, Redeye, and Chicagoist! Be advised, no jerseys are allowed to be worn in the bar.
Our food recommendation:
Jumbo Wings: Regular breaded wings, boneless breaded wings, smoked wings
Where's your favorite place to watch football in Chicago? Let us know below!