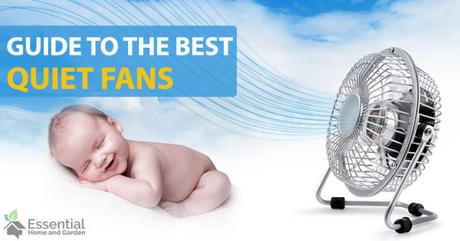 It is a well-known fact that average temperatures are going up, and this means that those stinking hot days are coming thicker and faster than ever before. So now, more than ever it is important to have a good fan to help keep you comfortable when the mercury soars!
Yep fans are great, but that buzzing/whirring sound that they make? Not so great. Choosing a quiet fan is hard to do sometimes, as you can't always turn them on at the store before you spend your hard earned cash - and when you can, it's too noisy to hear them anyway!
So we have done the hard work for you and put together the ultimate list of the best quiet fans.
You will find our two top picks immediately below this section, or keep scrolling for a comparison table and full reviews on each fan.
Disclosure: It is important you understand that we may receive commissions when you click our links and make purchases. However, this does not impact our reviews and comparisons. All opinions are our own we pride ourselves on keeping our articles fair and balanced. For more info see our disclosure statement.
Our Top Picks
The pureFlow QT7 is a marvelous piece of equipment. It may look a little odd, but it's functionality as a desktop fan is second to none. Don't let the CFM rating of 198 deceive you, this fan uses bladeless fan technology and a 90-degree tilt/oscillation feature to move air around the room in a big way.
12 speed settings gives you full control over how loud and how much air this fan moves around the room. We found it much easier to set QT7 to a comfortable level than those with less speed settings.
Greentech has really put in the hard yards when designing this fan and this is why it is our top choice for the best fan.
Learn more: How to fix a noisy ceiling fan.
The Breezie Mini Air Cooler uses a mini evaporative cooling system to actually cool the air down.
It has quite a small footprint and sits comfortably on a table top, floor or even a shelf.
It is also whisper quiet at 30dB so its ideal for rooms where quiet cooling is important.
Quiet Fans Comparison Table
Use this table to quickly compare the best quiet fans. Keep scrolling down the page for more info on our review criteria and in depth reviews on each fan.
Best Quiet Fan Reviews
PureFlow QT7 Bladeless Fan
Perfect for: Anyone looking for a safe, ultra quiet fan to circulate air.
I remember when I saw my first bladeless fan...sure, it looks fancy - but it didn't really do all that much. Well I am glad to tell you that is certainly not the case with the pureFlow QT7 bladess fan.
Not only is is the quietest fan on our list that still moves a decent amount of air, it is also packed full of features. All at a reasonable price.
12 speed settings mean that it is easy to find a comfortable setting, from a light breeze to a strong gale and everything in between - this fan does it all!
We discovered this fan especially good at circulating the air in a room when in oscillation mode, without having air blowing directly on us - freshening up the room amazingly.
The footprint of this fan is tiny, it sits happy on a desk, shelf or even on the floor. And because the QT7 is bladess, there is no need to worry about little fingers being injured.
As far as fans go, this one is also amazingly energy efficient. It will barely cost you anything to run it - even at full speed and the remote control is always handy for quick speed setting adjustments.
As of yet, we have found no downsides to this fan - it's not easy to impress us as much as this fan does! In my mind, the QT7 is the best quiet fan available.
Breezie Mini Air Cooler
Perfect for: An area that needs actual cooling, not just air movement.
The Breezie is a new addition to our list and when you give it a go it's easy to see why. It has a built in evaporative cooling system that actually cools down the air that it blows out.
It puts out 162 CFM, which may seem low, but when you consider that this fan actually brings the temperature of a room down - we think it is quite sufficient.
The Breezie has a nice small footprint which allows it to sit comfortably on almost any surface and not take up a heap of room.
Whether you are looking for a fan for the office, babies room, for travel or almost any reason - the Breezie is one of the best.
Vornado 630 9″ Air Circulator/Table Fan
Perfect for: Anyone looking for a safe, ultra quiet fan to circulate air.
Perfect For: small - mid sized rooms.
Who would have thought that fan technology could get any better - after all, it just spins a blade and moves air right? Well apparently it can - Vornado 630 Air Circulator uses a combination of specially designed grill, blades, air duct and an air inlet accelerator to move A LOT of air.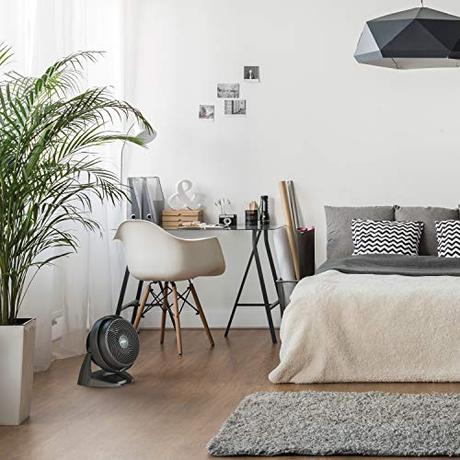 This fan is designed for small - medium rooms and is perfect for a babys bedroom or an office. Place it on the floor, on a table or even on a shelf and it will move the air around nicely, while remaining relatively quiet.
A 5-year warranty comes with this fan, so you can be sure that the manufacturer has confidence this model is built to last, despite its quite low price point!
Rowenta VU2531 Turbo Silence Oscillating 12-Inch Table Fan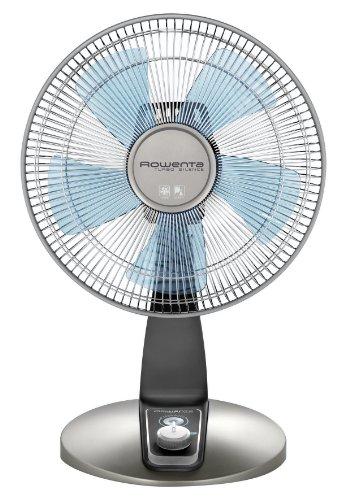 Perfect for: Those with limited floor space, but still want good air movement
When you haven't got room for a pedestal or tower fan, then you can probably find a spot on a flat surface for a table fan.
The Rowenta VU2531 rates at the top of our list for the best quiet fans with good reason. At a maximum noise level of 55 dB (about the background noise of a quiet suburb), the Rowenta VU2531 is a nice and quiet fan that even the fussiest of sleepers won't have a problem with.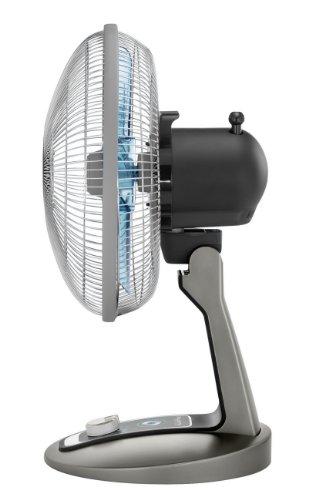 The 12 inch size means it moves a decent amount of air, while still keeping a fairly small footprint. It fits neatly on a coffee table, tall boy or book case.Shortcode
Having the fourth speed setting gives you fine control of the fan speed, getting a comfortable amount of air movement is easy with the Rowenta VU2531 table fan. This model moves so much air you could even consider using it as a carpet fan.
Lasko 42-Inch Wind Curve Tower Fan
Perfect for: Anyone looking for a safe, ultra quiet fan to circulate air.
Perfect for: A home lounge room or office space
While the Lasko 2554 tower fan may not be the quietest fan on our list, it does fairly well for the amount of air it moves (634 CFM) - which is a lot for a tower fan!
It's size and power makes it suitable for a much larger space than most of the others on or best quiet fans list so if you are trying to cool a big room - give this a try.
The quiet setting is especially helpful for bedrooms and nighttime use. It lowers the speed of the blades, but still moves enough air to keep the room feeling fresh and breezy.
This fan is a #1 best selling tower fan for a reason, it really packs a punch and is relatively quiet for its size. It stands up nice and sturdy and you will safe with it even around your toddlers, the tower style also will give you some peace of mind as little fingers can't get to the blades.
Whether you prefer a modern look or are a fan of the older styles of decorating, the Lasko 2554 tower fan has been designed with style in mind and it will not look out of place in your home.
From what we have read from long timer users of the Lasko 2554, this fan will go for years without giving you any problems. It is well built and manufactured from quality parts and materials.
The Best Quiet Fan - What We Look For
When testing for our list of the quietest fans we look for the following qualities.
Noise Level
Pretty obvious that this would be one of the main criteria hey? The noise level of a fan is actually quite hard to quantify, yes you can take a dB reading, but because fans are generally fairly quiet anyway it really depends on the environment you are in.
For example: if you test a fan in a department store then of course it is going to sound quiet, but when you take the same fan home and turn it on that night when it is dead quiet the exact same fan can sound like a fighter jet is taking off in your room.
So we research how each fan performas in a number of environments and make a judgement from there.
Noise Level (Quietest)
this is the amount of noise that the fan makes when on its lowest setting (moving the least amount of air). The additional notations to the left of the graph show roughly what an equivalent noise level is to give you an idea as to how loud it is.
Noise Level (Loudest)
this is the amount of noise that each fan will make when it is on its highest setting (moving the most amount of air).
Foot Print
It is actually quiet easy for manufacturers to make a quiet fan, just make it huge with big blades. But that is not always practical, so the space that the fan takes up in a room is taken into account.
Speed Settings
Have you ever had one of those fans where it has 3 speed settings? 'Fast', 'bloody fast' and 'is that a hurricane?' Yeah I have too and I hate them, the speed settings that they have preset never seem to be right for me. So it stands to reason that fans with more speed settings offer a greater level of control and thus; a greater level of comfort.
Extra Features
We also look at any additional features that the fan might have and how well they work. Common features include shut off timers and remote controls.
Max CFM
CFM is short for cubic feet per minute and is a measurement of the amount of air that the fan moves. For the purpose of this graph we have shown the CFM measurement when taken at the fans maximum speed.
Frequently Asked Questions
How many dB is too loud For a Fan?
Well the answer to that depends on your environment and noise preferences. To give you an idea how loud dB readings are - check out the chart below.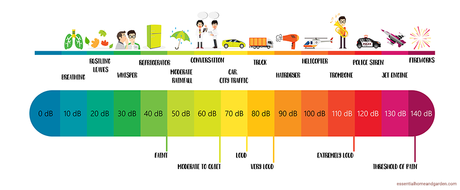 You can see that rustling leaves are about 20dB, while moderate rainfall comes in at 50dB. At the extreme end a jet fighter is 130 dB!
If it were me, I would be looking for a fan that can keep below 45 dB - I find this sound level is not too intrusive and sleep is still possible.
Should I Sacrifice Power For Low Noise?
It depends on your situation. If a low noise level is very important to you, then you might want to sacrifice a bit of air movement and choose a fan with a quiet speed setting.
If cooling the room is more important, then you will likely be happy with a fan that is a bit louder that moves more CFM.
Make The Right Decision
While we have done our best to pick out the best quiet fans, it is important to remember that these reviews are our point of view.
We encourage you to look around, check out other reviews and most importantly - go and take a look at the fans yourself before making your decision.
There are many other very good fans available but we couldn't list them all. Do you have a fan in mind that we didn't list here? Let us know in the comments!
Pricing last updated on 2021-05-31 at 07:12 / affiliate links - Details