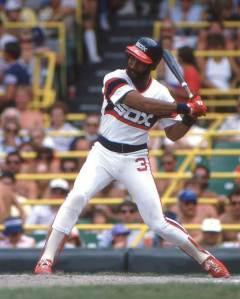 One of the best left-handed hitters for the Chicago White Sox in the modern era, outfielder and current Sox coach, Harold Baines, enjoyed three stints with the team as a player.
Baines' quiet demeanor and steady play made him a fan favorite in Chicago during the 80′s, including 1983 when the team won 99 games. Baines hit 20 home runs in '83 and had an on-base percentage of .333 on the team that was known for "winning ugly".
Although Baines and the White Sox's postseason experience was brief that decade, having lost three of four games to the eventual World Series champion Baltimore Orioles, Baines was a familiar force in the three-hole for years, hitting 20 or more home runs for the White Sox in six consecutive seasons.
While Baines came up short for the White Sox in the 1983 ALDS, going 2 for 16, he did manage a career postseason on-base percentage of .378. While with the Oakland A's, Baines had 11 hits in 26 at-bats during the 1992 ALCS, which the A's lost to the Toronto Blue Jays in six games.
Baines was a decent right fielder for the White Sox during the first half of his career. Injuries would eventually make Baines a liability in the outfield, but with his career .356 on-base percentage, Baines extended his career as a designated hitter for multiple teams.
After being traded to the Texas Rangers in a deal that involved pitcher Wilson Alvarez and future slugging outfielder, Sammy Sosa, Baines' career had a second wind with his designated hitter play.
Baines would make a successful return to the White Sox in 1996. He belted 22 home

runs, and drove in 95 runs for the Sox. At age 37, Baines would record an outstanding OPS of .902. Baines would leave the Sox again, during the 1997 season, but he continued to produce in the designated hitter role for the Baltimore Orioles, posting an on-base percentage of no less than .369 over the next three seasons. From the age of 35 to age 40, Baines hit 112 home runs, with an on-base percentage of .383, and an OPS of .880.
Baines joined the White Sox in 2004 a fourth time, as a bench coach. He would receive his first World Series ring after the Sox swept the Houston Astros in the 2005 World Series.
During his 21-year career, Baines accumulated 2,886 hits and was a six-time All Star. While his hit total was below the magic Hall of Fame milestone of 3,000, Baines produced at a high level long enough and did so with class, giving himself a chance at consideration for induction into the Hall.
-James Kries