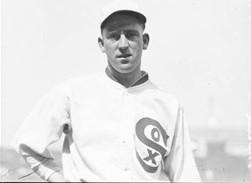 Johnny Mostil definitely has one of the more unique and troubling stories amongst White Sox greats. Mostil made a brief appearance as a second baseman in the big leagues one year before the notorious 1919 White Sox season, and after honing his skills in the minor leagues, Mostil returned to the White Sox in 1921 as a centerfielder.
The speedy Mostil spent most of his career in the leadoff spot, but batted in just about every position throughout his career. He was a prototypical leadoff hitter, however, posting a career on-base percentage of .386, while stealing an average of 29 stolen bases per season.
While Mostil did have three seasons with 35 or more stolen bases, he was caught stealing 20 times twice, in 1925 and 1928. Mostil's best offensive trait was his patience at the plate. He led the American League with 90 walks in 1925, while posting an .OBP of .400 that year. Mostil's career OPS was a solid .812.
Before personal problems sidetracked Mostil's career, he was one of the White Sox's most consistent performers during a difficult era for the organization, an era on the heels of the team's devastating 1919 Black Sox scandal. From 1921-1926, Mostil had 150 stolen bases, 342 walks, and an OBP of .393.
After settling into the centerfielder position in 1921, after his time in the minor leagues, Mostril became one of the league's best-fielding outfielders. Mostril was among the top five defensive outfielders in the American League, based on WAR, in four of ten seasons. He was first in range-factor per game among centerfielders four times in his career, and he was first in outfielder putouts twice.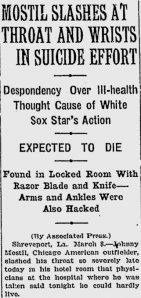 Before spring training in 1927, Mostil attempted suicide, cutting his wrists, throat and chest numerous times. His prognosis was dire, and he was administered last rites. Fortunately, Mostril pulled through and even returned to the team later on during the 1927 season.
The circumstances and reasons surrounding Mostil's suicide attempt are unknown, but numerous writers have speculated his motives throughout the years, with the more common story being that Mostil had an affair with White Sox pitcher Red Faber's wife, and that the two ballplayers had a falling out, prompting Mostil's suicide attempt.
Author Brian McKenna writes of the possible reasons for Mostil's suicide attempt, as well as his reputation with players and sportswriters that he was something of a hypochondriac. Whatever the reasons for Mostril's personal struggles, his suicide attempt was a frightening and horrific reminder of the humanity of ballplayers in any era.
Mostril had a solid season in 1928, posting a .360 OBP, but decided to retire at the age of 33 the following year.
Mostril managed to get on with his life after his suicide attempt. He became a longtime minor league manager and scout for the White Sox organization, living until the age of 74.
-James Kries