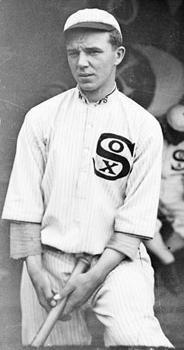 One of the best defensive catchers in any era, Chicago White Sox catcher Ray Schalk  helped lead the White Sox through one of their most dominating and troubling eras. Schalk was one of the few everyday players to be exonerated after the 1919 Black Sox World Series betting scandal famously brought down eight White Sox players with a lifetime ban from baseball.
Schalk routinely ranked among the best catchers in the game during his 17-year White Sox career. He led the league in putouts by a catcher eight years in a row, and eleven times he ranked among the top five for runners caught stealing. Schalk also held the record for stolen bases in a season by a catcher, stealing 30 bases in 1916. That record stood until 1982 when Kansas City Royals catcher John Wathan swiped 36 bases.
Schalk's career was played mostly during the deadball era when home runs occurred less frequently than in future eras. Even so, Schalk lacked power, hitting only 11 home runs during his career. Schalk did get on base at a healthy rate, posting a career .340 on-base percentage. Starting in 1919, the White Sox's pennant-winning season, Schalk had an average OBP of .360 through the 1922 season, walking 226 times, while only striking out 116 times during those 552 games.
The infamous Black Sox scandal marked the midway point of Schalk's career. The 1919 White Sox were one of the most dominating and flashiest teams of the decade, with star players such as "Shoeless" Joe Jackson, Eddie Collins, and Eddie Cicotte. Like many great sports teams, it wasn't a lovefest in the locker room. The team was known to have two cliques, a division which would later reveal who took money to throw the 1919 World Series, and which players were on the level.
Schalk was clearly on the side of the hard-working, hustling, and even-tempered group which included Collins, Red Faber, and Dickie Kerr. The catalyst of the teams' gambling scandal was first baseman Chick Gandil. Schalk and Gandil were never on speaking terms, and downright loathed each other. Despite several combative relationships on the 1919 club, the White Sox managed an 88-52 record on their way to a pennant.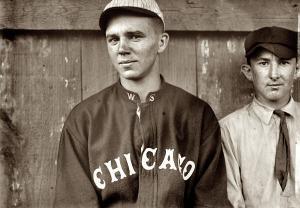 During the 1919 World Series, Schalk, who was aware of the gambling conspiracy within the team, played to win. He had an OBP of .429 during the series, and coaxed a couple of great pitching performances out of Eddie Cicotte and Dickey Kerr.
Schalk was friends with another hard-nosed player, perhaps the toughest ever to put on spikes, Ty Cobb. Cobb once claimed that Schalk would be on his "all-time" team along with Mickey Cochrane. Cobb said that Schalk would be in a class by himself if he had hit for a higher average. When Cobb died in 1961, there were only three former ballplayers in attendance at his funeral, one of them being Schalk.
Despite his career batting average of .253, Schalk was inducted into the Hall of Fame in 1955, and currently has the lowest career batting average among Hall members, another testament to his defensive skills.
After his playing days, Schalk coached for numerous minor league and college teams, and worked as a scout as well.
Before there were great defensive catchers such as Carlton Fisk and Johnny Bench, Ray Schalk became a new prototype for the catcher position, using his speed and agility to defend and throw out base stealers, as well as manage some of the game's great pitchers.
-James Kries