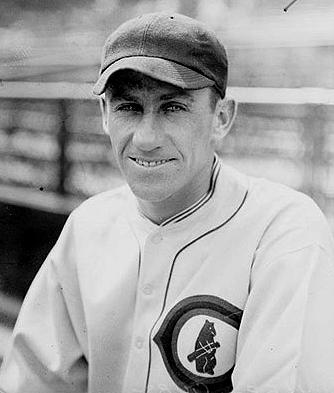 Having won a championship with the Pittsburgh Pirates in 1925, speedy outfielder Kiki Cuyler continued his Hall of Fame career with the Chicago Cubs in 1928. Cuyler had an OPS of .876 while in Chicago, among other offensive accomplishments during his years with the Cubs, all achieved after the age of 29.
After joining the Cubs, Cuyler played with the likes of Gabby Hartnett, Hack Wilson, Charlie Root, and Rogers Horsnby. With the Cubs, Cuyler enjoyed two pennants, while losing both World Series appearances.
Cuyler swiped 328 bases in his career, while stealing 161 bases in his eight seasons with the Cubs. He led the National League in stolen bases three years in a row as a Cub (1928-1930).
Cuyler had flashes of power with the Cubs, hitting 45 home runs between 1928 and 1930. Cuyler had a slugging percentage of .485, hitting 220 doubles and 66 triples during his eight seasons in Chicago.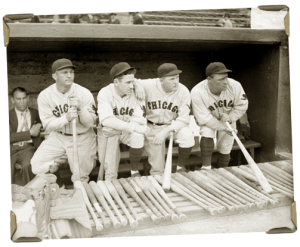 Kiki Cuyler (second from left) with Riggs Stephenson, Rogers Horsnby, and Hack Wilson (picture from hackwilson.com)
Those three years from '28 through '30 were easily Cuyler's best individual seasons in his career. He posted a three-year OPS of .931, and an OBP of .411. Cuyler also hit 33 triples while driving in 315 runs for the Cubs during those three seasons.
While Cuyler made his share of miscues in the outfield, he had a strong arm. Six times he was among the top five outfielders in assists.
During 1935, Cuyler was dealt to the Cincinnati Reds, where he played for three more seasons. He played one more year with the Brooklyn Dodgers in 1938 before retiring at the age of 39. Cuyler died only 12 years later of a heart attack at 51, following a coaching career that included another stint with the Cubs.
Cuyler was inducted into the Hall of Fame in 1968 and has made numerous "greatest player" lists throughout the years. Cuyler was a force on the baseball diamond for the Cubs, thriving on a talented team that made two World Series appearances. His combination of speed and hitting skills makes him one of the greatest Chicago Cubs to ever play the game.
-James Kries