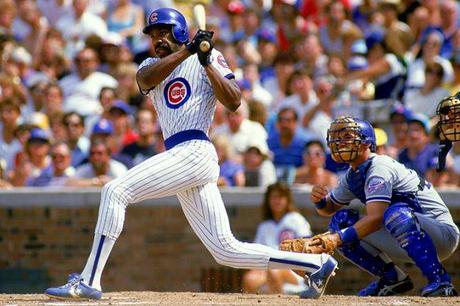 (Photo by Jonathan Daniel/Getty Images)
Andre Dawson, who became the sixth Cub in team history to win the National League MVP award in 1987, rejuvenated his career after joining the Cubs at age 32 that year, and became one of the most popular Cubs to ever play in Chicago.
Dawson and his agent, Dick Moss, famously gave the Cubs and GM Dallas Green a blank contract in hopes of getting a major league team to sign Dawson, who despite hitting 225 home runs with the Montreal Expos in 11 seasons, remained unsigned by a major league team going into spring training, 1987.
Green and the Cubs eventually signed Dawson at the bargain-basement price of $500,000, plus incentives. Dawson, who played right field for the Cubs, was happy to be playing on the natural grass of Wrigley Field. After years of wear-and-tear on his knees, playing on the artificial carpet of Montreal's Olympic Stadium, Dawson would go on to enjoy a 21-year career, playing until the age of 41.
Dawson played briefly with the Expos in 1976, but made an impact the following year, displaying a combination of power and speed. Dawson hit 19 home runs, while stealing 21 bases in 1977, winning the National League Rookie of the Year award.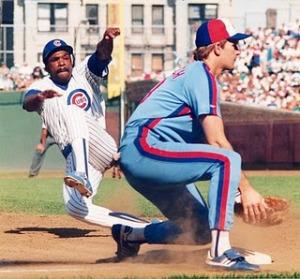 Dawson enjoyed some great seasons in Montreal, revealing his five-tool talent. He was a great outfielder, frequently leading the league in outfielder putouts. Dawson was never known as a selective hitter, averaging just 36 walks per season, while striking out 93 times per season.
His last few years in Montreal were hampered by injuries. He averaged just 15 stolen bases from 1984-1986, and had an on-base percentage of .311 with the Expos. At age 32, it looked as if Dawson was in the twilight of his career, drawing few suitors after becoming a free agent at the end of the 1986 season.
Dawson was an instant fan favorite in Chicago, impressing fans with his home run hitting prowess, along with his tireless effort. Dawson never dogged it in the field, and he hustled on every ground ball. He got off to a hot start in '87, hitting six home runs in April, with an OPS of .964.
Dawson went on to hit 49 home runs in 1987, with an OPS of .896. Dawson drove in 137 runs for the last place Cubs, and had a knack for hitting homers at crucial moments during the season. He hit nine homers during tie games in 1987, and also hit nine in "late and close" situations.
During his six seasons with the Cubs, Dawson smacked 174 home runs, with an OPS of .834. After the 1992 season, Dawson joined the Boston Red Sox, and finished his career with the Florida Marlins in 1996.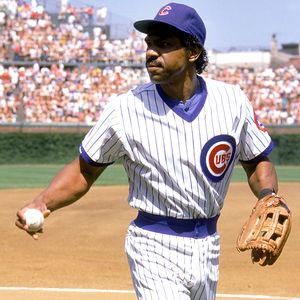 While with the Cubs, Dawson seemed to enjoy a unique connection with fans. They would often bow down to Dawson, in unison, when he trotted out to right field. He was always gracious of the fans' approval, frequently tipping his cap towards the bleachers.
While Dawson compiled some fine seasons in Montreal, he enjoyed one monster season with the Cubs in '87, and became a star in Chicago's big market. He was eventually inducted into the Baseball Hall of Fame in 2010, topping off a fine career from one of the game's classiest ballplayers.