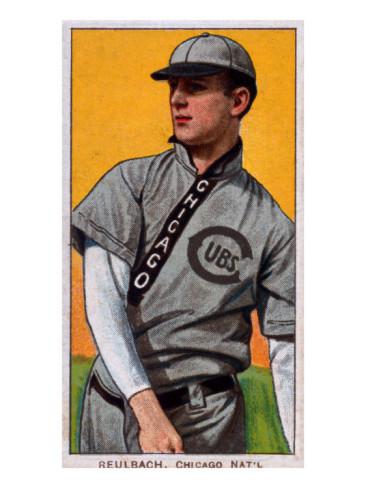 A 24-game winner during the Chicago Cubs' last championship season in 1908, pitcher Ed Reulbach was one of the most underrated pitchers of his era.
At 22 years old, Reulbach impressed during his rookie season, winning 18 games in 1905 with a miniscule ERA of 1.42, and a WHIP of 0.96. Reulbach was sixth in the National League that season with 152 strikeouts, and was a workhorse, logging 291 innings on the mound. Reulbach pitched alongside other Cub pitching greats, such as Mordecai "Three Finger Brown" and Jack Weimer. During Reulbach's rookie campaign, the Cubs led the league with a team ERA of 2.04, impressive even for the deadball era of baseball.
Despite their dominating pitching and winning 92 games, the Cubs finished third in the league in 1905, giving way to the eventual World Series champions, the New York Giants, led by manager John McGraw, and pitching legend Christy Mathewson.
Reulbach didn't fall victim to the sophomore slump in 1906, however, as he pitched his way to a brilliant 19-4 record, with an ERA of 1.65, and a WHIP of 1.01. His most impressive statistic that season was his H/9 of 5.3, which was his career best and the league's best in 1906.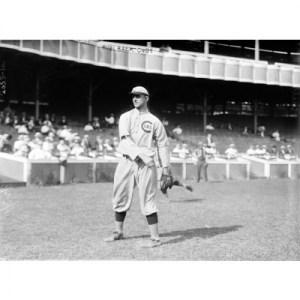 The Cubs pitching staff was even more menacing in '06, topping the NL once again with an astounding team ERA of 1.75, well below the league average of 2.62. Reulbach and the '06 Cubs went on to win 116 games during their 154-game schedule, a record for team wins that wasn't matched until the Seattle Mariners won 116 during their 162-game schedule in 2001. With all of their wins that season, however, the Cubs couldn't get by their neighbors to the south, dropping the '06 World Series to their crosstown rivals, the Chicago White Sox. The White Sox took the series in six games, but not without losing Game 2 to Reulbach, who notched a one-hit complete game victory.
Reulbach's most productive year would be that 1908 championship season, when the Cubs won their last World Series by toppling the Detroit Tigers in five games. Reulbach pitched a career-high 297 innings, winning 24 games with an ERA of 2.03.
During his Cub career, Ruelbach posted a record of 135-62, with an ERA of 2.19, and a WHIP of 1.12. He averaged 228 innings per season during his nine years in Chicago, and recorded 31 shutouts.
At age 30, Reulbach was traded to the Brooklyn Superbras for pitcher Eddie Stack. With Brooklyn in the bottom half of the league, Ruelbach struggled in 1914, and jumped to the new Federal League in 1915, joining the Newark Pepper. Ruelbach won 21 games for the Peps, posting an ERA of 2.23. He would play two more seasons with the Boston Braves in the National League before retiring at age 34.
According to Cappy Gagnon of SABR.org, Reulbach was a founding member of the Baseball Player's Fraternity, and he spoke out about players' low salaries. With an offer to play in the new Federal League, Reulbach's salary rebellion forced him out of Brooklyn.
Another Cubs great, second baseman Johnny Evers, once claimed that "Big Ed" Reulbach was "always five years ahead of his time in baseball thought."
Reulbach, who died in 1961, was the last living Cub to have played on the championship team of 1908. Reulbach compiled some other-worldly numbers during the first five years of his career. One could say he fell through the cracks of baseball history, while only playing 12 seasons in the National League. Had he had more longevity, Ed Reulbach was surely on pace to achieve some of the hallowed milestones that usually lead to a player's Hall of Fame induction. Reulbach was one of the game's great players after the turn of the century, while pitching on one of the era's most dominant teams.
-James Kries