The American Music Awards ceremony was held at the Microsoft Theater in Los Angeles, California on the 22 nd November 2015. The 43 rd edition of the AMAs was hosted by singer Jennifer Lopez and was broadcast in the US on the ABC network.
The 180 minutes long show gathered many celebrities from the music industry and from other fields and offered many remarkable moments, such as Celine Dion's tributing performance for the November Paris attacks, a performance that made headlines around the world.
The big winner of the night was Taylor Swift, who won three awards for her work.
And, as we always say, with every awards show there is a red carpet attached, where people can see their favorite celebrities and take inspiration from the outfits they wear.
Here is a look at the most noteworthy men's outfits from the 2015 American Music Awards: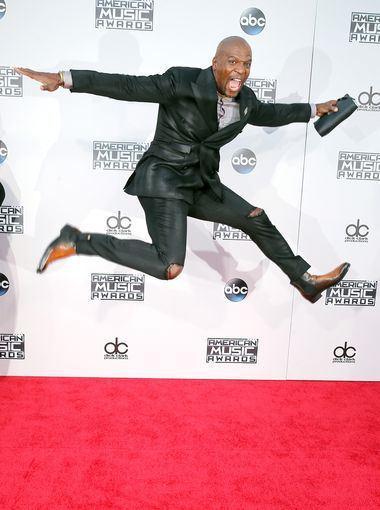 One of our favorite funny men, Terry Crews, sure knows how to deliver a style moment! Wearing a sleek green suit paired with Chelsea boots and a small handbag, Terry offered November style done right. And, because the AMAs are an event of the music industry, which is more casual and relaxed these days, Mr. Crews decided to wear a pair of pants with cool cuts around the knees. We loved the way he made those stand out with a jump!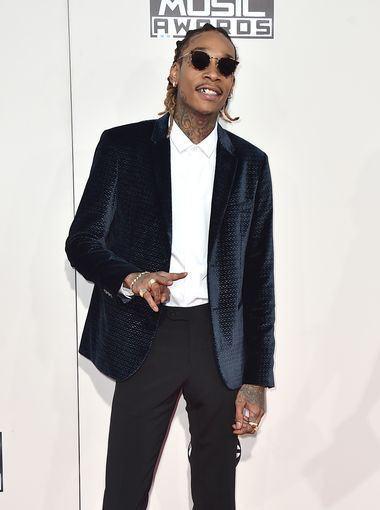 Wiz Khalifa kept it quite conservative, with a white shirt and a pair of black pants, but expressed his taste and personality by wearing a blue jacket that featured an interesting texture. Adding something special such as an interesting texture, print or pattern to an outfit is a great way to take a standard, traditional look to another level. Even though Wiz's look was a little overdone due to his many, big accessories (rings, bracelet, glasses), we thought his look was an overall a good look.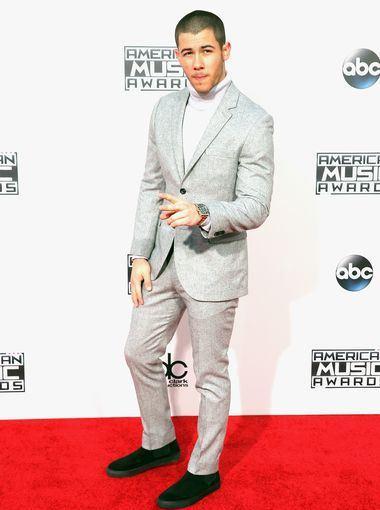 If you think turtlenecks can't be stylish, you might want to reconsider your thoughts. Singer Nick Jonas brought a nice surprise on the red carpet, as he rocked a simple turtleneck shirt. To integrate it in his outfit and make his look cohesive and event-appropriate, Nick's turtleneck shirt was in the same color as his sharply-tailored suit, which we enjoyed very much. Styled with a fancy watch and a contrasting pair of shoes, Nick had one of the most interesting, casual yet dressy, setting-appropriate looks from the AMAs.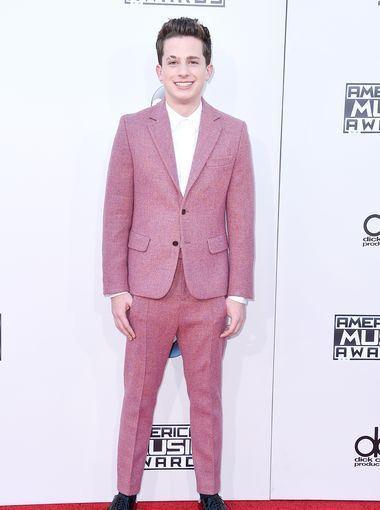 To showcase his creative side, Charlie Puth rocked a pink suit on the red carpet at the 2015 American Music Awards. Paired with a neutral white shirt and lacking bold accessories, Puth decided to let the suit be the center piece of his look. What we liked about this suit choice was not necessarily the color itself, but the suit was a good one as the soft color was balanced out by the rough material, the result being a balanced look.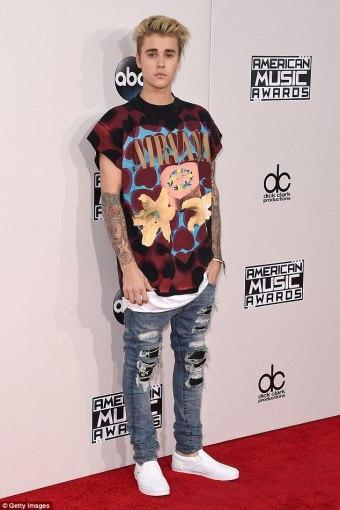 While some criticized Justin Bieber for wearing a Nirvana t-shirt on the red carpet, we did not have any issues with it. It was nice to see that Justin wore a busy look, with many colors on top and many details on the bottom. While the overall look Justin sported can be considered a little too casual for an awards show, given the nature of the awards show, we can say he did a good job at choosing his clothes.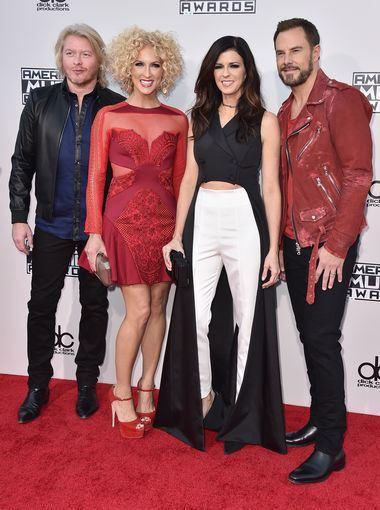 Philip Sweet (left), and Jimi Westbrook (right) of Little Big Town walked the runway with their female band members, Kimberly Schlapman (middle left) and
(middle right). The guys, as well as the ladies, definitely deserve applauds for their easy, relaxed, yet well thought outfits. Simplicity is always best, if done right, and Little Big Town definitely took the award for "elegant casual fashion" at this edition of the American Music Awards.
To conclude, we can say that Terry Crews, Wiz Khalifa, Nick Jonas, Charlie Puth, Justin Bieber and the Little Big Town band members are a great representation of the (style) variety that is found these days in the entertainment industry. Once again, celebrity fashion teaches us how you can express your personality and let everyone know who you are in an instant, just by using clothes and accessories that express your taste, world view and state of mind.
Fraquoh and Franchomme
P.S. We want to hear from you? Whose outfit did you like best? Whose outfit didn't you like so much? Share your feedback, questions or thoughts in the comments below! For more articles on style, fashion tips and cultural insights, you can subscribe to Attire Club via e-mail or follow us on Facebook or Twitter!