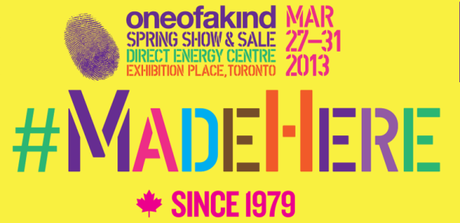 In another sure sign the Spring is here/coming, The One Of A Kind Show has returned for their Spring event.
This morning I headed down to the Direct Energy Centre for the media breakfast and preview and was able to walk the floor, speak with some vendors and find some new favourites to go along with booths that I'm happy to see year after year.
Note: Breakfast was fantastic and featured mini eggs benny w/bacon, yogurt w/ granola & nuts, potato hash w/ salsa, mini blueberry pancakes and more.
This years show features close to 450 vendors offering food, clothing, jewellery, art, body care products, furniture, crafts and more, more, more. Vendors come from coast to coast, with tons of amazing fare for your browsing and buying pleasure.
It was great to see Coy Depot set up with their super cool stuff. I bought a Christmas gift from them last fall and they're still rocking things. Out of Ruins also looked great with their bottles-turned-cheese trays and now bottles-turned-drinking glasses. Hurry to both booths, there's a good chance some things will sell out.
New favourites for this show include:
Tickleberry's who came all the from Okanagan Falls, BC to bring one of the best things ever… chocolate covered fruit. I had 2 samples, chocolate covered blueberry and orange/chocolate covered cranberry. Both were winners and the colourful booth is definitely worth checking out and getting a treat.
iDENTITY tees + home goods has some great stuff at the booth by Meghan Irish. The t-shirts are the start of the line, but what really caught my eye were the pillows made from vintage army blankets and classic blankets from The Bay. All of Meghan's pieces have a print on them that is very Canadian while still clever and crafty. Check her out.
Me Hoi is my favorite art booth of this show with awesome hand drawn cards, prints and cool pins and buttons too. Also, she's just as cool as her art. And the pandas are adorable and her pins are cute and sassy. PLUS, Me Hoi is local with a studio in the Distillery.
Kailey Hawthorn is my fav of the NEW ETSY SECTION at the One Of A Kind Show. Her booth features comfy looking pillows, clocks made of hand painted records and each piece. Kailey brought her goods from Kitchener to Toronto for the show and I'm glad she did. Here's that you stop in to see her and she has a HUGE weekend.
The Candi Factory rounds out my top 5 of the show floor. These underpants can only be classified as cool by my eyes. But I was corrected at the booth when I was told that they are comfortable first and cool as a bonus. Either way, you've got to check these bad boys out. There's a selection for men, women and kids. Nobody has to leave with bland underpants.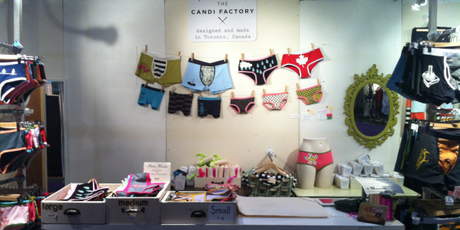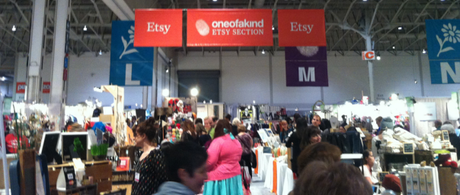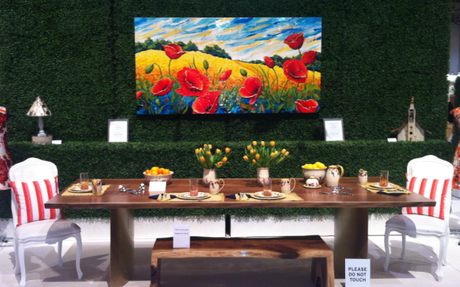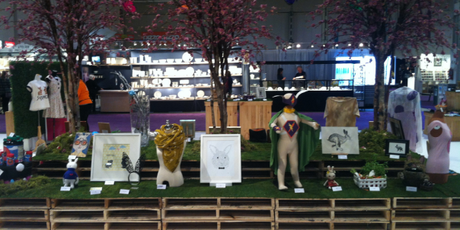 BONUS:
I got to meet the guys at NUGS who have some of the most awkwardly adorable clay collectibles I have ever had the pleasure of seeing. I even helped with the booth set-up. Check out my guys!