September 14th, 2013 - Day 1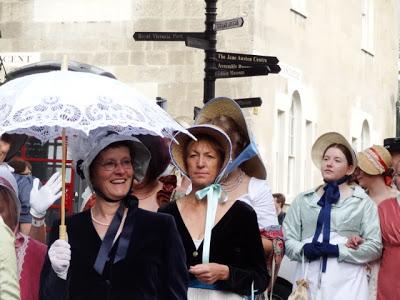 The first day of the 2013 Jane Austen Festival in Bath, England, kicked off with the Jane Austen Festival Grand Regency Costumed Promenade. This traditional event always marks the official opening of the festival. Beginning at the Royal Crescent Lawn, 600 people dressed in Regency costume walked through the streets of Bath, ending at the Parade Gardens near Bath Abbey. The costumes were incredible and ranged from traditional men's and women's Regency attire, to red coats and navy officers. Led by the town crier and drums, participants walked a 90-minute route through the heart of Bath.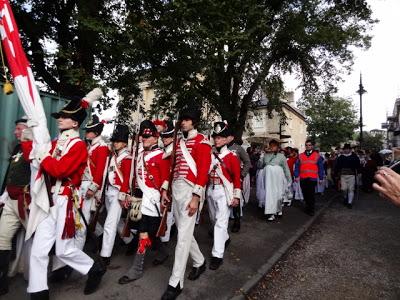 After the promenade, I visited the Jane Austen Center in downtown Bath. There, a tour guide dressed in Regency attire gave a very detailed lecture about Jane Austen's family life, her writing and her deep-rooted connection to the city of Bath. After the lecture, we had the opportunity to try our hand at writing with quill and ink (harder than it looks!), dressing in Regency gowns and learning the language of the fan.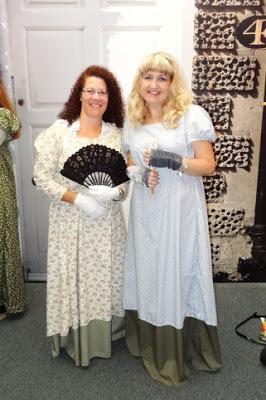 In the picture avbove I am with fellow Harlequin author Rachel Brimble, playing Regency dress-up at the Jane Austen Center. I am on the right.  The evening's special event was a fashion show celebrating the 200th Anniversary of Pride & Prejudice. Unfortunately, photos were not allowed at this event, although I was able to get a picture of the grand finale dress - Elizabeth Bennet's wedding gown.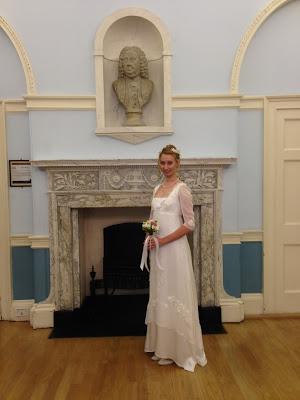 (I
n

the picture above Elizabeth Bennet in her wedding gown, the finale of the Regency era fashion show celebrating 200 years of Pride and Prejudice) 
The fashion show was really interesting in that it started with present day dress and moved backward through time, finally landing firmly in the Regency Era. The models represented different characters from Pride & Prejudice, including Mrs. Bennet, who crossed the stage wailing "Oh, Mr. Bennet!" and the most popular model of the evening...none other than Mr. Darcy, clothed in the famous wet white shirt and breeches from the BBC film production of P&P. Wet Mr. Darcy was so popular that he made a special encore appearance.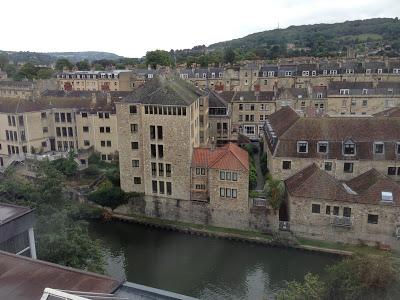 View of Bath from my hotel window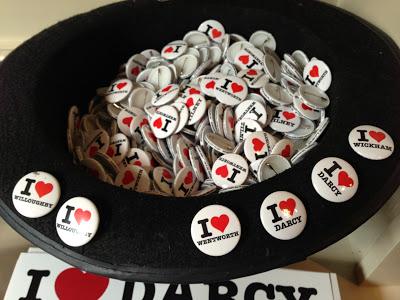 Buttons celebrating love for Jane Austen heroes for sale at the James Austen Center. I had to dig through that hat to find some Mr. Darcy buttons. He's a popular guy around here.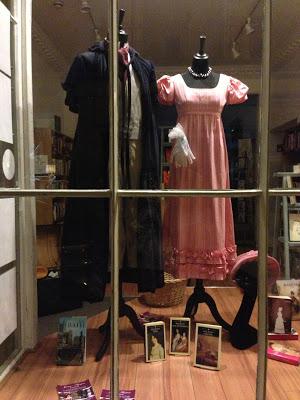 Shop window in Bath celebrating the Jane Austen Festival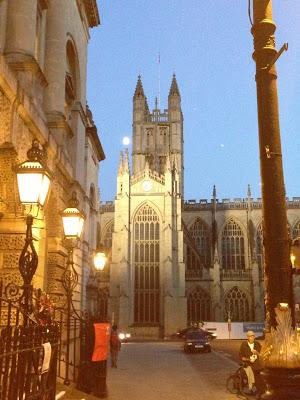 Bath Abbey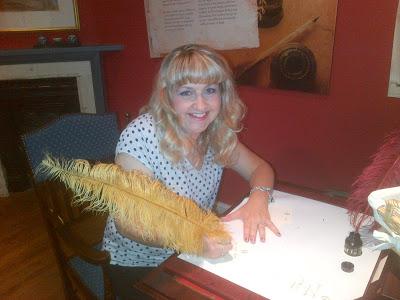 Learning to write with quill and ink at the Jane Austen Center
Ok. That's all for today. Greetings from Bath!
Teri Wilson  

About the author Teri Wilson grew up as an only child and could often be found with her head in a book, lost in a world of heroes, heroines and exotic places. As an adult, her love of Mr. Darcy…ahem…books has led her to her dream career—writing. When she isn't traveling or spending quality time with her laptop, she enjoys dance classes, painting, going to movies and hanging out with her four dogs, including the real-life Bliss and Finn from the pages of UNLEASHING MR. DARCY. Teri lives in San Antonio, Texas, and loves to hear from readers. She can be contacted via her website at www.teriwilson.net Unleashing Mr Darcy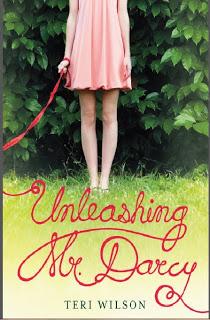 "It is a truth universally acknowledged that a single woman teetering on the verge of thirty must be in want of a husband." 
Not true for Manhattanite Elizabeth Scott. Instead of planning a walk down the aisle, she's crossing the pond with the only companion she needs—her darling dog, Bliss. Caring for a pack of show dogs in England seems the perfect distraction from the scandal that ruined her teaching career, and her reputation, in New York. What she doesn't count on is an unstoppable attraction to billionaire dog breeder Donovan Darcy. The London tycoon's a little bit arrogant, a whole lot sexy…and the chemistry between them is disarming. When passion is finally unleashed, might Elizabeth hope to take home more than a blue ribbon?
Publisher: Harlequin HQN
Release Date: December 31, 2013