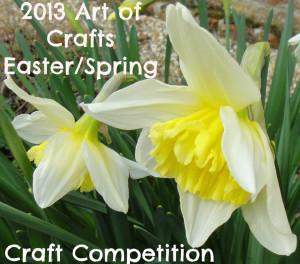 We are going to have a craft competition every month here on Art of Crafts and so today we come to the March one. I think we are all looking forward to some brighter days and so I thought, with that in mind, and Easter fast approaching, the theme should be Easter/Spring.
You can choose either of these (or both) as your motivation, so think bunnies, flowers, eggs, chocolate, chicks, themes of the celebration of Easter, sunshine, snowdrops…..really whatever takes your fancy.
You can enter any type of craft, as long as it is your own work. Professional crafters and hobby crafters are both equally welcome.
Please read down for the T&Cs, the very cool prizes and 'how to enter'.
Terms & Conditions:
*   To enter you need to send a photo of your Easter/Spring themed craft piece
*   Only one entry per person is allowed
*   The winners will be decided by how many 'Likes' the photo has on Pinterest. Please feel free to repin the entry as many times as you wish in order to gain more exposure and Likes. However, the winning three will only be judged by how many 'Likes' the entry has on my Easter/Spring Themed Craft Competition Board on Pinterest (not on the Repins).
*   You may enter from today and entries will be closed at 11.59 pm on the 31st March 2013
*   Anyone 13 or over may enter
*   If you are in the top 3 you will be contacted via email. We will contact the winners by the 5th April 2013 and you will have 30 days to respond. If we do not hear from you within that time then another winner will be selected from voting. Art of Craft's decision on how the prizes are awarded is final.
The Prizes are as follows:
1st Prize – $35/£35 Amazon Gift Card

2nd Prize -$25/£25 Amazon Gift Card
3rd Prize – $15/£15 Amazon Gift Card
(Prizes are offered in both $ and £ to cater for where the winners are based)
How To Enter:
*  Send me your entry and please include your name and the title of your entry. If you have a craft based website, blog or Etsy/Artfire/Folksy etc shop you may also include 1 link, which I will add to the entry.
I will then upload it to the Pinterest Competition Board  and the voting can begin.
Please send your entry, and attach the photo at my Contact Page.
*   All valid entries will appear and can be voted on here:
http://pinterest.com/midnighteden/art-of-crafts-2013-easter-spring-themed-craft-comp/
*   The photos which have the most Likes on my Easter/Spring Themed Craft Competition Board on Pinterest (not on repins) by the closing date will be awarded the 1st, 2nd and 3rd prizes.
Any questions then please let me know.
Please Retweet This Competition by Clicking Here – it's already set up, just click and Tweet and share the Love! Thank You.
Good luck everyone and I can't wait to see the entries