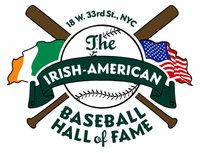 The Irish American Baseball Hall of Fame announced their inductees for 2011, and six men will be going in: MLB Hall of Famers Nolan Ryan, Big Ed Walsh and John McGraw, Yankee trainers Gene Monahan and Steve Donahue, and singer Terry Cashman (best known for the song "Talking Baseball.")
The induction ceremonies will take place on Tuesday, June 14th at noon at
Foley's NY Pub and Restaurant
, where the Irish American Hall of Fame is located.
These six legends will be joining the following men, who have been inducted into the Hall since its founding in 2008:
"Starting Nine" and Subsequent Inductees
The "Starting Nine" inductees in 2008 were: the late Mets and Phillies reliever Tug McGraw, NY Yankee announcer John Flaherty, sportswriter Jeff Horrigan, NY Mets groundskeeper Pete Flynn, retired sluggers Mark McGwire and Sean "The Mayor" Casey, Kevin Costner, star of Field of Dreams and Bull Durham, legendary owner-manager Connie Mack, and longtime official scorer and sports columnist Red Foley.
2009 inductees were: Walter O'Malley, longtime Brooklyn and LA Dodgers owner (Executive category); sluggers Steve Garvey and Paul O'Neill (Players category), Jim Joyce (Umpire); veteran sportscaster Vin Scully, and Ed Lucas, a blind reporter who has covered the Yankees and Mets for four decades.
2010 inductees were: Tim McCarver, veteran TV analyst and former player; Bob Murphy, longtime Mets announcer (Media category); Michael "King" Kelly, the game's first superstar (Hall of Famers and Legends category); Yankees GM Brian Cashman (Executives category); Bill James, famed statistician and an advisor for the Boston Red Sox (Executives category).
Foley's is located on West 33rd Street in Manhattan, right across from the Empire State Building and it's a cool sports bar. Check out their
website
or
Facebook page
for more information.