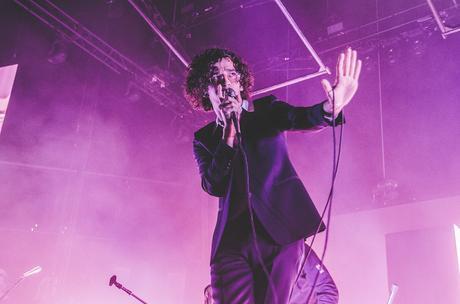 Photos by Joyce Lee
When I first saw The 1975 in Los Angeles in 2013, lead singer Matt Healy came out before the set on a skateboard, half naked, smoking a cigarette. The band was still relatively anonymous then, but still, Healy and co. possessed an innate swagger that would take them far. Since, they've rallied together an army of fans that seems to grow tenfold every couple of months. They've camped out for pop-up shops, shows and helped the band attain a number one album (I Like It When You Sleep For You Are So Beautiful, Yet So Unaware of It).
Fast forward two years later, after having shot and seen the band work up the chain and move into bigger venues, I saw The 1975 fill up their first American arena on Tuesday night in New York City with their stellar label mates, The Japanese House and Wolf Alice. Backed by a full choir and a neon metropolis, The 1975 were out in full force (well, minus drummer George Daniel who's out for a shoulder injury) playing through their hits.
Matty Healy, Ross MacDonald, and Adam Hann hit all the high notes and commanded the crowd with every move. It's surreal to see what was once a small band play to such a huge crowd. The 1975 and their fans owned the night.
The 1975










Wolf Alice






The Japanese House